Lamprais was launched at Kaema Sutra on June 6, 2017 with the idea of keeping this well-respected Sri Lankan Dutch favourite as authentic to its roots as possible.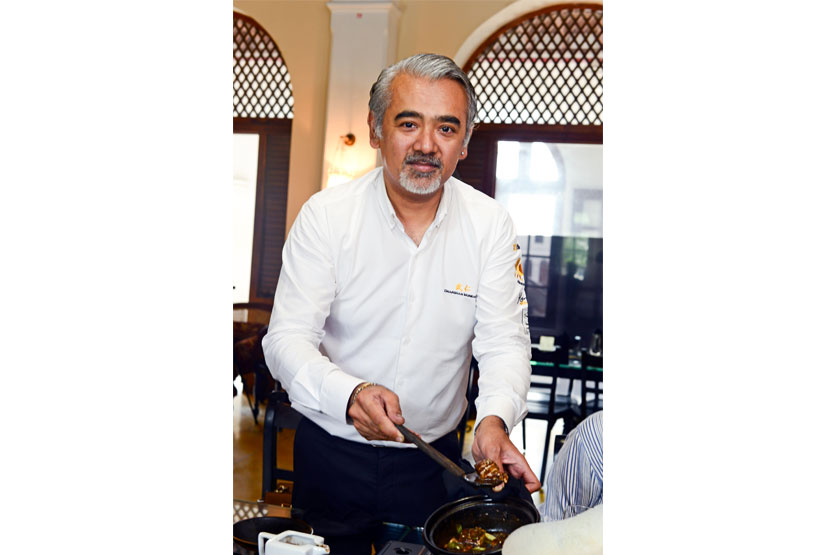 The restaurant sought out the guidance of two Burgher ladies who helped them work their way around this "Multi-meat, multi-technique, multi-component complexity," Dharshan Munidasa, Co-Founder and Chef, Kaema Sutra said, adding, "I also applied my knowledge of bone stock stemming from making ramen to create our bone broth for the rice. At Kaema Sutra, we took no shortcuts, used no bouillon cubes or factory-produced taste enhancers (MSG) to wrap this up."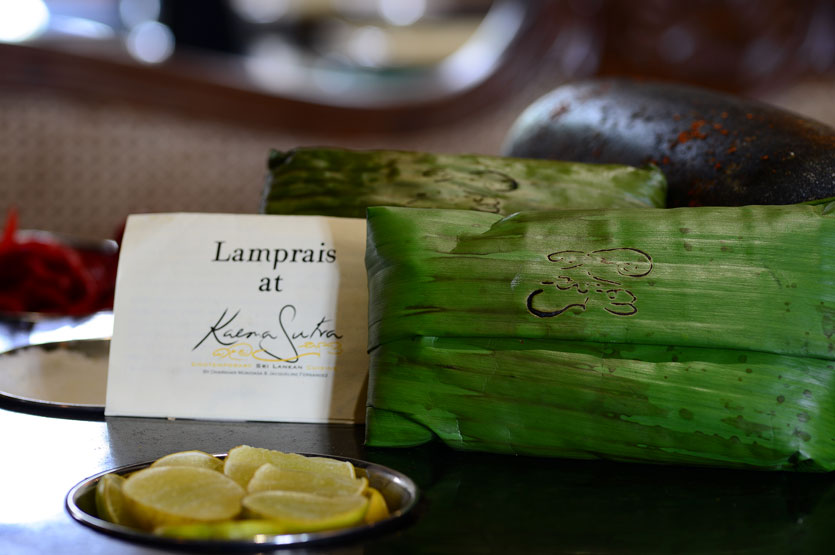 A common element in almost all recipes involving Dutch lamprais is the use of suduru samba. This is possibly because it seems to absorb flavours and lock them in far better than other varieties of white rice. At Kaema Sutra too they use suduru samba while a pork and chicken bone broth (which takes two hours to prepare) is used while the frikkadel is made from beef and the meat curry consists of beef, pork, Australian mutton and chicken.
Taste and Value for Money (Lamprais) - 4.5 stars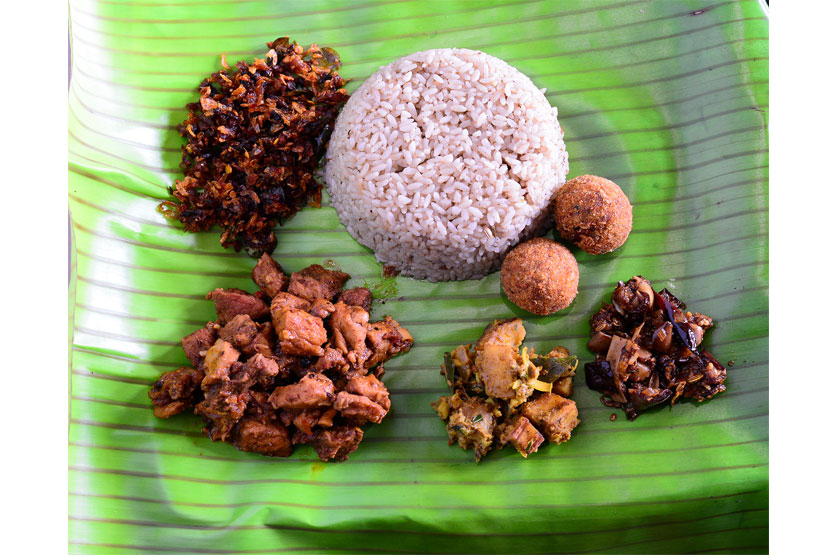 The Kaema Sutra Lamprais (Rs. 640+++) is quite a fine pack of flavours which I felt stemmed mainly from the bone broth used to cook the suduru samba while the meat curry which consisted of four meats and the beef frikkadel was flavoursome. I liked the addition of a dry seeni sambol which added to not just the flavour but the texture while the brinjal and ash plaintain were fantastic too, sadly my pack didn't have the blachan which would have rounded up my experience.
Taste and Value for Money (What the Hopper) - 5 stars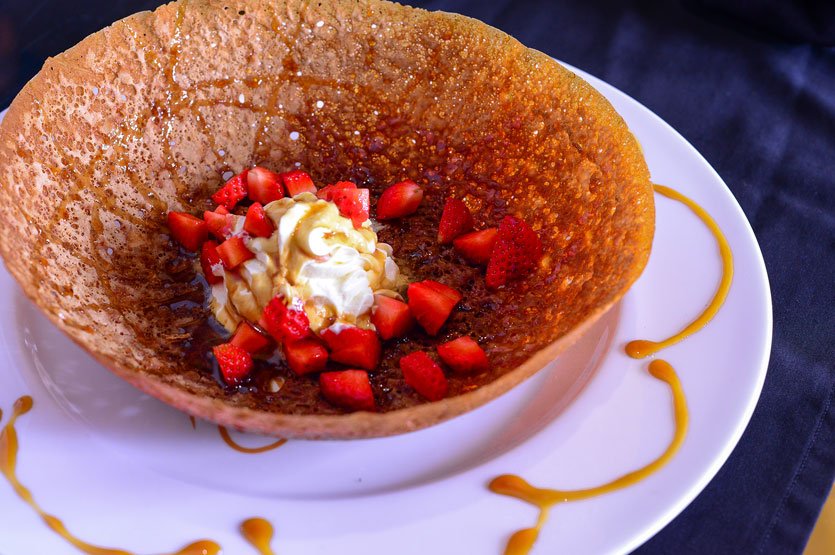 A fantastic way to end your meal following the lamprais would be their house favourite the What The Hopper (Rs. 480++). This pani appa is soaked in treacle while it is served with a mix of curd and whipped cream, whipped together and topped with more treacle and strawberries. The best part is the last bit in the middle which allows for all the cream and treacle to be soaked up!
Taste (Squid Ink Hopper) - 4.5 stars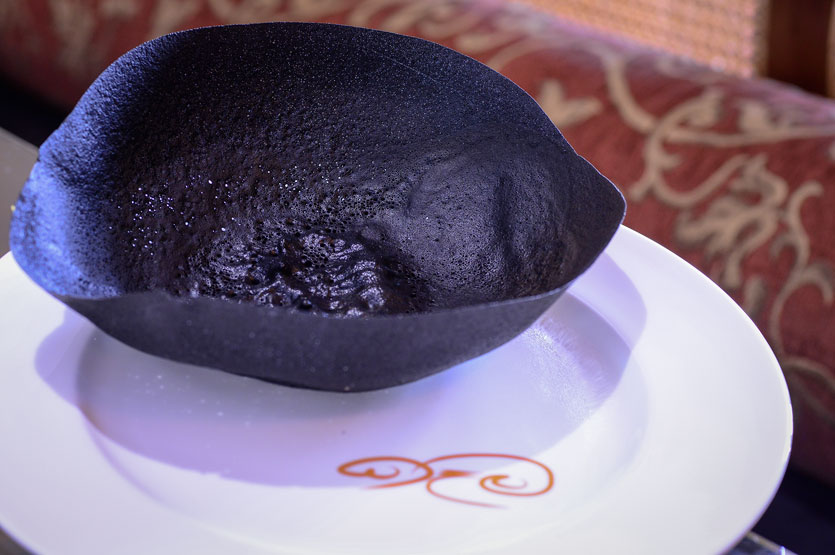 We were the first to try out their Squid Ink Hopper which tastes very much like a normal hopper but the colour - black - makes it eyecatching. We felt it would be beautiful with whipped cream and strawberries.
Comments from guests: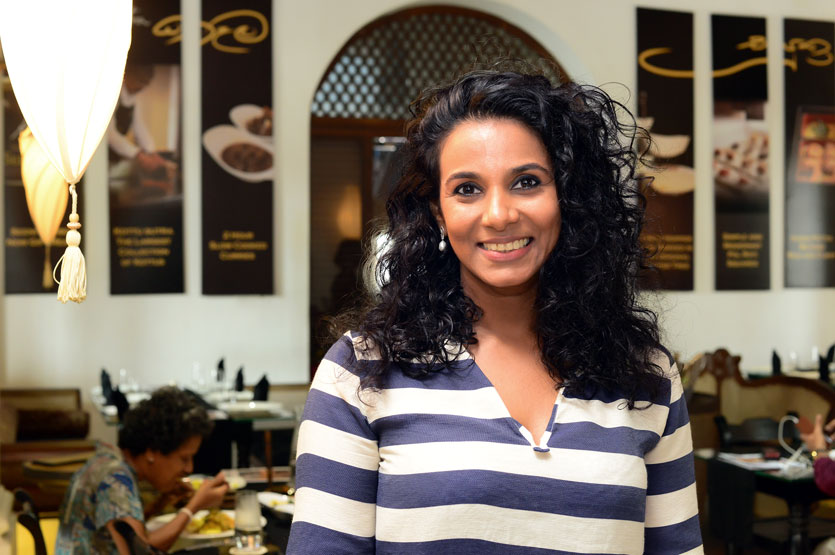 Upeka: I think it's very good. I can actually taste the pork stock in the rice. The prawn paste was very tasty.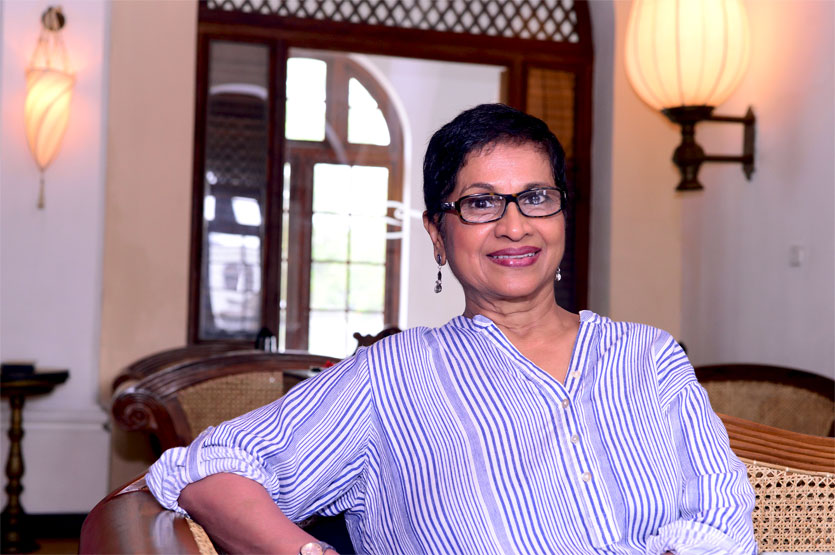 Swarna: I'm a lamprais fan. We eat it at least once a week. The portion is just right and the meat is very soft. Fabulous! Best I've ever eaten!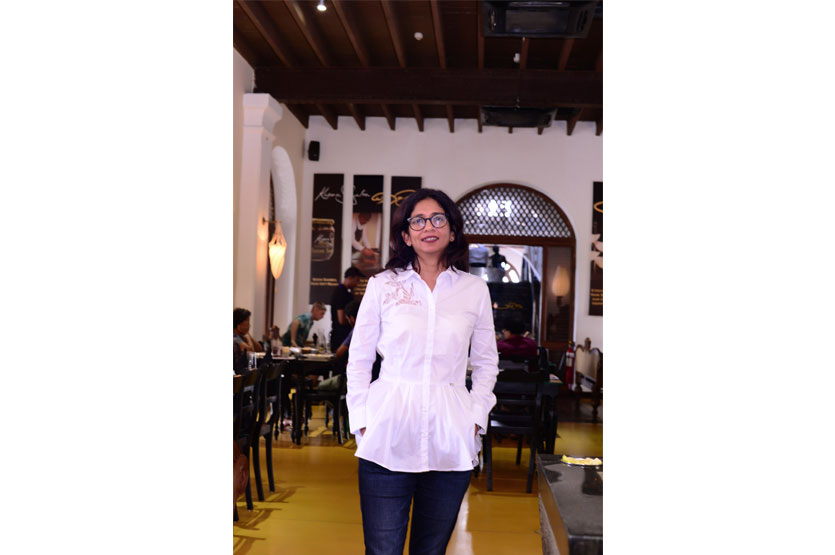 Niloo: The rice was the highlight. The base is what has made the lamprais so yummy. The quantity is just right.
Sharon: I thought it was fantastic. Flavour was divine.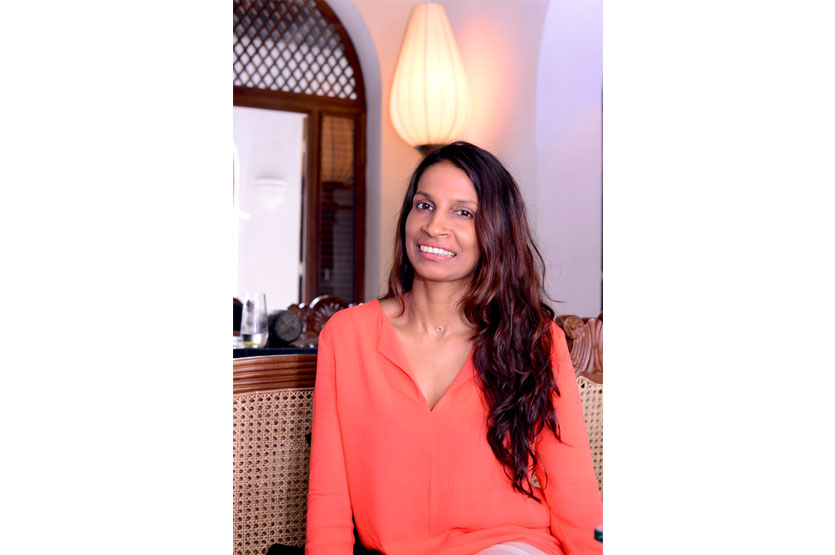 Manouri: What I liked about it was the small portion. Everything incorporated - a little pack full of flavour.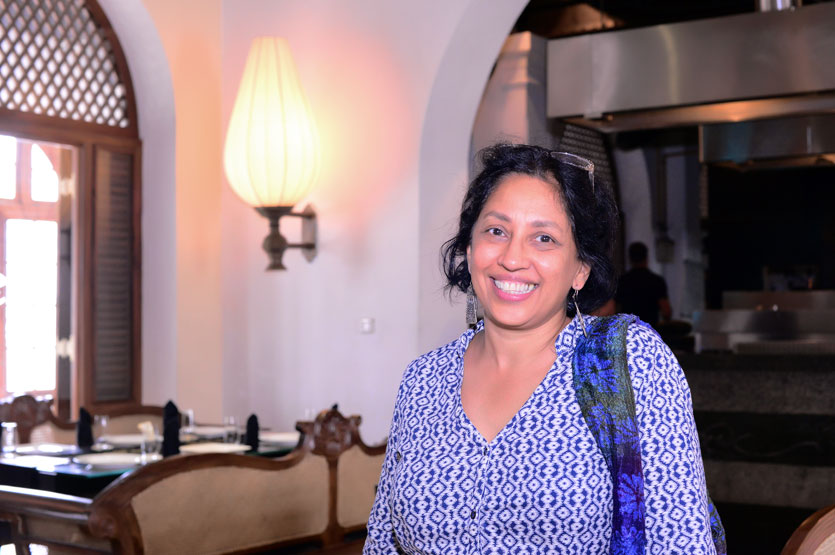 Shehara: Oh! It's lovely. Every meat has its separate flavour while also maintaining very distinct flavours. The flavour of the rice and texture and the quality of the meats really stood out. Aubergine was crisp and nice.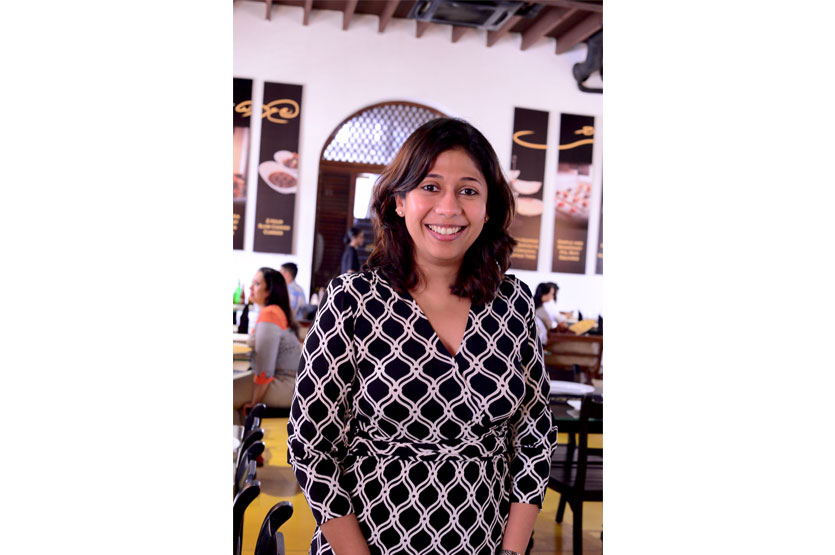 Leischa: Very good. Blachan and frikkadels were superb. The rice - the way it was prepared was really good.
Notes:
- Trials on a non- pork version is set to start in August
- If you would like to take some of their lamprais overseas they have a dozen frozen lamprais packed in a Styrofoam box weighing approximately four kilograms. Call in advance.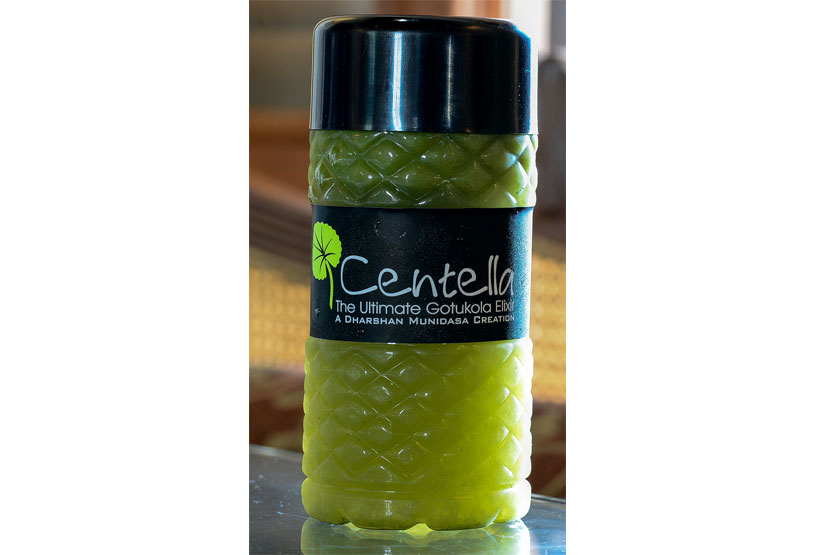 Facebook: www.facebook.com/KaemaSutra
Address: Arcade Independence Square - 30, Independence Square, Colombo
Tel: (011) 2 670 722
---
PHOTOGRAPHS by Kanishke Ganewatte