Our last visit to Mirissa was to hop onto a boat to head out to sea and watch whales. As much as seeing these amazing creatures was mindblowing, the choppy waters ensured we would be seasick even after we stepped back on solid ground. So this time our experience was very much on solid ground when we stayed over at Hangover Hostels Mirissa. This cool set up caters to backpackers who can look forward to a clean, friendly place to relax and stay over for very reasonable rates but it seems to be their café - Hangover Café, which opened in December 2016 that gives the already funky spot a whole lot of life.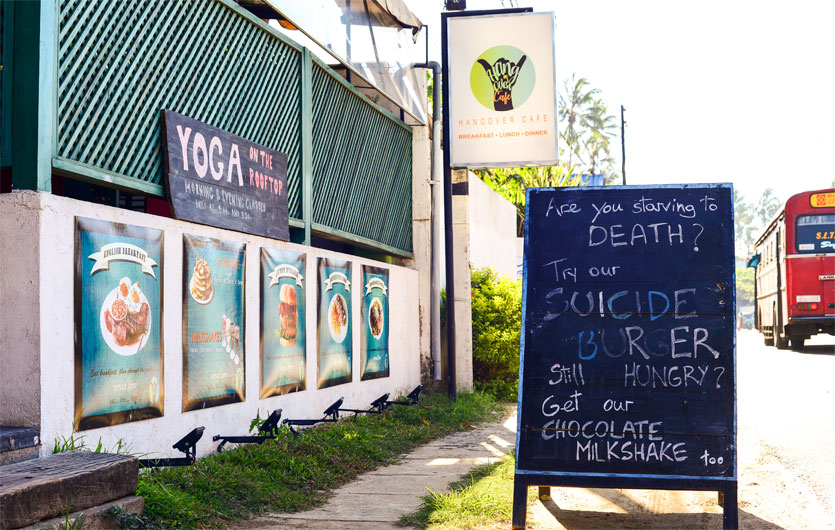 The bustling café operates throughout the week and serves up some delightful food. What caught my eye is that they do not serve rice and curry, instead they have sandwiches, burgers, pancakes and pastas that will make your mouth water.
Taste and value for money - 5 stars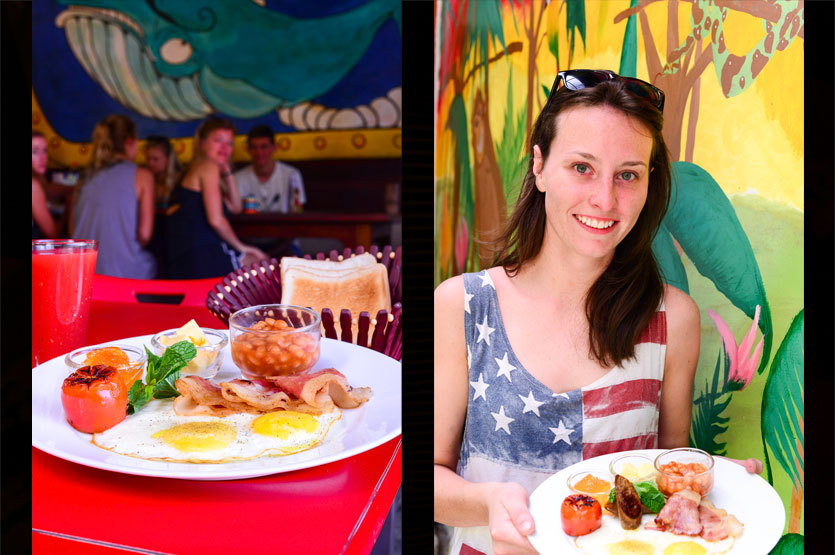 My breakfast option was that of the Traditional Hangover English Breakfast with Bacon (Rs. 720) this hearty meal of two fried eggs (you could opt for scrambled eggs too), baked beans, grilled tomato, a glass of fresh fruit juice and three slices of toast, butter and jam. The same combination can be had with a Sausage (Rs. 650).
The café also has free tea, coffee and bananas on offer right through breakfast.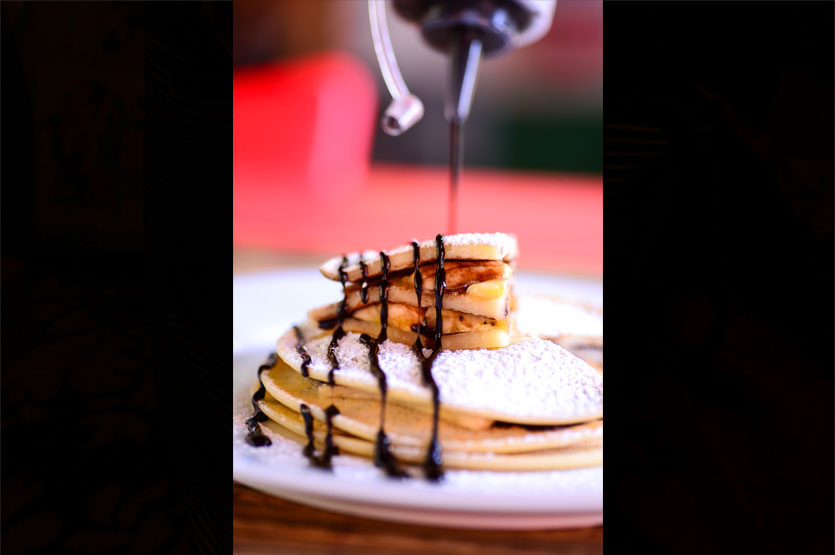 Hangover Café whips up a Special Pancake Breakfast (Rs. 400). The stack of freshly made pancakes comes with banana and you can pick between Honey, Strawberry or Chocolate Topping. We went with chocolate topping. The pancakes were fluffy while the oodles of chocolate sauce and banana was the ideal way to start my day.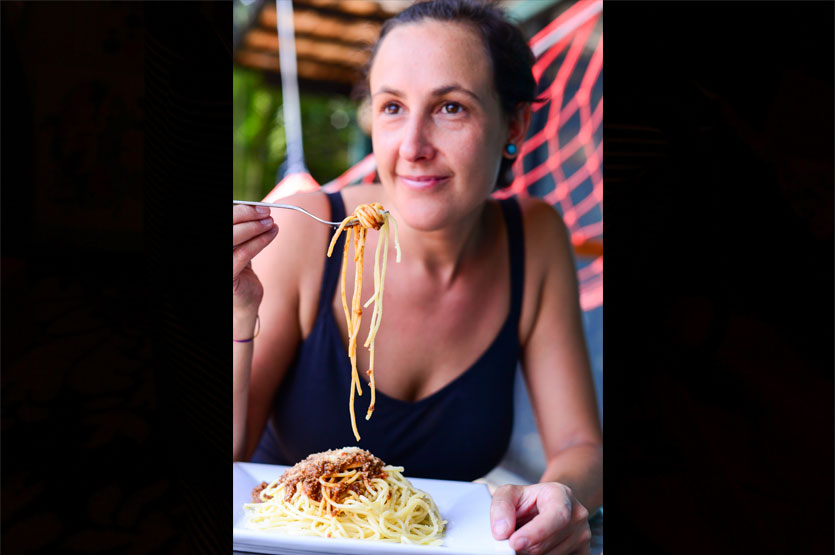 They also whip up a yummy Spaghetti Bolognese (Rs. 650). The rich tomato sauce and ground beef topped with parmesan make it a delicious and filling dish.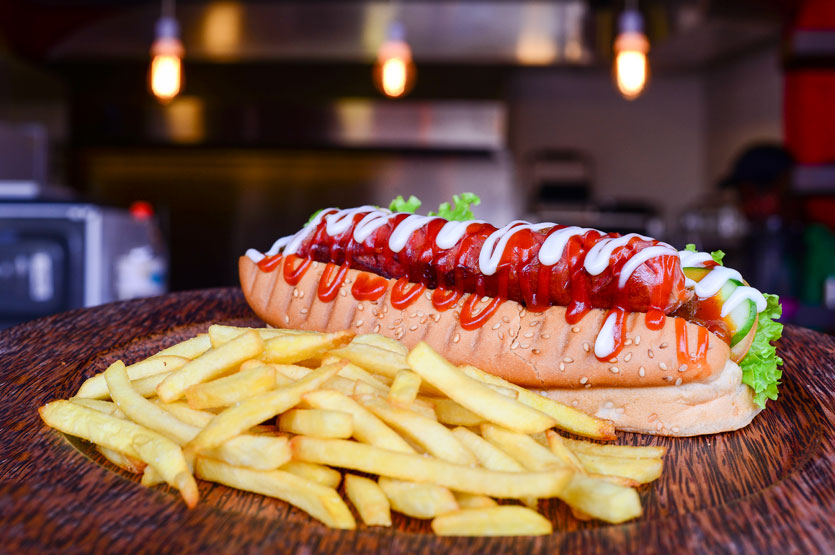 The Crazy Dog with French Fries (Rs. 650) packed with either a beef or chicken Bockwurst sausage, lettuce, tomato, green cucumber, onions, gherkins, jalapeño and topped with Dijon Mustard, mayonnaise and tomato sauce is a good option if you like hotdogs.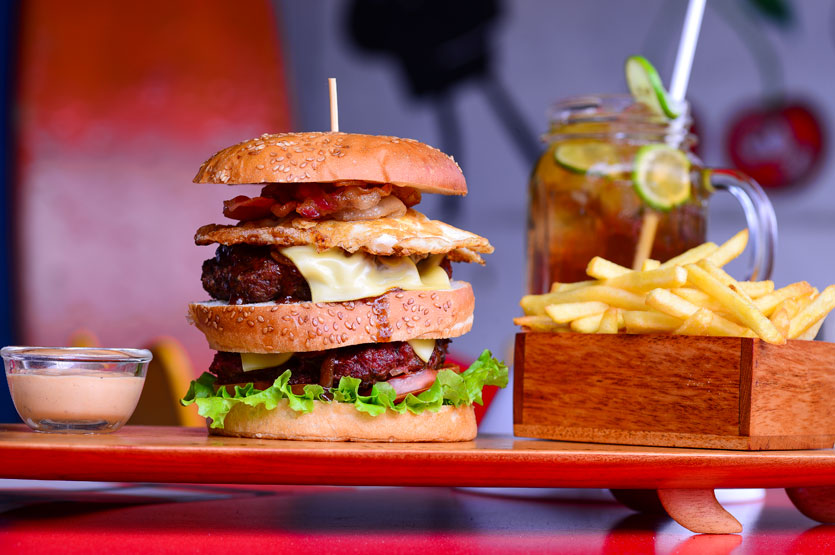 However, the star among their dishes is the Suicide Burger (Rs. 1400). This giant juicy burger is packed with two beef patties (three quarter pounds of premium ground beef!) and topped with lettuce, tomato, jalapeño, crispy bacon, a fried egg and cheese and accompanied with their special (secret) sauce. This alone should make you want to head right down to Mirissa and to Hangover Café!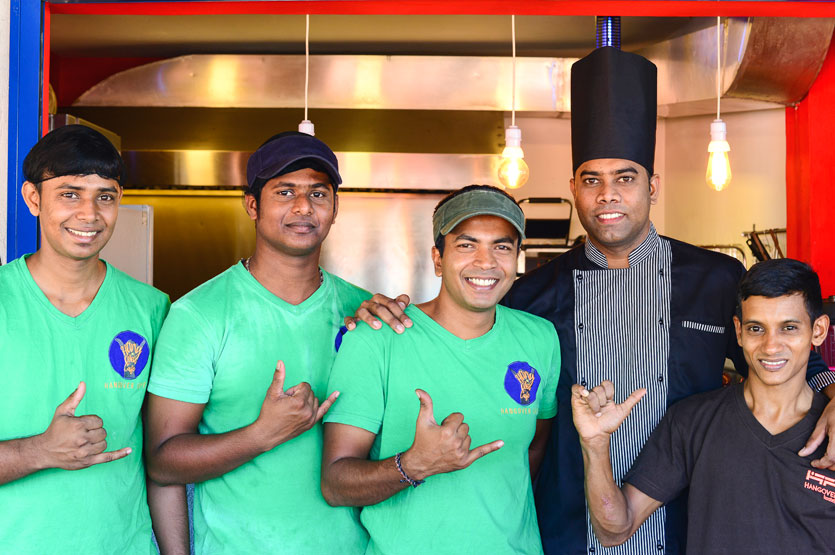 Friendly staff - 5 stars
The staff are extremely friendly and always serve you with a smile.
Cleanliness - 5 stars
The café and toilets are extremely clean in keeping with the chilled out beach vibe.
Parking - 5 stars
Parking is available on the roadside just by the café or on the opposite side of the café.
Tel: 077-791-7916
Address: Hangover Café, Mirissa
Hours of operation: 7:00AM - 10:00PM
Email: get-in-touch@hangoverhostels.com
Facebook: www.facebook.com/hangoverhostels
---
PHOTOGRAPHS by Kanishke Ganewatte