Dushy Daniel has been catering for quite a long time. She started out twenty years ago and has built herself a strong and steady customer base.
"I love my salads. I've been trying to eat clean for a very long time. My trainer introduced me to juicing which I think is the best way to get all the nutrients your body needs. I've been wanting to open a salad bar for the longest time and finding the perfect location has been quite a challenge. A friend kept pushing me to start a healthy lunch delivery system for quite some time because there were not many options available for someone who wanted to eat a salad or have a juice meal replacement unless you went to some fancy restaurant or a star class hotel. I finally decided I would give it a try and started spreading the word. The response has been phenomenal and I have a good customer base. I have been blessed."
Her menus are curated on a weekly basis and have soups, juices and salads and mains that spell out 'I am healthy AF'.
We tried soup, a few salads and three juices from one of her menus. Here is what we thought.
The three juices were based on a colour concept. As deceiving as it sounds, the Orange juice had heavy carrot and ginger flavours and was the best of all three.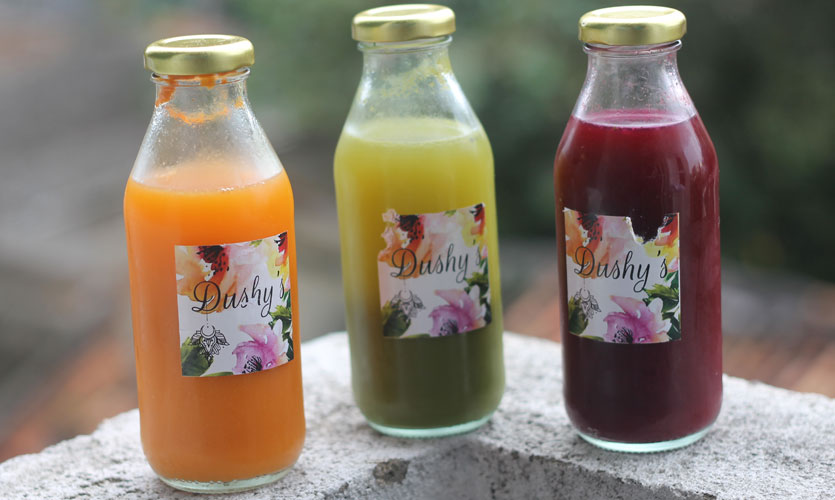 The Green juice is perfect for someone who likes a healthy green blend that makes them feel like they hit the jogging path 5 days a week.
Honestly speaking, the Red juice was too pretty to gulp down. This beetroot based juice is another favourite that probably boosted my immune system and gave me a good dose of fibre and vitamin C. Warning: The flavour of the beet can be strong.
Our second try was the soup box. The Roast Pumkin and Garlic Soup with Whole wheat Flatbread was a thick pumpkin soup that warms your soul and body (really, it felt so good) I did add some lime drops into the soup to give it a tangy flavour (oops, habit) but it tasted just fine without it. Some toasted bread/roast paan on the side would be a good accompaniment. This is a must try.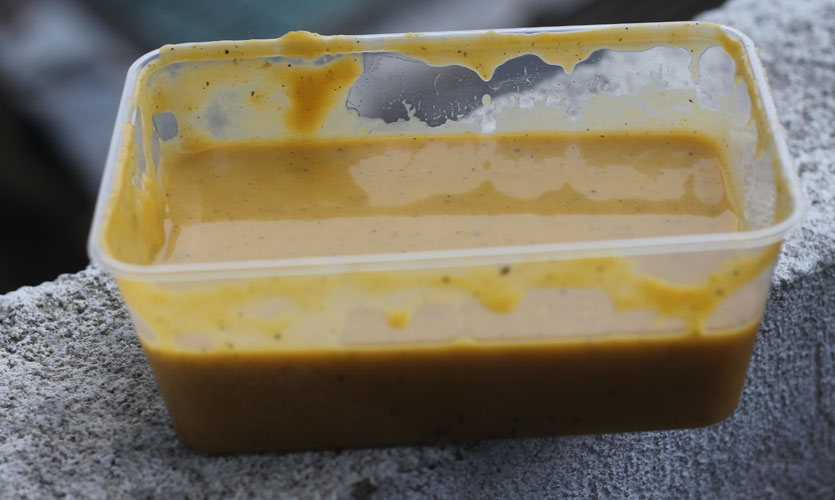 Moving onto the salad galore, we tried the pasta based salad before dishing into all the green and healthy ones. The Tuna and Sweet Corn with Pasta is a heavy dish that fills you up instantly. The best part (and most amusing part) about the dish was her balance of proportions. The vegetables, fruit (grapes), pasta and tuna were mixed in equal servings. The flavours, however, can be improved. Personally, I would have preferred the pasta al dente than al forno, but this is only a personal choice. Firm pasta is just genius cooking to me.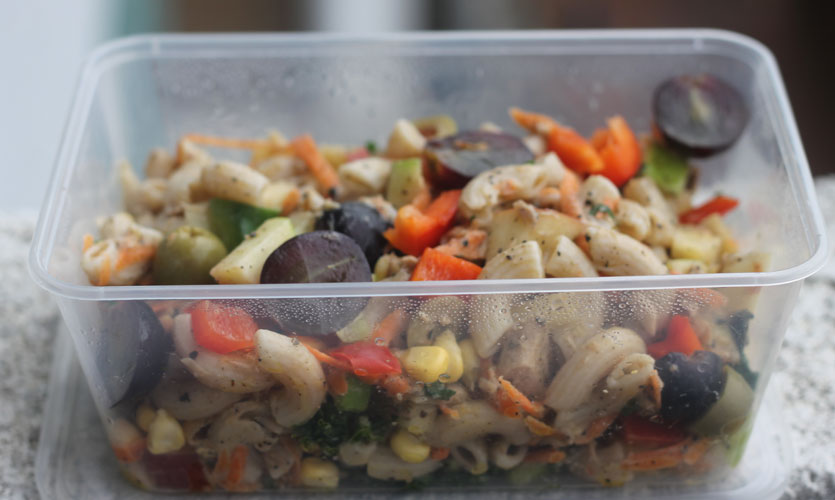 The Chef's Salad was the simplest salad of them all. The dressing and content were simple. It had pickles, a halved egg, chicken (a lot of it), shredded cabbage, grapes and corn. This is something you'd eat before feasting on a heavy dinner.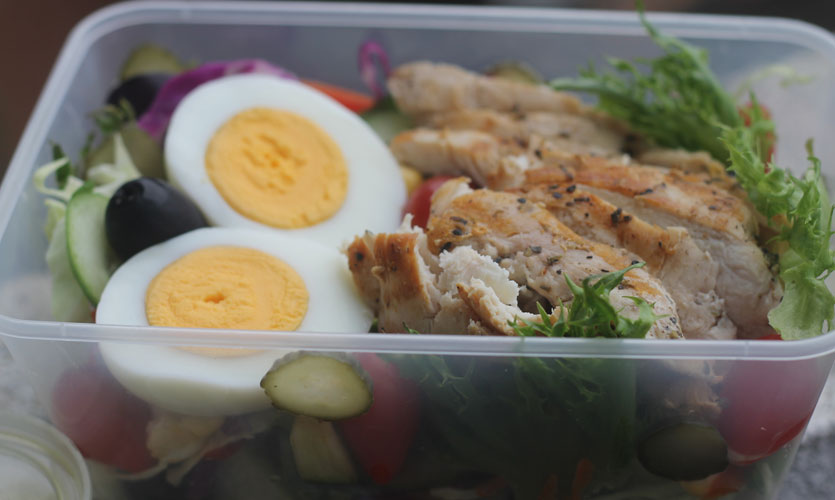 Being tangy and citrus-y to my liking, this exotic Thai Mango Salad was the winner of all salads. Although it is much similar to the authentic Thai version, this had a twist of Dushy's flavours and a layer of chicken on top. The crunchy peanuts perfected this salad.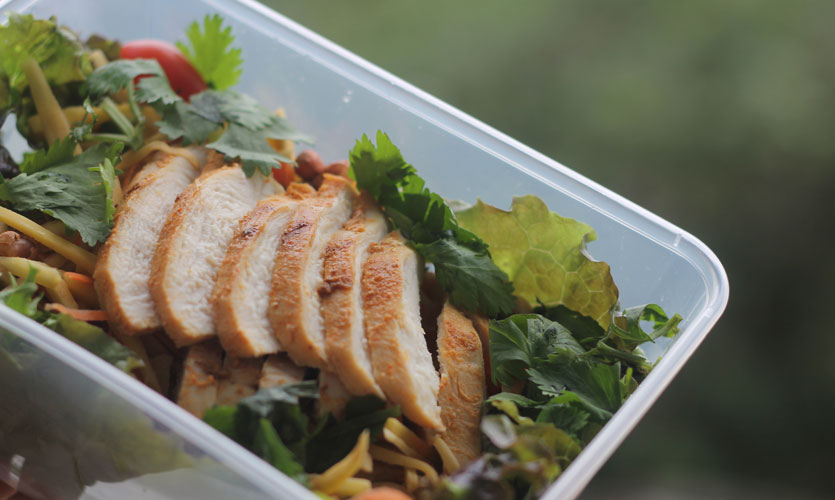 The Watermelon and Mint Salad was the most refreshing of them all. The dressing smelled like the Middle East (good food there, guys) and tasted as good as I thought it would. The feta cheese crumbles and salad dressing blended together quite well. You have to consume this as soon as you get it. If not, the watermelon turns into, well, melon with water floating everywhere.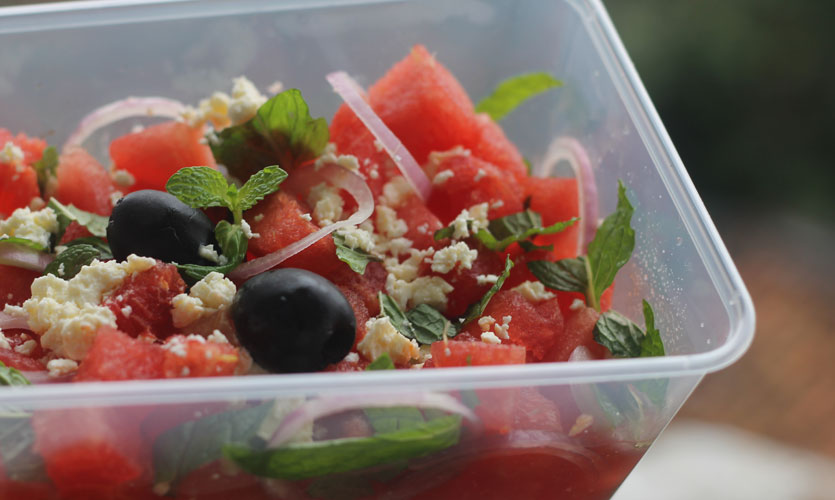 The Baked Prawn Salad was another favourite. The dressing for this salad was delicious. The well baked prawns will certainly fill you up.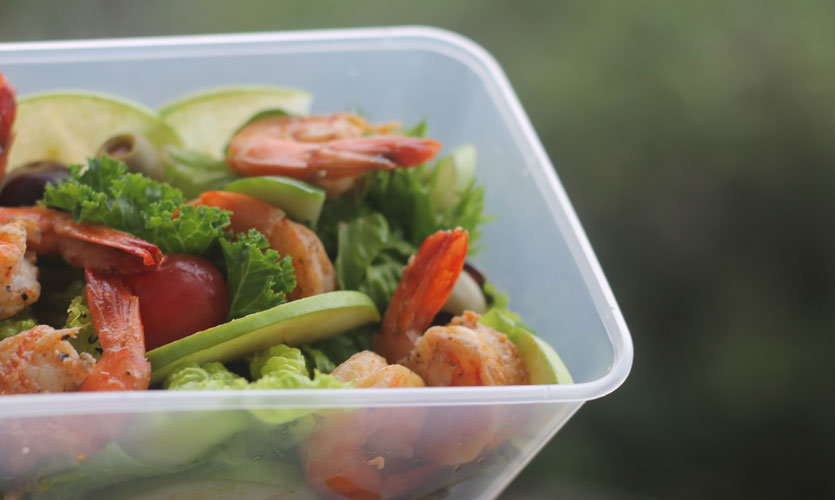 Dushy's servings are generous enough for two. Plus, her pricings help your wallet remain full. Overall, Dushy's Salads gets a good 8.5/10.
You can contact Dushy on whatsapp to place orders from her weekly menu - 0777197974
Facebook: https://www.facebook.com/Dushys-172982829929512/?ref=br_rs
Notes
Orders are to be placed a day before
Lunch delivery only
Delivery charges apply depending on location
Free delivery for over 5 packs in Nawala, Rajagiriya, Borella and Colombo 7.
Pictures by Madushi Rajapaksha