Enter the Hilton Colombo and take a left turn, why? Because I assure you, you'd come across one of the best Cafes in Colombo. Cafe Kai functions mainly as a 'grab n go' counter for all your food requirements, be it healthy or simple yet elegant and tasteful cafe food. It's got an amazing range of beverages which you could couple with its mindblowing cakes. However, Cafe Kai is most famous for its sandwiches, salads, wraps and yoghurts which, you'd be happy to know are made in-house in addition to its artisan sausages which are made with no preservatives and with high-quality ingredients. It's also one of the few cafes in Sri Lanka that is 90% eco-friendly and we were impressed to find that the cafe is in the process of making itself 100% eco-friendly.
Ambiance
You'd be quick to assume that a cafe on the ground floor of the Hilton Hotel would give off a rather official feeling, but you couldn't be more wrong. Cafe Kai boasts a comfortable, cheerful and vibrant atmosphere. It has a very bright colourful and yet cosy feel to it in the mornings and I can only imagine how comfortable it must feel in the evenings. Its staff are friendly and efficient and are always full of smiles which is something I personally like, for who doesn't like to be greeted with positivity. Their counter is efficient, and their seating arrangements are most welcoming. We must not forget to mention that its location is somewhat scenic as well, you can basically grab a tasty bite to eat and gaze upon the old parliament building and Hiltons well kept green garden.
Food
EGGS BENEDICT WITH SMOKED SALMON
This dish blew our minds the most, because to be honest most individuals do not like that smell poached eggs tend to give off but you can take my word for it this dish smelt amazing and tasted great. One thing we noticed about the dishes at Cafe Kai, is that they're very fresh and they're also healthy.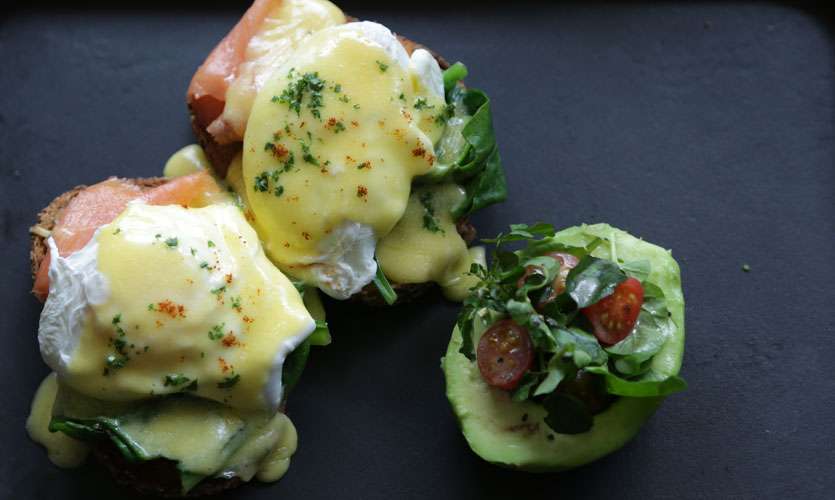 The Chef informed me that the eggs were poached in a mix that included a dash of vinegar which aided in making the dish taste amazing and also ensuring that the smell of the dish was appealing. The meal comprised of two poached eggs on a bed of smoked salmon and brown bread coupled with sauteed spinach and toasted Rye, topped with Hollandaise sauce. To add to the creaminess a side of salad was served on a bed of avocado. This entire dish cost 1488 LKR and I must say it was worth every single penny.
BANGERS AND MASH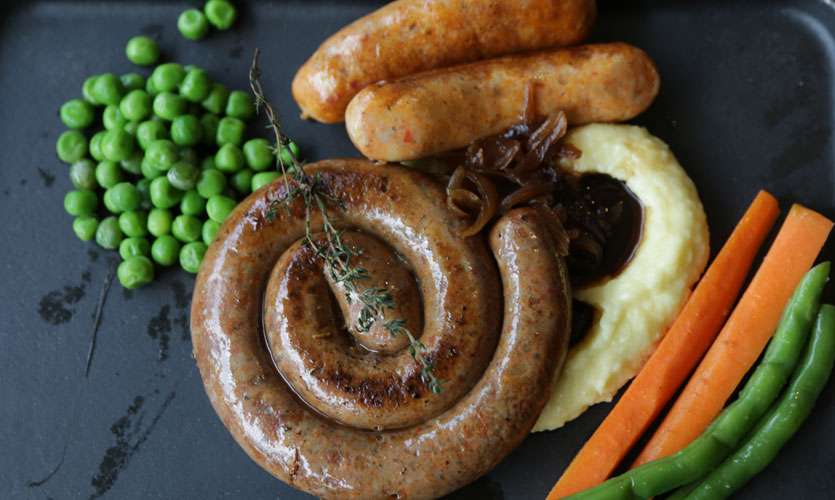 This wasn't your typical Bangers and Mash dish, it comprised of mash potatoes, lamb and grilled chicken sausages and also came with a side of green peas and I even ended up eating the leaves on top! The sausages as I mentioned before are made in-house, and one would usually expect it to be chunky and chewy but these sausages were made to perfection and they tasted amazing. The sausages are artisan sausages which means they are made in a traditional way using high-quality ingredients and if you were to taste them yourself you'd know for sure, they're all natural and do not contain any preservatives. The gravy came cradled in a bed of soft creamy mashed potato, and when you had a bite with a bit of every masterpiece on that plate you'd experience what I'd like to call a mini trip to heaven.
BREAKFAST ALL DAY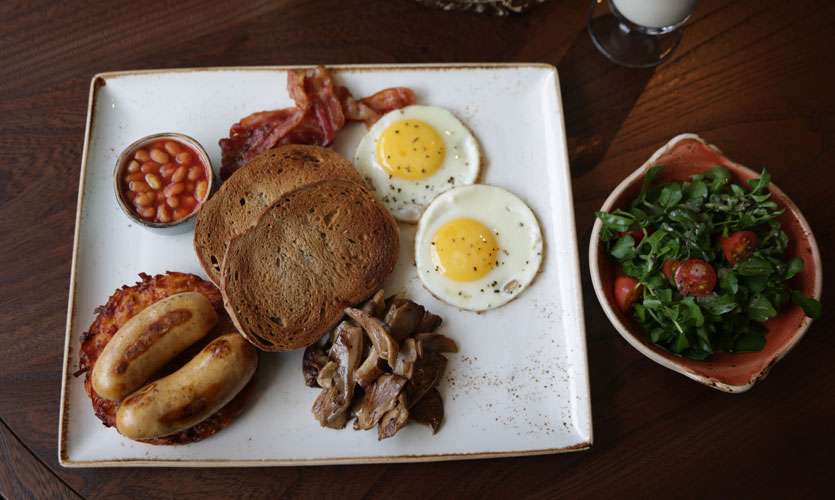 If we could rename this dish we'd call it breakfast for days, because looking at has the capability to render you full and satisfied. The breakfast all day comprises of two eggs done just the way you like it, two slices of brown toast, bacon ( you can always opt out of pork ), sausages, sauteed mushrooms, baked beans, a mixed salad and a potato pancake. This unbelievable fulfilling and protein filled dish costs only 1488 LKR. I've had a number of breakfast meals styled like this, but none were as fulfilling. Every penny spent on this meal is compensated for in terms of taste, quantity and quality. I recommend that you have it if you are in the vicinity or staying at the hotel.

HALF ROASTED SPRING CHICKEN
I know what you're thinking, you'd expect the portion to be small but trust us when we say this, it was too much for one person to eat! It was beyond amazing. When we inquired as to how the meat of the chicken had so much flavour concealed in it, the chef told us each piece that is served has been put in a bath to marinate for exactly 24 hours. This dish which came with a half roasted spring chicken, mashed potato, glazed beans and carrots was a meat lover's dream come true and the fact that the chicken was bursting with flavour and wasn't bland like most roasted chicken dishes you find, gave us all the more reason to fall in love with Cafe Kai's all-round quality of food.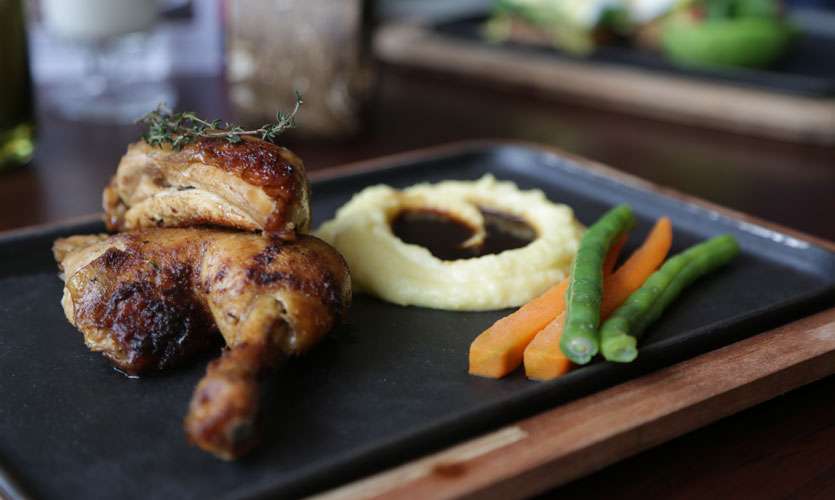 Drinks
ORANGE JUICE
We tried the fresh juices available at Cafe Kai, and I you know anything about me, it's that I love my fresh juices and more importantly I love my citrus. The orange juice at Cafe Kai was so good, that they ended up refilling my glass three times. It had floating pieces of pulp, just the right amount actually and the fact that the drink didn't even have a hint of overuse of sugar completely blew my mind. My faith in the cafe was cemented purely by their ability to deliver a simple orange juice perfectly.
HAZELNUT LATTE
The Hazelnut Latte has to be one of the prettiest and tastiest warm drinks I've had in the recent past. It was made so beautifully and had layers and layers carefully put into the latte which was somewhat mesmerizing to look at. It tasted as good as it looked, it was warm and rather comforting. I would definitely recommend it on a cosy rainy day or maybe in the evening.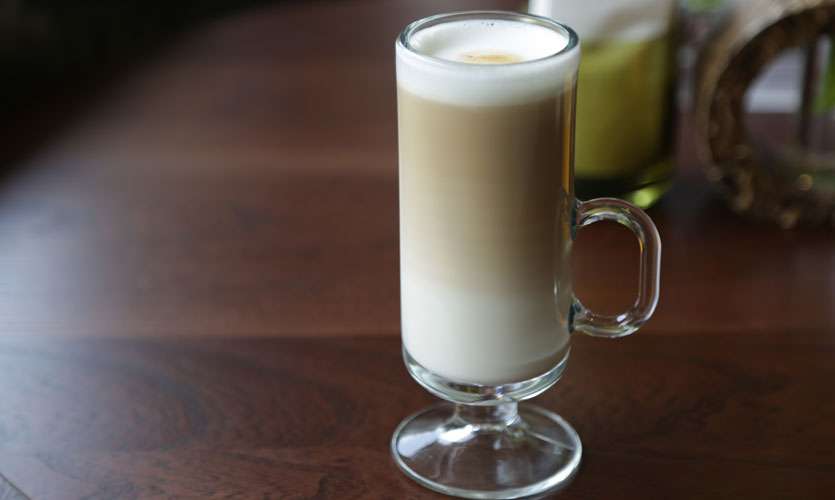 Desserts
I must say we didn't have enough room for desserts, but I simply could not leave without completing my experience, so I had a Danish pastry with strawberries and cream cheese on top. To put it in simple terms the pastry was heavenly! It was perfection on a plate, with just the right amount of strawberries to last you till your done, the pastry was fluffy and crumbled in my mouth and the cream cheese made the experience of eating it all the more mouthwatering and I crave it even while writing this.
Things you need to know
Cafe Kai is it's manager Tatyana Perera's baby, she's been with it since it's inception last year. Furthermore, in a day and age where plastic is slowly taking over our world's oceans, we were proud and impressed to find out that Cafe Kai is 90% eco-friendly and the management is in the process of going that extra mile to make it a 100%.
Would we go again?
Of Course, we would go again! You get to have food that you know for sure is up to international standards and in addition to that they charge cafe prices! If you take a look at the menu, the prices that you see on it are what you would be paying at the counter! There aren't any surprises in terms of taxes or service charge so you won't go through that mini heart attack when you get the bill! Also, If you've taken a look at our Instagram page you'd know for a fact that the food looks as good as it tastes and smells.
Contact Number : 011 2544644
Website : http://www.hiltoncolombo1.com/CafeKai
Facebook : https://www.facebook.com/cafekaihilton/
Instagram : @cafekaihilton