The world has seen an unexpected spike in creativity coming out of quite an interesting few months in isolation, with people around the globe crawling out of their shells and showing their true colours with their artistry. I got the chance to talk to Yeran Aturupane, an aspiring young musician and painter, to find out about his passion for the arts and his idea for a small exhibition he has in
the works. One that could possibly provide for the less fortunate school kids in his area.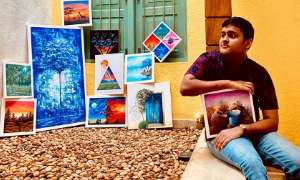 Q SO TELL ME A LITTLE BIT ABOUT YOUR SCHOOL LIFE?
I school at S. Thomas' College, Mount Lavinia. Having just finished my O/L exams just last year, I
am currently getting into my A/L stream, following Psychology, Economics, Maths and Law.
Q WHAT DO YOU DO WHEN YOU'RE NOT STUDYING?
Well, I am a member of the College Western Band where I play the flute and piccolo. I also
represent the College in Scrabble and I am the Vice-Captain of the College Scrabble Team.
Q IF YOU WERE ASKED TO CHOOSE BETWEEN THE ART AND MUSIC, WHICH WOULD IT BE?
My first love is music. Well, considering the fact that I grew up in a very musical family, my love for music goes back to the time where I could remember my grandmother singing and playing the piano for me.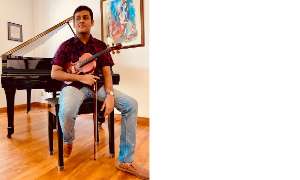 Q WHEN DID YOU GET INTO PLAYING MUSIC, RATHER THAN JUST LISTENING TO IT?
I started piano lessons when I was 5 years old. Slowly but surely the violin, recorder, flute and
many other instruments have become things I play regularly, and now music has become a big part of my life. In many ways, it has changed who I am as a person. I've been performing since I was 10.
Q STARTING AT SUCH A YOUNG AGE, HOW DID YOU FIND PRACTISING A PIECE OF MUSIC?
As a little boy, I found practising tedious, and I didn't understand why I had to practice so much,
whether it is the piano or the violin. Later on, I began to realise not only how vital practising is to success but being focused and dedicated to being the best at something you want to succeed in, is essential. All this has really helped me to improve as a person in all areas of my work.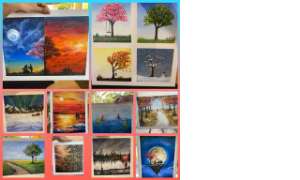 Q WHAT INSTRUMENTS DO YOU PLAY?
I learn the piano and the violin. Besides those two, I play the flute, piccolo, and many other wind instruments. I also play the guitar and keyboard in my free time.
Q IS PAINTING SOMETHING YOU PICKED UP RECENTLY?
Turns out, the 'Artist' in me has been dormant all these years. I loved to draw and paint and it just so happens that most of my childhood photographs are where I am seated on tables, chairs, on the floor and drawing and colouring.
Q HOW DID YOU PICK UP THE SKILL?
I have no formal training in art. When I was around 7 years old, my friends and I joined Mrs
Manju Nanayakkara's creative class, which was in my neighbourhood. It was a world of freedom.
Drawing, sculpting, handwork; It all stirred up the creativity in me. I loved going to that class. I did continue to draw and took part in College art exhibitions too, but as I told you earlier, music is my first love. I eventually got more involved with the western band and other activities in College.
Q WHAT DID YOU MOSTLY FIND YOURSELF DOING DURING THE LOCKDOWN?
I had so much time and so much creative freedom that I started to paint, using supplies my
grandmother had. I kept on doing two or three canvases a day. Ideas kept coming to me. It was
very relaxing and incredibly soothing considering the hectic spell of studies for my OLs in December. Until the online classes started I had a lot of time to be engaged in my paintings as
well as practising my piano and violin. Since lockdown began, I have completed 32 paintings.
Q WHO GAVE YOU THE IDEA OF PUTTING UP A COLLECTION FOR AN EXHIBITION?
I felt that it is my duty to use the talents and abilities I have, to reach those who are less fortunate
than me. I was fortunate enough to have these opportunities. I am not a professional artist to put a
price on my art but my friends and family insisted I host an exhibition. So the idea came up to host one in my own garden and whatever contributions would go towards a charity and since music is something close to my heart, I thought I could help a school which has no proper music room or instruments so that the children could benefit from it. We have ear-marked a couple of poor schools in the area and we are hoping to visit them and talk to them very soon. We haven't decided on a date due to the uncertainties around us but I will definitely do that before I get back to my studies.
Well, there you have it.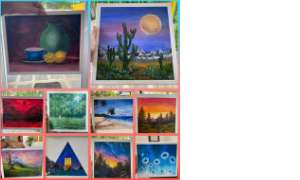 All things considered, Yeran has outdone most people twice or thrice his age with his sole intention being that he can allow others to experience music and art the way he does. It is also safe to say, his paintings are out of this world! We wish him all the very best in his endeavours and hope that everyone can take a page out of his book and spread a little positivity. Quite frankly, I can't wait to see what he has in store for the future!
BY VIHAN WICKRAMASURENDRA