If you happen to see a female mixologist at a private event or a well-known bar in town, you're most likely to taste some signature cocktails curated by CocktailswithValerie by Sasala Dissanayake. She is proud of the fact that it was entirely self-taught and self-learned. Having had her primary education at Cambridge High School Dubai, UAE as her father was working in the Gulf she later completed her O/Ls and A/Ls at Wycherley International School on her return to Sri Lanka. Thereafter she pursued a degree in Business Administration at Curtin University, Australia and stepped into a career in the corporate sector in Human Resource Management.  It was during the lockdown period that she started experimenting and mixing cocktails and two years later, she is living her passion. 
Excerpts: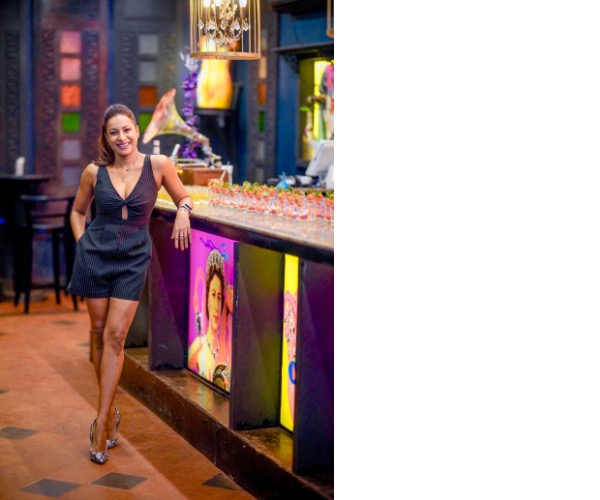 Q    Tell us about yourself 
Well after completing my degree I wanted to join the corporate world and pursue a career in Human Resources Management as my father was an HR professional. At that time he was heading HR at Sri Lankan Airlines and he loved his work there were many stories about the field which were discussed at home and that's how my love for HR began. Then I got the opportunity to start my career with the John Keels Group as a trainee executive in Group HR. Thereafter I moved within the group to Cinnamon Hotels & Resorts and then went on to become the Head of HR at Walkers Tours. After a span of 15 years in corporate life (which I am ever so grateful to JKH as that's the place where I got my foundation and learned life skills and to be a professional), and as I reached 40 I moved on to start something of my own in the Tourism Sector but unfortunately with the Easter attacks and the pandemic my plans were put on hold and they took a completely different turn. 
Q    What's the story behind CocktailswithValerie?
Whilst in lockdown and out of pure boredom I started to experiment with making a few cocktails at home by watching YouTube videos and googling recipes. Since I love photography I started to take pictures of the cocktails via my phone and shared the pictures of my concoctions on my personal Instagram handle ( Sasala Dissanayake )  along with the recipes coz I use to tweak the original classic cocktail recipe to fit the ingredients I could find at home. This is because we didn't have many options, for example, I didn't have lemon and therefore I substituted that with another citrus flavour which was narang as I had a narang tree at home and used fresh fruit juices as during the lockdown the fruit lorries use to come by with all the local produce. Hence the classic cocktail recipes were done differently with my twists where I have added a local flavour. Instead of oranges, I'll use pani dodam or for certain herbs I'll use Karapincha, rampe and  green chilli etc. These recipes became interesting and unique. As soon as the first lockdown was over my friends came over to try the cocktails and they loved it. I then opened a new Instagram handle called Cocktailswithvalerie which is solely dedicated to all the cocktails I make at home and the events I undertake. 
Q    How did you come up with the name  Cocktailswithvalerie? 
Well, that was also by chance. Nothing in my story of Cocktailswithvalerie is planned or well thought out. In fact, everything has happened by accident. As for the name, just before the pandemic a few of my friends from Walkers Tours had a pop-up sale by the name 'Valerie Drive'. It was like a Car Boot sale and they asked me if I would like to come on board as a vendor as they wanted someone to mix drinks.  I had no idea about mixing drinks and also we cannot sell drinks in public places etc. Then as to support their venture I agreed to come up with a couple of mocktails and be a part of their pop-up sale. They wanted a name to refer it to as they wanted to promote all their vendors on Instagram. Since I haven't come up with a name on the last day  I suggested Mocktails with Valeri since their name was Valerie Drive. That's how it all began. Then during the lockdown, I started making cocktails at home and when I opened my new Instagram handle I asked them whether it was alright if I call my page Cocktailswithvalerie and that's how the brand name came about.
Q    Let's talk about the Ladies' Nights and other events you do. 
I actually do a variety of events from birthdays to weddings, masterclasses, cocktail menu planning, Hens Nights, product launches, consulting, corporate get-togethers, sit-down dinners, corporate training, friends' get-togethers and my most popular event the "Ladies Night"  which I try and do once a month mostly at Love Bar Flamingo House.  They have supported Valerie right throughout and I love doing Ladies Nights there because it's an event specially curated for about 40 to 50 Ladies. It is an Invitees Only event, with a  special playlist to make it an enjoyable evening for Ladies. This concept first started when one of my best friends gave me the first ever opportunity at her Restaurant Taphouse by R&R where she invited me to have a "Ladies Night". It became a hit and all the ladies who attended, loved it and that's how the idea of a Curated Ladies Night was born.
Q    You mostly cater your events to ladies. What is the reason behind it?
Not really. I do take on events with mixed crowds as mentioned earlier. I made a special emphasis on the Ladies Nights because it's an event I curate from the cocktails to music to the guest list as it's an Invitees Only event. I invite ladies who are my friends or friends of friends and some ladies who directly message me on my Instagram who express their interest in attending an event by Cocktailswithvalerie. I maintain a guest list and I invite the ladies to that specific night and they confirm their participation with their girlfriends/ girl gang etc. 
At events like these where there are about 40 pax and over I try to do simple cocktails which are easy to make but taste good. I avoid the complex cocktails unless it's for a very small crowd as I need to get a cocktail out in 20 seconds or less. My most popular signature cocktail which everyone requests and which is a "must have" at all my events is the "Strawberry Smash". It has a very simple recipe. Both ladies and gents love it which is kind of surprising. 
Q    What is the difference between a bartender and a mixologist?
That's a very good question and something I love to answer. Most people actually do not know the difference and they interchange and use it because on the surface it might look the same. But there is a difference. A bartender is someone who, with all due respect, works at a bar and tenders the bar. They not only make classic or in-house cocktails but also pour straight-up drinks and sometimes manage the entire bar from stock taking, ordering, controls and other tasks.
On the other hand, a mixologist specializes only in concoctions of cocktails and they might or might not work at a particular bar on full-time basis. They mostly undertake bar consultancy work on drink/cocktail menu planning and come up with new unique signature cocktails for restaurants, bars and other venues. Most mixologists do start off as bartenders and broaden their scope and knowledge into mixology. 
Q    Have you faced any challenges while working in a male-dominated field?
Many people ask me this question but frankly speaking, I haven't faced any discrimination or sexism yet and fingers crossed I hope I don't face any such situations either.  I have been doing events for the past one and a half years at many different locations from hotels to restaurants to bars etc and in every place I have done events are mostly male-dominated from barmen to bar superiors to food and beverage managers and so on. But I can proudly say that all of them have been very supportive and have treated me with respect. Actually, I feel they too like what I do because it's something different so they also like to be a part of it in some way which is humbling. Therefore I have the utmost respect for all of them as they are true professionals and I learn so much when it comes to certain techniques and methodologies which is great.
Q    Are you a full-time mixologist now?
No, not really I say I am a part-time mixologist as I don't take on many events even though now there is a greater demand (fingers crossed ). I try to give my personal life first preference as when I do take on an event there is a lot of effort and work that goes into it. I don't take on back-to-back events as the next day I keep it to rest and recuperate. After being in the corporate world I really appreciate a stress-free life and I truly feel blessed to do something I am passionate about. Honestly, I don't feel like it's "work work" but something of a hobby where I take on events when I have free time.  
Q    How does your family support you in this endeavour?
My father will always support me in whatever I do if I  too love it and enjoy it. Of course, he would like it more if I am in the Corporate  Sector as he's a workaholic and he thinks working in a Corporate is "work" and looks at what I do now as a way of keeping myself busy which is good in a way.
Q    What is the most satisfying part about being a mixologist?
Best part is the female aspect of it as I love doing the Ladies' Nights. The event itself and the fact that all the ladies who attend the event enjoys the night as it's a different experience to usual Ladies Nights is satisfying. On the other hand, everyone likes the cocktails that I mix irrespective of the fact that each person has a different palate when it comes to cocktails. At the end of the day, they all go home with amazing memories of the night out with their friends.
Q    What is the most challenging?
Other than the tiring aspect after an event, I haven't actually faced any real challengers per se. I do my best to keep it stress and hassle-free and make sure it's not too formal. I deal directly with the host and communication is mostly on WhatsApp so it's easy to manage since this is a one-woman show.
Q    What are your future aspirations?
I take this one day at a time. I don't have any future plans for what direction it should take or what it should be or look like. My brand is evolving and as a person, I am evolving and changing. Thus far what I have achieved via Cocktailswithvalerie is purely organic growth and no business plans were put in place. There were no big ideas that were put into action and I don't even have a logo. But I recall someone saying "you don't need a logo, you are your logo" and I honestly feel that's true. I feel just like my brand name everything has happened by chance and accident and I feel very blessed. But at the same time, I am a very passionate person hence given a chance I take the opportunity and give it my all. This is why I feel Cocktailswithvalerie has come thus far.
Q    This is a profession that is out of the conventional. What is your message to girls who want to do something out of the conventional?
Be passionate and believe in yourself. Don't do things for the sake of doing them. Do it because you want to and believe in yourself in achieving whatever your heart and mind set out. Give your best to whatever it may be. Then you know you tried irrespective of the outcome. That way you will have no regrets.