When the National People's Power (NPP) nominated Dr. Harini Amarasuriya to fill the only National List position in Parliament, it was indeed a moment of victory for those who have been waiting to see women's engagement in active politics. Dr. Amarasuriya is a proud product of Bishop's College who has gradually reached her milestones in life amidst many challenges. The first instance was when the 1988-1989 disturbances disrupted her school career as schools and universities were shut. But that didn't stop her from receiving a scholarship to India where she earned her first degree from the University of Delhi. Five years later, she obtained a Master's in applied anthropology from Australia and subsequently a Ph.D. in Social Anthropology from the University of Edinburgh. Thereafter she joined the Open University of Sri Lanka as a senior lecturer teaching sociology and social anthropology.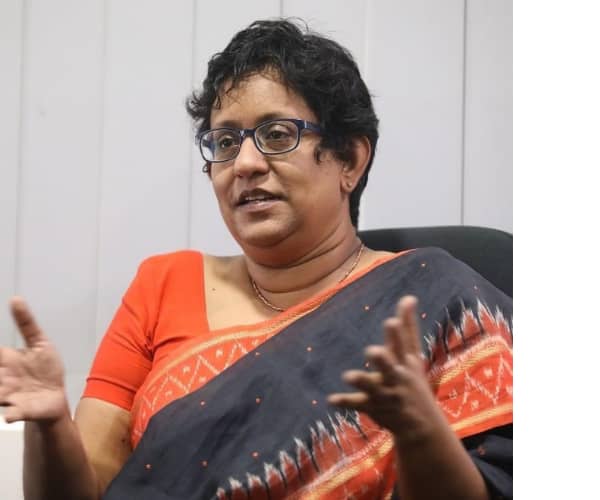 Having advocated for women's participation in politics, Dr. Amarasuriya believes that the Parliament should be more relevant to women's lives in order to see them actively engaging in politics. Speaking to Women at Work, Dr. Amarasuriya spoke about the existing patriarchal system and inclusion of women in politics, what approaches need to be taken to solve the existing crises, and what she would do if she was elected President. Excerpts :
Q : What inspired you to join politics?
I didn't necessarily choose to join active, full-time politics. But I have been working with the NPP for some time on policy-related matters. In fact, I was very much involved in setting up the NPP. But I had no intention to become a full-time politician. However, during the election, they suggested that my name should be included in the National List and I agreed to it. I have been campaigning for women's participation in politics. The percentage of women was less than we expected. Therefore I thought there was time for me to work on something I believed in.
Q : Back in the day, there were educated politicians who were elected to Parliament. But we don't see such a trend today. As someone coming from an educational background how important are educational qualifications in the making of a politician?
Right now, the ninth Parliament is supposed to have educational qualifications much more than in earlier years. But it is not only the educational qualifications that make one a good politician. The political culture in which you're brought up also matters. One can have educational qualifications and still be corrupt. Therefore education is not the only factor that determines whether one is a good politician or not. One has to represent a movement that works on principles.
Q : Even though Sri Lanka boasts of a high literacy rate, the education system is archaic and outdated today. What are your thoughts about the education system and what reforms should be brought about?
There are two things that are unacceptable; one is that it is too competitive and also too exam-focused. Therefore the education system doesn't encourage learning. This needs to change. The current education system also doesn't equip a student to become a good citizen. Children should be taught art, politics, and social responsibilities. The idea about education is about fulfilling a personal goal. This has to change. There has to be social representation in order to produce socially responsible people.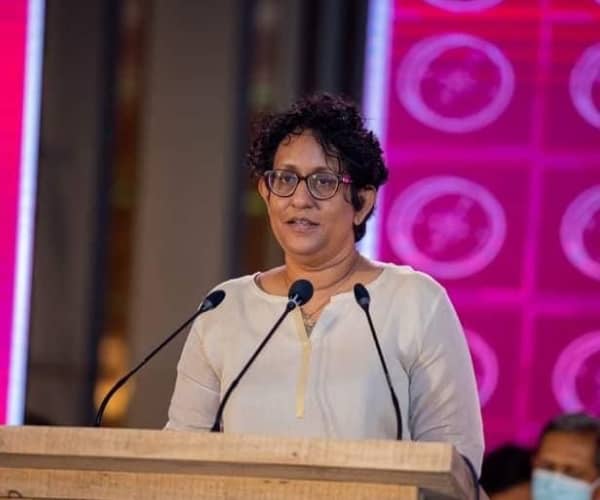 Q : Sri Lanka's political culture is highly male-dominated. There were instances when sexist remarks were passed at the most respected institution in the country. Your comments?
The Parliament represents what society thinks at large. We come from a patriarchal society where sexism has been normalized. The representation of women in leadership positions is unacceptably low. There seems to be a real disengagement with politics. The fact that politics is considered dirty, corrupt and the notion that no decent person would enter politics is even more damaging. If someone says that he or she doesn't like politics, it is a badge of honor. But if someone is talking about change, then politics also has a part to play in it.
Q : Even though there were attempts to increase women's quota in Parliament, we don't see many women supporting women once they enter politics. How do you see this?
I don't think you can ask women to vote for women just because you're a woman. What we need is more active engagement of women in politics - as campaigners, activists, and other aspects of politics. There's a bigger demand for women's issues to be represented in these places. But women don't see these places as linked to their lives. If they feel that the Parliament was relevant to their lives, then there would be bigger participation and this is something we need to think about. Therefore we need more women to make it relevant and basically make these bodies represent us and work for the common good of women in the country.
Q : But the incumbent government has a state minister for women's affairs. Does that help in fixing the problem?
I don't think having a Ministry of Women's Affairs or a Minister would make much of a difference. I don't see them having progressive thoughts about women. This is symbolic of the fact that women's participation or women's affairs are not that necessary.
Q : Do you think there's a chance for an alternative political force to turn the tides in the political sphere in the future?
That's already happening. There's a whole discussion about how mainstream parties have failed and now there's a shift towards a different political movement. There's a genuine desire among people to see a new set of faces and a different set of solutions to existing problems. This is why there's more interest in the NPP. Whatever we have been doing for the past 73 years hasn't worked. Therefore the strategies that are offered must also be different.
Q : The country is faced with many crises, from power to shortage of gas, fuel, fertilisers, and also forex. How do you see these issues as someone representing an alternative political party?
The solutions we have been talking about are based on fundamental principles. They are not ad hoc. People are listening to us a little bit more. We have been talking about agricultural reforms for a long time. These included reducing dependency on chemical fertilisers, how farmers could profit from their ventures, breaking monopolies among rice mill owners, and so on. These have been presented in our 2019 election manifesto as well. But now, people are hearing them more due to the current crises. In fact, the existing crises are exposing stark ways in how unsuccessful most short-term policies have been.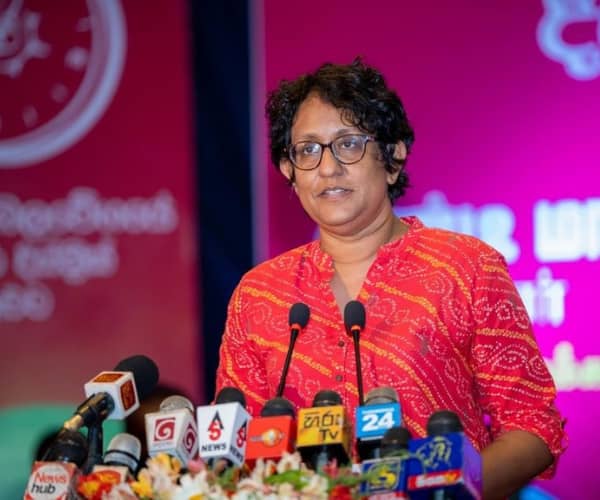 Q : If you become President one day, what things will you change or do differently?
Firstly I'll abolish the Executive Presidency. I'll make myself unemployed and that would be a major victory. I will also revert to a Parliamentary system and representatives will be held more accountable. This will help in the long run.
Q : What challenges have you faced as a career female politician?
Not being taken seriously. Very rarely are we slotted in to talk about issues other than women's issues. We too can talk about economics, science, technology, and other topics as well.
Q : The most satisfying part…
The opportunities I get in meeting people from different backgrounds. Listen to their stories firsthand, being able to speak out. Occasionally I come across young women who want to join politics and make a difference because they have seen other women making a change.
Q : Future aspirations
Make sure that an NPP government is formed as soon as possible so that we can do what's right for this country.