Temple murals of the Anuradhapura, Polonnaruwa and Kandyan periods speak volumes about the life, lore, and teachings of the Buddha. For years, these paintings have been studied by scholars, researchers, students, and artists to distinguish between their differences and varying thematic richness. Names such as Solias Mendis and Somabandu Vidyapathi have left indelible imprints in the temple mural culture of Sri Lanka. Changing the tide in this sophisticated form of art is a budding young female artist, Chamini Weerasooriya who hails from Anuradhapura. Having read for a Bachelor of Fine Arts (Special) Degree at the University of Peradeniya, Weerasooriya has thereafter completed her Master of Fine Arts in Painting at the Kelaniya University and is currently reading for her Ph.D. in India. Having painted various temples in Anuradhapura and around the country, her latest project is to complete a series of temple murals at the Sandagiri Seya in Hantana. Chamini spoke to us about her inspiration to choose the field of temple art, her latest project, her mission to break gender stereotypes and spread the word of Buddhism via temple art in India.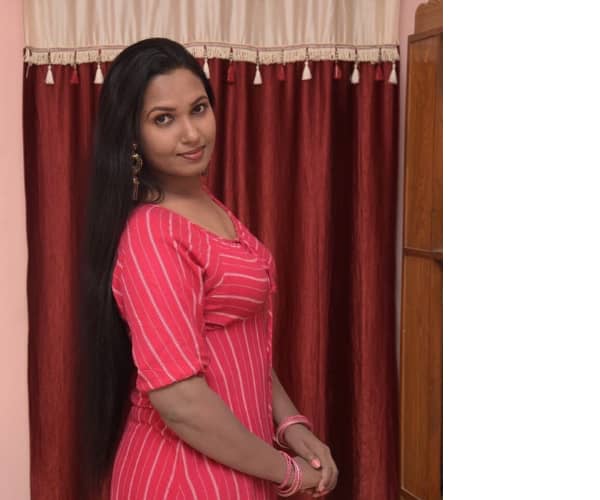 WHAT INSPIRED YOU TO CHOOSE THIS FIELD?
I was interested in painting since I was a child. Earlier I used to look at a photo and paint. Sometime back I used to do wall paintings for hotels and houses. I have also worked as an art teacher in several schools. During the colonial era local households had pictures of the Queen. But it was M. Sarlis master who introduced Sivali paintings and paintings related to Buddhism. He was a great inspiration for me. After observing his paintings I developed an interest to do more temple art and there were hardly any women in this field. Therefore I wanted to fill this void.
HAVE YOU DONE TEMPLE ART BEFORE?
Yes. In 2016 I did some temple art at the Puranagama Viharaya in Anuradhapura. I also did some paintings for Gampola Bodhirukkaramaya and Kadurugaswewa Shailabimbaramaya in 2019 and was also involved in the renovation project at Kirulapana Sri Siddhartharamaya. The duration of each project depended on the requirements. Some took days and others took weeks to complete.
YOU HAVE ALSO TRIED TO INCLUDE YOUR OWN TECHNIQUES TO THESE PAINTINGS. TELL US MORE ABOUT IT.
I try to add a lot of colours to these artworks. I concentrate more on the contour lines. Oriental forms of temple art utilized a minimum colour palette but I want to bring about spiritual healing from these murals. Therefore I didn't want to confine them to one country. Prior to introducing my own techniques, I have studied paintings in Sigiriya, Thiwanka Image house for example, and other forms of art during different periods.
HOW DID YOU MANAGE TO INTRODUCE TEMPLE MURALS TO INDIA?
I was based in Nagpur which is home to over 3 million Buddhists in the state of Maharashtra. However, they don't have much understanding of the philosophy. I realized that they do not have a temple art culture there. As such, I initially did some temple art at Bodhigaya Vihara in Nagpur in view of my birthday. They were curious to know what I have painted and I felt that they were interested in it. Subsequently, I was invited to do some guest lectures and discussions in Buddhism. One of these invitations was from Lucknow University where they requested me to teach them Sinhala. With the assistance of Ven. Mathuwela Vijithasiri thera I conducted a one-month workshop. The participants at the workshop are now in the process of translating Pali texts written in Sinhala to Devanagari which is another ancient Brahmi script. I also had the opportunity to participate at the International Buddhist Conference held in Lucknow as a guest speaker and in addition to that, I also held a solo exhibition as well. All these paintings were based on the teachings of Gautama Buddha and the history of Buddhism.
LET'S TALK ABOUT YOUR LATEST PROJECT.
I had always wanted to make use of my inborn talent and volunteer to paint a temple in full. After discussing my objective with the chief incumbent at Sandagiri Seya located at the summit of the Hantana Mountain range I started the project. So far around 95% of the work is done. Thereafter I had to leave for India for my higher studies. The duration to complete depends on the weather and other external factors too.
WHAT ARE THE CHALLENGES YOU FACED DURING THIS PROJECT?
Since the walls of the interior of the chethiya haven't been plastered, the walls are usually very moist. As a result, it is difficult to stabilize the outlines as expected. But I intend on finishing the work soon. Another issue is accommodation. I cannot ask for accommodation at the temple as it doesn't seem to be appropriate. Therefore I have to stay over at a nearby house and take all the paints and equipment to the temple. Such logistical issues are quite time-consuming as well.
THERE ARE CERTAIN GENDER STEREOTYPES THAT FAVOUR MALES MORE THAN FEMALES WHEN IT COMES TO RELIGION. ONE NOTION IS ABOUT IMPURITY ATTRIBUTED TO WOMEN WHO VISIT RELIGIOUS PLACES. HAVE YOU HAD SUCH ENCOUNTERS AS WELL?
Yes. Absolutely but I believe that this notion came about with the spread of Hinduism during the 12th and 13th Centuries. Women had more prominence in Buddhism. The Jayasri Maha Bodhi tree was brought to the island by Bhikkuni Sanghamitta, the Tooth Relic was brought in safely by Princess Hemamala and Prince Dhanta. Maha Prajapathi Gothami was the first woman to seek ordination for women. Therefore all these stereotypical ideologies have been fostered mostly by laypeople and my intention is to bring a change in this discourse. People are surprised that my family allowed me to travel to rural areas and paint temples and even teach art at one point. Certain people have also criticized me on various occasions. But my husband has been a great pillar of strength. My ultimate goal is to mark my name in the temple art industry of Sri Lanka.
WHAT'S THE MOST SATISFYING PART ABOUT DOING TEMPLE ART?
The spiritual healing I get at the end of the day cannot be described in words.
DO YOU THINK ARTISTS GET ENOUGH RECOGNITION IN SRI LANKA?
People tend to give you less recognition and prominence when you say you're teaching Arts or if you say you're a painter. There are only a few artists who try to follow classical techniques. Such artists find it a bit challenging to earn a name for themselves. But if your intention is more commercial and monetized then there's a chance to gain popularity. There's no support from the political sphere either. But after all, art helps you in healing the soul.
YOUR MESSAGE TO BUDDING ARTISTS?
Do what you're passionate about. Sometimes you may not be able to succeed as planned if you plan to continue in this field. If art helps you to awaken your soul and inner strengths then you should consider continuing it.
FUTURE ASPIRATIONS?
I have a plan to spread the word of Buddhism via temple murals and oil paintings in India. I'm planning to have three more exhibitions next year in Uttar Pradesh, New Delhi, and Nepal. I'm also attending discussions on Buddhism as well. Perhaps the Sandagiri Seya project could be my last temple art project in Sri Lanka. I'm also planning to complete my Ph.D. here. But everything is currently at a standstill due to the pandemic.

Image courtesy Chamini