In this series, we talk to people who turned their passion for food and baking into a business idea amidst lockdown and COVID-19 fears. Some have been in the market for years and others saw the new opportunity and took it! With new challenges presenting themselves in light of the current economic crisis in the country, we talk to home bakers who are navigating through these difficult times and bringing the sweet and savoury to your very own doorstep!
Nimesha Jayani Cooray never got into baking (or even cooking, she says) until she was 22. During her final year of her bachelor's, she went to a baking class to learn the basics and fell in love with the craft. "Baking always helped me stay focused and be productive in my leisure time so I decided to bake for my family and friends for their birthdays and small functions. Later, without me even realizing it, I started getting orders through word-of-mouth marketing! I've had to put in lots of effort to develop my craft and every single cake I make is made with love and care. Working full time in my family's seafood business and running my small business is not without its' challenges, but the passion I have for baking and hearing from my happy customers keeps me going forward".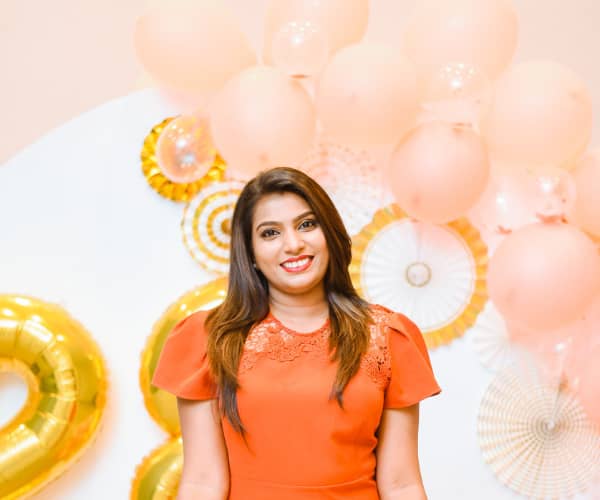 What do you offer?
I do various types of custom cakes on request for birthdays and special events, like Butter cakes, Coffee cakes, Ribbon cakes, and Chocolate cakes. I also do cupcakes, brownies, and wedding cakes as well. Our bestselling products are our Chocolate cake with Buttercream frosting and Fudge Brownies.

What is The Baking Girl's signature style?
I love cakes that taste heavenly in your mouth. I pay extra attention to getting the premium quality ingredients as I believe it has a direct impact on the result. I use modified recipes to match my style and standard and I test each recipe well before presenting it to my customers.
When did you start operations?
I baked my first ever cake in 2013 for my grandmother's 70th birthday. I started by baking for my close friends and family while I was studying and they motivated me to start my own business and really pushed me to convert my hobby into a business. My first official order was placed somewhere in 2015 and I've been in business since!
What was it like running your operations during a pandemic and now?
During the pandemic, I was extra careful with safety measures and hygiene. I also managed to keep extra stocks of ingredients and honestly the agents helped me a lot with it. I even took a curfew pass from the police station to deliver cakes during the lockdown – since my customers were not able to come to me. Now, the biggest challenge I am faced with is the unbearable price increases and the fact that most of the imported ingredients are not available in the country.
How are you ensuring the proper hygiene measures are taken in preparation and delivery?
Starting from the eggs, every ingredient is handpicked by me. I have my go-to vendors that I have built a relationship with over the years. Being a home baker, my reputation for quality and hygiene is critical. I clean and sterilize all my baking tools and I do the baking myself to ensure hygiene. I have a separate kitchen for baking and decorating which gets regularly sanitized. I also always use sealed boxes for cake deliveries to avoid contamination.

What do you enjoy about baking and operating your own home baking business?
Baking is a form of therapy for me in life. Nothing can beat the satisfaction I get when seeing the end product. This secondary income definitely helps my personal life as well.
How are you navigating these difficult times in an economic crisis?
There is a drastic drop in orders this year. Customers are very careful than before when spending money. I'm continually analyzing the market and trying my best to give a quality product that's value for money.
What's in store for your brand in 2022?
I started a 3-month 'Basics of Baking' course for beginners last year. The second batch is currently ongoing. I want to develop this concept further.

Any advice to anyone who wants to start their own business?
Love and passion for what you do come first. Always start small with what you are comfortable with and grow and expand as needed. When starting off, be open with your customers, tell them what your key strengths are, and don't set false expectations. I have realized most customers will give you the freedom to be creative with their orders. Lastly, always pay attention to your customer feedback and never stop learning.
The Baking Girl is based in Ekala and takes orders via Instagram (@the_baking_girl_bynimesha) and Facebook (@thebakinggirlbynimeshacooray). Online Bank Transfers and Cash on Delivery or Pick up are accepted and delivery can be arranged in the Gampaha and Colombo districts.