This February, Shangri-La Colombo welcomes Michelin-Starred Chef Lahiru Jayasekera to host three exclusive Michelin star dining experiences at the Capital Bar & Grill. Chef Lahiru joins Shangri La Colombo for Volume Three of the hotel's Culinary Collaborations series which was launched in November 2022. The series aims to showcase personalities in the culinary arts and engage in the exchanging of ideas and offering culinary delights to guests.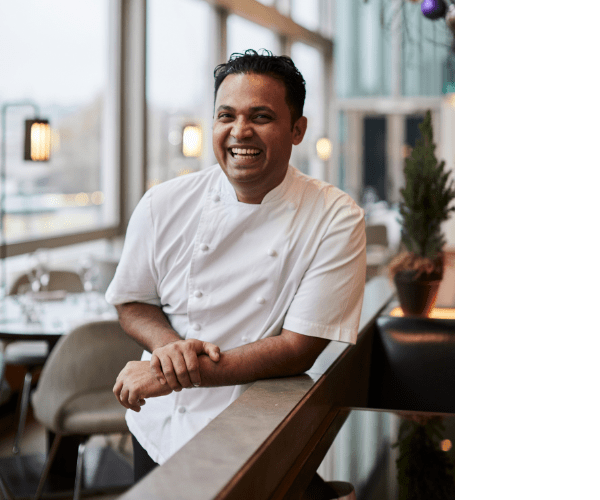 The very first Sri Lankan-origin Michelin-Starred chef, Chef Lahiru (or Larry as he's more fondly known) is one of only two Sri Lankan chefs to hold the distinction. A Hikkaduwa native who migrated to London as a teenager, Chef Larry has steadily been working his way up the culinary world serving up stunning dishes at some of the UK's most celebrated restaurants including Marcus Wareing's The Berkeley, Raymond Blanc's Le Manoir and Michel Bras. The former Head Chef of Gordon Ramsay's famed Michelin Starred restaurant – Pétrus, he is the recipient of several highly acclaimed accolades such as National Chef of the Year 2016 (UK) and Young Chef Of The Year 2007 (UK). 'An Evening with Chef Lahiru Jayasekera' will offer guests a first-hand experience into the world of Michelin-star dining and Chef Larry's celebrated gourmet cooking and gastronomic flair. Chef Larry's curated menu for Shangri La Colombo will be paired by Sommelier Elvis Ziakos; who has been named "Sommelier Of The Year – UK" in 2018 and 2019. In an exclusive interview with Daily Mirror, Chef Larry shares his thoughts on the collaboration and hints at what's in store for guests.
q Chef Larry, it's great to hear about your collaboration with Shangri-La Colombo on their Culinary Collaborations series. What can people expect from this? It is fantastic to collaborate with Shangri-La Colombo. I met with the team in 2019 and have kept in touch since then so I am certainly looking forward to working with them. We are curating a guest experience which focuses on complementing excellent local ingredients with fine cooking skills and techniques.
q You've returned to Sri Lanka several times over the years to conduct training and classes. But your collaboration with Shangri-La is the first time you'll be hosting a culinary event and showcasing your skills in Sri Lanka. Yes, that is correct. I enjoy giving back and sharing my knowledge with aspiring chefs back home in Sri Lanka. Previously my visits were focused on this where I conducted training, supported schools and so on. This time, I really hope we can showcase the beautiful produce and local ingredients that Sri Lanka has to offer. We are looking at a menu focused primarily on locally sourced, sustainable, gourmet dishes.
q You will be hosting a specially curated dining event for three days exclusively at Shangri-La Colombo – what can you tell us about it? For three days only, I will be crafting an exceptional Michelin Star dining experience for our guests to enjoy here in the heart of Sri Lanka, at Shangri-La Colombo's Capital Bar & Grill. We are going to focus purely on the seasonal produce of Sri Lanka, paired with extraordinary culinary techniques and distinctive flavour combinations.
q What dishes do you believe best reflect your signature style? I am someone who is very passionate about identifying precise flavour combinations. I spend a lot of time perfecting the right flavours and creating unique taste profiles for my dishes. I look forward to bringing my perspective on the diversity of ingredients found here in Sri Lanka and I am excited to create some delicious dishes for guests to enjoy.
q Given that you will be cooking in your home country; are you hoping to bring elements of Sri Lankan influence into the menu for the dinner? Yes, definitely! There will be a hint of Sri Lankan influence on the menu as well.
q What are you personally looking forward to in your visit to Sri Lanka this time? I am really looking forward to experimenting with taste, exploring the wonderful produce and infusing it with innovative techniques. I am also looking forward for my team and I to meet Shangri-La Colombo's culinary team and spend some time sharing with each other, being inspired by each other and working together.
"An evening with Chef Lahiru Jayasekera" will be hosted on 9, 10 and 11 February, 6.30 pm onwards at Capital Bar & Grill. For more information, visit https://www.shangri-la.com/en/colombo/shangrila/