In this series, we talk to people who turned their passion for food and baking into a business idea amidst lockdown and COVID-19 fears. Some have been in the market for years and others saw the new opportunity and took it! These home businesses are changing the game and have overcome the odds of running a business during quarantine. With increased restrictions once more, we talk to home bakers who are operating during these times to bring the sweet and savoury to your very own doorstep!

Inspired by the popular TV show 'Fabulous Cakes', Chammarie Daniel dived into the world of baking, studying tutorials online, following cake artists, and learning the craft to make some fabulous cakes herself. "After my daughter was born in 2011, I had given up my job to be a full-time mom and I found myself at odds and it was driving me crazy. When I saw Fabulous Cakes, I was hooked! Making cakes was never something I thought I'd be doing. Because none of this would have been possible if I hadn't been blessed with my daughter Savannah, I decided to name my business after her and as a result, Savyscakes was born!".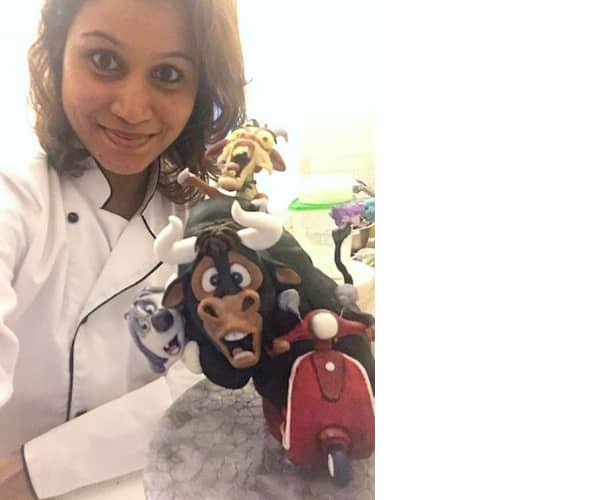 What do you offer?
- I cater to all party sweet table requirements, such as cakes, cupcakes, cake pops, cookies, eclairs, donuts and desserts but creative cakes are my specialty. I believe I have managed to capture the niche market of figure modeling in Colombo, which is where I encapsulate the likeness of a person in sugar form using Fondant. Unusual realistic cakes are what most people come to me for and I love creating it all for them!
When did you start operations?
- I started my business 11 years ago and it's growing ever since!
What is it like running your operations in times like these?
- It was definitely difficult. As people couldn't have any sort of gathering it hindered my flow of orders. I started learning to make new things to cater to people's sweet palates, which made me come out of my comfort zone and helped expand my business menu. It also helped to have a loyal customer base. I also instigated a birthday surprise cake competition for kids on Instagram where they could design their own birthday cake, and the best design that won, I made the cake for them as a surprise on the house. It brought me so much joy to be able to put a smile on their little faces.
How are you ensuring the proper hygiene measures are taken in preparation and delivery?
- First and foremost, my cake kitchen is separate to my regular therefore I ensure my working kitchen is always kept clean. I follow a 'clean as you work' concept so hygiene standards are maintained. Gloves are a must in my kitchen. During Covid lockdown time I maintained a contactless pickup and delivery concept which I still practice according to customer insistence.
What do you enjoy about baking and operating your own home baking business?
- Honestly, I love being able to do what I love in the comfort of my own home and be appreciated for it. I get to work according to my hours and rules! I also love creating cakes that blow someone's mind away, and I'm a perfectionist so my attention to detail has to be on point for me and customers seem to love that about my work!
How do you see home bakers going forward post-Covid?
- With Covid came an influx of home bakers, which in turn created a lot of competition in the market with customers being spoilt for choice. At the same time, the world market soared with amazing cake artists coming up with new and innovative ways of making cake, which required me and all other bakers to up their game and be able to cater to customers' needs. With the current state of the economy however, it is getting increasingly difficult for all bakers to sustain their businesses and it is only those that are resilient and able to adapt that will go forward,
What's in store for 2022?
- I have seen a great demand for more creative cake designs and figure modeling classes by interested clients, so I'm hoping to please their interest.
Any advice to anyone who wants to start their own business?
- Have a strong business plan and don't ever give up!
Savyscakes take orders via Instagram and Facebook (@savyscakes). Online Payments and Cash on Delivery are accepted and delivery can be arranged within Colombo city limits or via PickMe Flash