How do our food experts cook and eat? This week, French-trained ex-chef, food innovator, food blogger, catering business owner as well as popular food and travel influencer, Rachi takes our Q&A!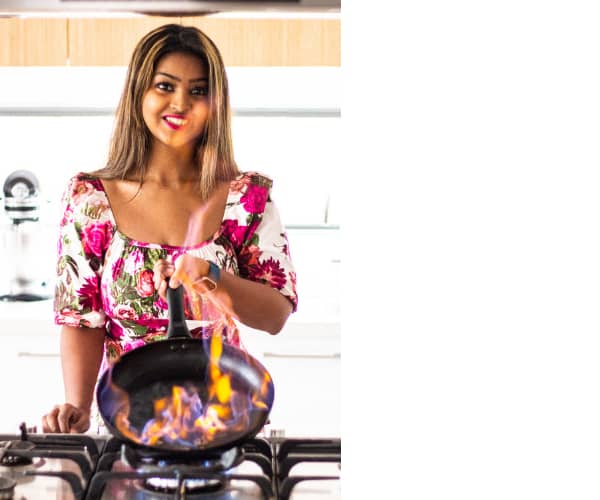 What made you want to cook?
I will be brutally honest, it was the fame, glory, and recognition that I saw my dad have that made me want to cook in the first place! But little did I know I only saw him in his glory days, and not the beginning where life was hard, peeling 100kg of onion, 16-hour shifts. I must say I was blindsided. But once I started cooking it was a passion, cooking came naturally for me, the flavour building happened naturally and going through the mill in the beginning as a trainee chef is what made me want to do it even more.
What's something you love to eat but wouldn't bother to make?
Lamprais! My mum makes the best lamprais and I haven't even attempted to make one close to hers. Too much effort but I do love to eat it.
What started Food Voyageur?
Food Voyageur was born as a result of my wanting to teach the right way of cooking. Today, if you look at social media, everyone is a food blogger giving out recipes. When I see some of them, I shout to myself wondering why they give out recipes that are wrong. It's like everyone giving out medical advice in front of a doctor. I decided people deserve to get proper recipes and techniques and Food Voyageur was started. I quickly started becoming known for my foolproof recipes and then turned into an influencer and I eventually opened up my small business as well.
Your favourite childhood meal?
My mum's Baabath curry. This is one meal whenever I go home, she would make for me. The best part of it is the following day, the gravy gets so flavoursome because she leaves it in the clay pot and we would eat a roast paan with its gravy only. That is one dish that I can have each and every day.
With a professional chef for a dad – what skill do you possess that is undeniably his influence?
Creativity and thinking out of the box. As a teenager, being a culinary guru's daughter, I had a lot of pressure on myself to be the best. I must admit I was nowhere near as perfect as my dad. I am very creative and innovative. What's the point of being similar and the same as the rest of the world? I was born to stand out, just like my dad.
Dead or alive, who would be your dream dinner-party guests to cook for?
Honestly, it would be my parents and close friends. For me cooking for guests is about food, wine, company and laughter. I haven't cooked for my parents for a long time, and I would always entertain guests who appreciate good food and wine. It would be a 3-course French-style fine dining menu with a little bit of Lankan fusion.
What a fool-proof recipe from your blog that is a must-try?
'KFC chicken burger' I can guarantee that it is better than the KFC burger!
Your proudest recipe developed for a client so far?
I also develop recipes for businesses back in Sri Lanka as a part of food consulting. It's undoubtedly the Sri Lankan influenced chillie crab that was developed for a company called Crab Tales.
What's a dish that sounds hard to make but actually isn't?
Macaroons
A meal you'd whip up to impress someone?
It will be my signature crackling pork belly with miso-glazed eggplant and sesame cucumber. A crackling pork belly will always be a crowd-pleaser.
You love to travel. What's the most exotic food you've eaten and was it a yay or nay experience?
Scorpions in Thailand and definitely a Nay!!! Never doing that again for sure.
You run your own home-based catering business on the side – what's fun about it?
I love what I do. I am so lucky that my full-time job, side hustle and hobby all are connected to food which is my whole life basically. I get to be creative and most of all I get to do what I love the most which is cooking.
Are you a follow-the-recipe or a just-wing-it type of person?
I am just a wing-it person. I cook with my heart and tastebuds. But because of my blog, I have had to write down everything I put in and I usually follow my own recipes on the blog, to make sure I have all scenarios covered and help people with their troubleshooting questions.
Your favourite odd food pairing?
Miso and caramel. A polar opposite flavour but when combined together it is sublime.
What's a dish you'd love to relive for the first time?
The first time I had a croissant from Paris. The layers, the crunch, the smell ooh-la-la!
Do the cooking or have someone cook for you?
Definitely do the cooking. I have high standards when it comes to food
What's surprising about your job as a recipe developer?
You cannot just develop recipes based just on flavours. I develop recipes for the Australian retail market here. I have to adhere to food laws and regulations which means I have to limit things like salt, sugar, and flavourings and on top of that, I have to be cost-conscious so can't use the best ingredients. So, it's not all about developing the best-flavoured product but a good product at an affordable price.
If you could dis-invent a food, what would it be?
Plant-based food. Honestly just eat your veg. We don't want to eat sausages made with chickpeas and all other additives. And burgers that look like burgers but are not actually a burger. Oh, the number of developments I have done to launch the plant-based meat burger here in the retail market that even has red beetroot to make it look like actual meat!
What's something you love to eat but wouldn't bother to make?
Lamprais! My mum makes the best lamprais and I haven't even attempted to make one close to hers. Too much effort but I do love to eat it.