As much as Valentine's Day is about celebrating love and romance, it's equally (if not more) about the food – especially the sweet kind. The chocolates, the heart-shaped food, the dipped strawberries, the edible heart confetti in your drink, the cute, customised name cookies…you name it, someone special would love to have it! This year's V-Day is a bit unlike the rest, as the pandemic reaches new heights and numbers increase, many are choosing to stay homebound and looking for more private and intimate ways to say I love you.
Offering an ideal solution to this is home-baker Dulara Perera who is behind the sweets and dessert brand 'The Bake Out'. The Bake Out was created towards the tail end of the first curfew in March last year and is a brand that has built its pillars based on good food that's value for money. The Bake Out has grown and expanded since it first started its operations and offers a range of items to satisfy any sweet craving one might have. Stepping into the most romantic day of the year, The Bake Out is introducing their Valentine's Day boxes curated and customised to those who want to express their love in the sweetest way one can.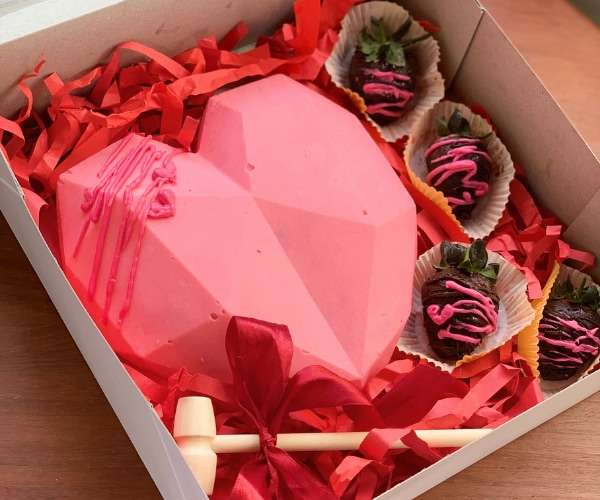 The Smashable Heart Box (Rs. 2,700)
This box is everything that's fun about Valentine's. The box includes a large pink Geo Heart Shell packed in with 4 decadent Brownies and 6 Sugar Cookies. It also includes 4 chocolate covered strawberries and a little wooden hammer to smash away at the Geo Heart Shell.
V Day Hot Chocolate Bombs (Rs. 1100 for 4)
This was our personal favourite. The Hot Chocolate Bombs are made with either dark or white chocolate melted into a circular mould (we suggest getting two of each for the ultimate hot chocolate experience) and inside the husk of the chocolate, it is filled with cocoa powder and small marshmallows. It's our favourite because of the theatrics involved with the Hot Chocolate Bomb and also because it just gets rid of the hassle of making Hot Chocolate from scratch! It simply requires some milk to be warmed up in the microwave till it's hot and once the Hot Chocolate Bomb is dropped, all there is left to do is watch in utter fascination as it cracks open and melts into the hot milk. The result is a rich, chocolatey concoction with melted marshmallows on top that's is a comfort drink that anyone would love.
V Day Box of Cupcakes (Rs. 900 for 6)
These cupcakes are soft and fluffy and available in flavours of vanilla, chocolate and coffee. For Valentines Day, 4 cupcakes are iced in a rose flower shape while the other 2 are two heart-shaped. You can also request the cupcakes to be customised with additional toppings like strawberries.
V'Day Sugar Cookies Box (Rs. 900 for 6)
This Box includes 6 large, heart-shaped sugar cookies in hues of pink. We loved the softness of the Sugar Cookies and different textures and design each cookie had.
Aside for their V Day curated boxes, The Bake Out also does Cupcakes (Red Velvet, Rainbow), Cookies (Double Chocolate, Rocky Road), Cakes (Chocolate Chip Cookie, Half and Half), Tarts (Chocolate, Caramel, Whipped Cream) and Brownie Pizzas.
The Bake Out takes orders through their social media pages (@the.bake.out) on Instagram or Facebook. They accept Cash on Delivery and Bank Transfers.