Anudi Nupearachchi (14), emerged as a Finalist at the global technological competition Technovation Girls 2021 in the Junior Division. Anudi is one of the 12 finalists at the competition and the only finalist and representative from Sri Lanka. Anudi's entrant for the competition was COLBY, an AI app that aims to lessen loneliness via interactive communication with an AI-powered chatbot.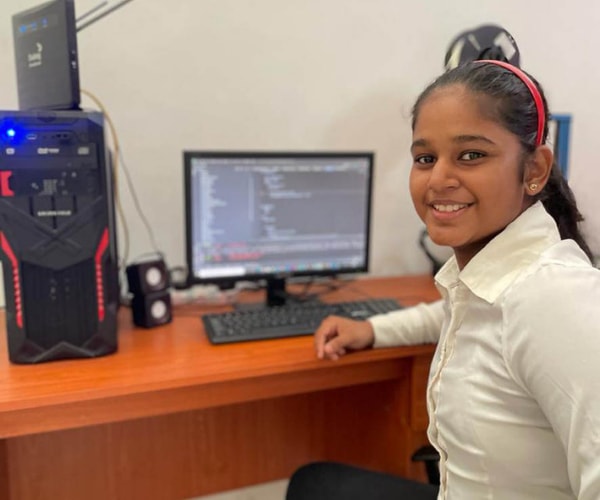 Technovation Girls is a programme under global tech education non-profit Technovation that empowers girls to become creators and problem-solvers through technology. The Technovation Girls competition has been hosted every year since 2010 and has had over 25,000 young people from 100+ countries participate in it. Through the competition, competitors are aided by volunteer mentors to produce mobile app start-ups that have solved problems in local and global communities.
This year's competition saw nearly 5,900 girls from over 60 countries develop 1,700 mobile apps to solve community problems such as domestic violence, pollution, education and mental health. The core task of this year's competition was to find a problem within each competitor's community and solve it through technology.
For 14-year-old Anudi, the problem and the solution came as a result of the global COVID-19 pandemic. Anudi, a student of Sujatha Vidyalaya, suddenly found herself homebound for an uncertain period of time due to the ongoing pandemic which made her concerned for her friends and family who are feeling lonely due to the social distancing measures and lockdowns in place. As a solution, Anudi created COLBY with the help of AI Club to cheer up those who feel lonely.
"It was a great experience working on a project that solves a real problem in the community. For COLBY, I did a lot of research and surveys to find out about loneliness and I even interviewed psychologists and experts in mental health to confirm my thoughts and findings of it and on how to improve my chatbot. I also improved my coding and learnt new things about AI from Dr. Nisha of AI Club, as well as about app creators like Kivy. The Technovation challenge is usually a team competition and it was a bit tricky for me since I chose to compete alone but it was equally challenging and it definitely paid off!" comments Anudi.
COLBY, an acronym for Cure of Loneliness, is a chatbot built to cheer people up and lessen loneliness in times of a pandemic. COLBY's main function is to detect the mood of the User by using AI. If the user feels lonely, suggestions and prompts are provided to help come out of that state of loneliness and the app also includes emergency helplines for users who immediately needs to connect with a counsellor. COLBY is programmed to asks questions on hobbies and ambitions of the user and to provide motivation to keep the user in good spirits.
"I'm so happy to complete project COLBY successfully and that I managed to create a chatbot that would make a big influence on mental health and loneliness in my country. Being a finalist at Technovation is also so meaningful to me after all the effort I put into making the COLBY app".
"We're so proud of every Technovation Girls team for pushing ahead during the 2021 season," adds Terry Collia, senior director of marketing with Technovation. "The pandemic definitely impacted participation this past year, but a common theme of resiliency arose. And, for teams like Team COLBY, the realities of the past year led them to create an app using AI that addresses users' mental health -- something many of us, especially in the last year, understand the value of."
Anudi entered the Technovation Girls competition through AI Club, a group of AI and software experts based in Silicon Valley, California, that mentor next generation kids to improve their AI Literacy and technology. Anudi was personally mentored by the Founder and CEO of AI Club and Pyxeda, Dr. Nisha Talagala. "Artificial Intelligence is all around our children, from the apps they use to the websites they visit. AI Literacy is critical to help this generation understand the technology around them. Anudi has proven that kids can learn AI and apply it in creative ways to realise their ambitions and help their communities! I hope that Anudi's win at Technovation Girls will motivate girls around the world to bring their imagination to life with AI" shares Dr. Nisha Talagala.
The finals of the Technovation Girls 2021 will be held on the 12th and 13th of August 2021 at the World Technology Summit hosted online. Anudi has completed her final presentation last week in front of a panel of judges and she will rely on a voting system at the World Technology Summit to win the competition.