It is often said that there's a difference between a job and a passion. In the case of a passion, you certainly love doing it.
When a few female officials employed at the Sri Lanka Ports Authority (SLPA) wanted to move out of the conventional office environment, they already had an unconventional career in mind. In turn, 10 of them succeeded in forming South Asia's first team of female gantry crane operators. Most of them were employed through the 'Piya-Puthu Foundation' - a scheme aimed at providing employment for children of SLPA employees. Today, the team is happy about the choice they made and are striving to make a change in an otherwise male-dominated profession.
Out of the 10 operators, [email protected] spoke to six of them who shared their experiences with us.
An 'out-of-the-box' career
It has been one and a half years since this group of women started a career they longed to be a part of. "We were initially employed at the Port and this programme was just an idea," said G.U.G Sharmila Rasikani. "When asked if we were interested we thought we should try it. Then we were trained at the maritime academy through artificial simulation methods. Thereafter we trained ourselves on normal cranes and were then referred to JCT. Now we work with other men who are employed in the same career.
Ishara Sewvandi was working at the Finance Division as an accounts clerk when she heard of this news. "It was my father who said that they are looking for interested women and why not give a try," she recalled. "Since it's a different environment from a normal office I knew it was the most suitable job for me. Initially I was worried and had doubts as to whether I could survive. But my team was very supportive and they helped me to battle all odds. Some claimed that we won't be able to succeed since it's a men's-only job. There were those who said that we will have more accidents during the loadings but to be honest it's the males who are prone to have more accidents."
In the case of M.O.U Prasadi, it was her curiosity that motivated her to take up this job. "I used to travel to Kalutara by train and every time I used to see cranes in and around Slave Island and always wanted to know what it would be like to go up there," she laughed. "When I heard that this programme was going to begin I wanted to shift my career. I knew that a career confined to an office didn't suit me. I don't feel like doing any other job because we feel proud that we earn according to what we do. Although at times we feel we are underpaid, it has become a passion. We are determined to work and when we get good remarks, that is the biggest victory for us. There are times when males are sent away and our support is required to load and unload containers."
Poojani Dilki is by far the youngest crane operator in the team as well as in South Asia. "I didn't have any knowledge about the Ports Authority. It was a new experience. All of us have succeeded in this journey through a lot of hardships. I come from a fisheries background. One challenge we have is that many people claim that this job doesn't suit a girl. But I believe that if someone can do it, they deserve to be given their due place. I don't think many Sri Lankans know that this group even exists."
It's all in the team spirit
If the 10 of them face certain issues, all 10 will be there for each other to solve them. "We won't allow anybody to lose hope," said Ishara. During their resting sessions, they get a chance to discuss everything from work matters to life matters and everything gets solved during their shift. "People say that we will not be able to marry if we get stuck in this job, but many of us got married after we started working as container operators. So we were able to find spouses who supported what we did. We have a special case where one of our team members worked while she was pregnant. She climbed to the top of the crane till she was five months pregnant and then decided to inform the office."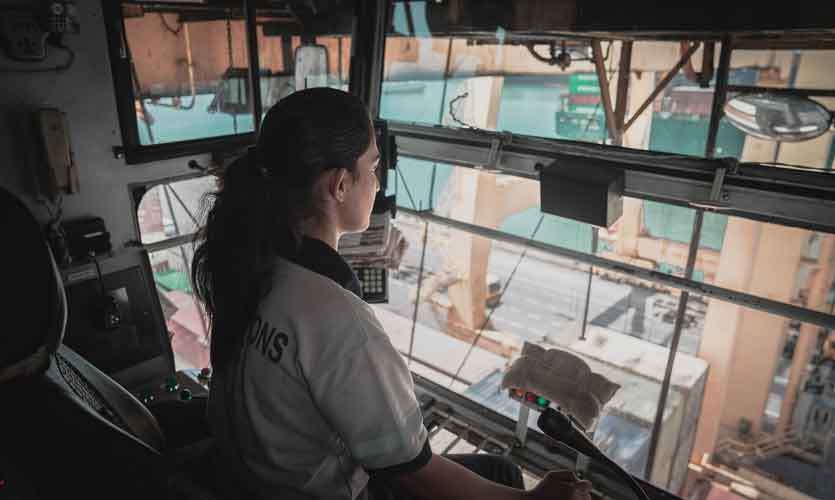 Breaking a stigma
The team take pride in what they do. Breaking a societal norm is a major achievement to all of them. "The common belief is that only those men with a strong will-power can become a container operator," added Shamila. "When we started everybody was like 'oh, so even females could do this job' and it raised doubts among them. We have learned that we need to fully concentrate on what we are doing." During work hours, the phone needs to be kept aside and they cannot even attend to a personal matter. Although many of them enjoyed what they do, their duty isn't as joyful as it seems. "We have to bear a huge responsibility,"added Dilhani Gunarathna. "If we delay even by a few seconds, it would create a huge issue. Although duty looks complicated, with our passion, we became conditioned to the process and now it's more or less easier for us and we enjoy doing it."

A tedious life
The ladies have to report to work by 6.30am because they work on shifts. Although they have to punch-in at 7.00am, they need to come early and get a report of the faults, fuel requirements and other technicalities of the crane they are working on. Before they start work, they have to check the engines, fuel, tyres and every other aspect. Reporting to work in the morning isn't as easy as it seems. For Shamila, she has to board the train by 4.00am from Ambepussa to reach Colombo by 6.30am while H.M.M Udeshika has to board the train by 3.45am from Polgahawela. They work five and a half to six hours only. The sacrifices made by these ladies go to the extent of them reporting to work even on poya holidays and special holidays such as Avurudu, Vesak and Christmas. Recalling the Easter Sunday attacks, Shamila said that even during that incident they were on duty and that they reported to work the next day morning despite curfew being imposed.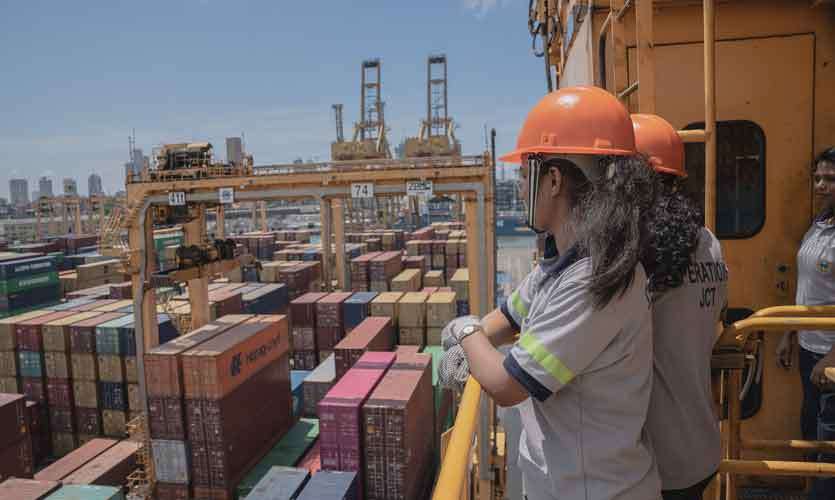 Instilling a culture of discipline
According to Poojani Dilki, the Port is one place where patriarchy dominates. "But after we came we see that the males have become more conscious about themselves. Sometimes they would sleep without a shirt inside the cranes and now we don't see that happening. They even clean the cranes before they give it to us. We have a separate duty uniform but the males hardly wore it. Now we see them wearing it frequently and even wearing helmets and other safety wear since we abide by the rules. In a way, the founder of this programme wanted to inculcate discipline among the males by introducing females into the job. Since males don't like to be compared to us, they are determined to work better."
Accepting the challenge
Even amidst hardships, the team enjoys working with each other. The team is extremely close with one another that they call each other by their nicknames such as Karate, Sarungale, Ala Bole and another who's named after a ship Kota Line. To load and unload the most number of containers in a short period of time is the most satisfying part about this career," said Ishara. "That is the toughest part as well. When someone says a quick loading needs to happen we report to the cranes before the others."
To make a change in a career dominated by men will take time in a patriarchal backdrop, but these go-getters are striving to do just that. "Women have a strong will-power and it's one-of-a-kind," said Poojani. " Sometimes this is hidden because according to our culture, women think that because they are female they shouldn't break conventional norms. The mindset is such that a daughter should be controlled by the father, then the brother, then a wife by the husband and a mother by the son and the cycle continues. We now see a shift in this mindset and in the near future we will be able to witness a women-centric society. You have your own share of sacrifices along the journey but it's definitely worth it. On the other hand you need support from family and the spouse. We should thank them because they never questioned us as to whether we could do it. We also like to thank the National Union of Seafarers Sri Lanka for bringing us to the limelight and giving a chance to let our voices be heard."
Pics courtesy: Sean Stephens