Female drivers receive much more attention while on the road even in the 21st century. In such a backdrop, one may not for once believe that two girls competed at an extreme 4x4 challenge in Malaysia. Ashvitha Wickrama and Maryse Elle Navaratne took a bold step to compete at SHEMUD - the world's first all-women extreme 4 x 4 challenge and were placed third back in 2016. Women's teams from around the world compete at this challenge and they are tested for skills including speed and endurance. Popularly known as team 'Devils on Wheels' they were once again able to make Sri Lanka proud last November as they once again bagged second runner's up at this year's competition as well. While Ashvitha is completing her degree in automotive engineering, Maryse is studying for her MBA and as such they were also the youngest team to compete at SHEMUD 2016. The duo was also part of the first all-girls' team to win a six hour Endurance Karting Championship in Sri Lanka where they drew inspiration before switching interests to off-roading mainly to break misconceptions about women in the sport and racing in general.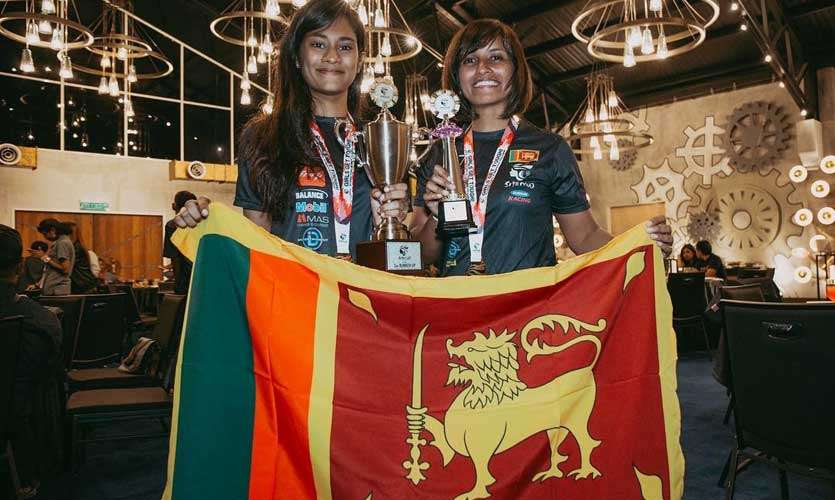 "Off-roading is definitely not for the faint-hearted,"
said Maryse and Ashvitha during an interview with W@W.
Excerpts:
Q : What inspired you to start four-wheel driving?
Ashvitha: Both of us get our background from karting. Then in 2016, we competed at SHEMUD for the first time. It was also the first time a girls' team represented Sri Lanka at this rally. In 2016 the organizers in Malaysia contacted one of our friends here who does off-roading and he asked us whether we were interested. I have been familiar with four-wheel driving because my father has been doing it for a while. But I have never competed.
Maryse: That was our first time and we had four months to prepare. We haven't done four-wheel driving before. There was one training session where we learned everything like in a crash course. Then we ended up going to Malaysia. In 2016 there were teams from the Czech Republic, Italy, Indonesia, and Malaysia. It was tougher than this time.

Q: How was the transition from karting to four-wheel driving?
Ashvitha: It was a drastic change. Karting is very fast and flat whereas off-roading is fast but never done on a flat terrain. The rally took place inside a rainforest and there was a lot of mud. Before the rally begins the organizers would check the area and would mentally decide on a track. If it rains it becomes worse.
Maryse: We didn't see it coming. Four-wheel driving is very technical. It's not only about the speed and driving fast but you also need to know how to control your vehicle and we need to understand the vehicle more. So in our team, it was the both of us and two others from Sri Lanka and we took my husband and Ashvitha's father.

Q: Any unforgettable moments?
Maryse: During the first competition there was one time when I had to winch and when I got off the vehicle I had mud a little above my hips. So we have to deal with leeches and everything that comes in our way because we are inside a thick jungle. The competition was very competitive that other teams didn't even talk to us. But at the end of the day, we get together and enjoy.

Ashvitha: In 2016, the muddy water kept coming into the vehicle and I had to ask her to hurry up because the vehicle was sinking. It's fun when there's mud because I feel that there's more teamwork required and there's a lot more excitement. There was a time when we were drenched in mud. It's a competition between a bunch of women and it's nice to see so many of them at such a competition. At first, we took it very lightly and thought it was a lot of fun. Then we started going on the rounds during the first competition and we were placed second. That was encouraging because we were the youngest team in the competition.

Q: How was this year's competition?
Ashvitha: This time there wasn't that much mud and there was a lot of uneven terrains. It was much to do with the speed.
Maryse: This time's stages weren't as scary as that of 2016 because there was one instance where we almost toppled. We had one instance where we went in the night and it was pouring. It was also very muddy and that was quite a challenge. This time we were more relaxed.

Q: Do you have plans to further your skills in four-wheel driving?
Maryse: There's no professional training involved in four-wheel driving. It's more of a learning experience while facing competitions. You can improve on speed when it comes to winching and it's about getting yourself into the entire experience. In a sport like this, you need to be fit and adjust yourself to the environment because it also involves camping and staying outdoors for some time. This includes switching off your mobile because there's no reception inside the jungle.
Ashvitha: During off-roading, every stage is different, unlike karting where it is just one track. One stage would be to cross a river while another stage would require climbing a hill. When we went there in 2016 we realized how competitive it was because everybody shared the same level of enthusiasm and determination to win. So it's all in the experience and it has to come with passion.

Q: Are there opportunities for girls to get into this sport in Sri Lanka?
Ashvitha : It's very male-dominated. We were fortunate to start with a place like SHEMUD because it was tough. One reason why we agreed to participate back in 2016 was that it was all women who were competing. In karting, we have competed with men but since we were not used to it, it was nice to compete with another bunch of women. We didn't feel odd at all. In Sri Lanka, the problem is that it's not easy to rent out a vehicle. I don't think people will be happy to rent out their vehicle they built for themselves because chances of it breaking are high. A lot of people don't support motor racing in Sri Lanka and we realized it during the first competition.
Maryse: It would come in as a surprise for some if more girls get into this sport. There may be girls who would want to do four-wheel driving but I'm not sure if they would be ready to face competitions. Here there are local competitions but I'm glad we started with SHEMUD because if we started locally I don't think we would have gotten the same experience. But it would be nice to see more Sri Lankan girls going for SHEMUD.

Q: What's most satisfying about the sport?
Ashvitha: Getting the vehicle out of the mud! As a driver, there are times when you get bogged down but both of us face our own challenges. When the competition is weeks long it takes a huge toll. This time during the last two days they decided to take it to the city and there was a very harsh weather. When you are camping you can't expect for luxuries. You have to go to the river, wash your clothes and it is also muddy and wet. You need to adjust yourselves and if you are a fussy person it could get really tough.
Maryse: During the competition, you will be frustrated and disappointed at various stages. It could get emotional. You just need to be satisfied with it and if you are passionate about it you will enjoy it.

Q: Future plans?
Ashvitha: I want to build a four-wheel-drive machine and compete here. If we are to compete here then we need to get a vehicle. Since we have gotten the experience we want to test the waters here. We are ready to guide any girl who wishes to take up four-wheel driving but there are a lot more challenges since it is not an established sport here as yet.

Interview pix: Damith Wickramasinghe
SHEMUD pix: Tia Calvo