On WTF this week I went to my favourite place on earth, Galle. I dreamed about Galle all through my quarantine time at home. So we took a ride and saw the sunset from the most popular street at Galle Fort. When you visit Galle, if you don't stop at Pedlar's, you are missing out on completing the experience. My friend Azeez is not in Lanka these days but the team is always full of love. I had a chat with him online.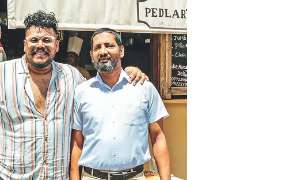 Q

What would you say has made Pedlar's Inn THE place to visit in Galle?
I'd say that Pedlar's Inn is special as the café has kept its original character. We have never changed the initial structure of the building. Pedlar's Inn has been around in Galle for more than 15 years now. Most of our staff have been working with us for a very long time which means you will meet the same people every time when you come to Pedlar's Inn. This gives our guests a very homely feeling during their stay with us. Our staff is very attentive. For example, the chef will customize the food according to the wishes and tastes of the customer.
Q

Your ice cream is so popular- how do you work on the flavours?
When it comes to our gelato, we are making traditional Italian gelato flavours. Our ice-cream laboratory is just behind the ice-cream display in our shop so that customers can see how we produce our ice-cream on our traditional Italian machine (which is more than 40 years old) very freshly and maintaining very strict hygiene standards. We always take care to use seasonal Sri Lankan fruits for the fruit flavours. In addition, high-quality ingredients for our milk flavours such as hazelnut, pistachio, and more are imported from Italy.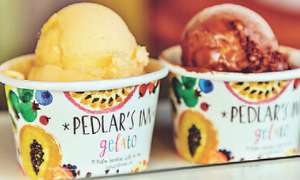 Q

What was the thinking behind the pizza outlet?
With our pizza, we are focusing on the Sri Lankan taste which is why we combine Italian herbs and Sri Lankan spices. This gives a very unique flavour to the pizza. Our guests love it! It is very popular with Sri Lankan and international guests.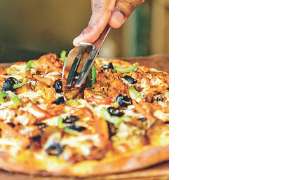 I did try all the flavours and I never got enough of it, but I will say this is the TOP 5 You MUST try-
Roasted Almond
Pistachio
Amarena
Passion Fruit
Lemon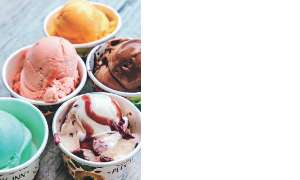 I wanted to know what's going to be added to this exciting lineup and I was told "We are thinking of spicing up some more flavours using local spices and herbs to create interesting blends." I'm sure I'm going to make a drive again just to try the rest too.
Finally, I asked Azeez about life during and after COVID. "After the lockdown was lifted, our local customers have started to come back. We hope also that the tourists will be able to visit us soon".
Just picture this, perfect sunset, relaxing walk down the paved roads with a yummy pizza in your tummy and ice cream in hand, can life get any better?
I love Galle and Pedlar's makes it special.