Women are known to be masters at multitasking but juggling between the roles of a mother, entrepreneur, marketing professional and powerlifter can be daunting at times. But this is not the case for Nayomi Handunnetti, Executive Director of Handun Villas, Founder of The Siren and Co-founder of Elixir Ceylon. Each one of these ventures caters to a different audience. Handunnetti is a product of Lindsay Girls' School, Colombo and St. Paul's Convent, Milagiriya. We spoke to her about her career, places to improve within the SME sector and challenges faced during the crisis period. This is her story.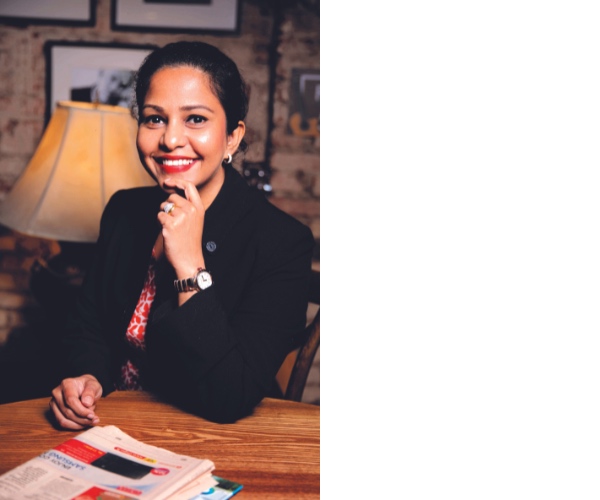 Q You are the face behind various titles and positions. What inspired you to be who you are today?
Since my childhood, my parents inspired me and encouraged me to be the best in what I chose to do. While in school I did sports and took part in various extracurricular activities. Engaging in sports helped me to balance the outlook I had during my childhood. So my parents built that confidence in me and that's how I drew inspiration during my childhood. Once I left school I was inspired by various individuals whom I met in life.
Q Let's talk about the SME sector and how your ventures have progressed over the years.
I started constructing Handun Villas in 2015 and we opened to the public in 2017. But the Easter Attacks, COVID and the financial crisis affected the business. The COVID pandemic made me look at other ventures and that's how I started The Siren which is a market process outsourcing company and Elixir Ceylon which promotes value-added coconut products.
Q Is there a favourable environment for someone to start an SME in Sri Lanka and transform it into a successful venture?
There's a huge potential for the SME sector since people have so many problems and as an entrepreneur, I look at providing solutions to these problems. But there are limited infrastructure and facilities for the sector to progress. There's no access to funds and with banks asking for collaterals and with borrowings at very high-interest rates many who aspire to start a venture on their own are often discouraged. It's not only women but men also go through the same issues. But then again on a positive note, there are many opportunities for entrepreneurs.
Q What areas should be improved to attract more entrepreneurs into the SME sector?
Many women lost their jobs during the pandemic. Some who lost jobs are looking at migrating. So if there are facilities such as project-based lending through banks or the chamber it would help groom entrepreneurs to become independent. Entrepreneurs usually fall out since they have less knowledge about aspects such as taxation and employee relations.
Q Let's talk about the concept behind establishing The Siren and how it has contributed to breaking the patriarchy within the corporate sector.
I have not seen a Market Process Outsourcing company and at The Siren we focus on empowering women who have left the corporate sector to rejoin the workforce with upgraded skills. There are top ladies who have left the corporate sector due to family commitments and other issues. When you take a break from the sector you go back 10 years. At The Siren we train them on Canva, Grammarly and other applications to fine-tune their skills once again. Therefore it's a platform that trains them and encourages them to rejoin the corporate sector.
Q What more can be done to train and empower women to excel in the corporate sector?
As women, we have this tendency to give up when we are pushed into overwhelming situations. But instead, women should have clear communication with their spouses about what they need as human beings. You can't excel in every aspect of your life. You need to know your priorities. There are discussions about granting paternity leave for men in the corporate sector. The working population is very less now and we need to look at new ways of inspiring people to join the workforce. In terms of women, they need to have a clear vision for themselves.
Q How do you strike a balance between personal life, professional engagements and maintaining good health?
Right now I'm reading for my PhD, I do powerlifting and I'm training for a meet, and I'm a mother with children and I also have a social life. But I don't commit 100% to everything. I have prioritized my work for the day. It's important to have short goals for the year so you know that you don't have to go over and beyond certain things. My eldest daughter has been selected for university and the youngest daughter is in middle school. Since I now have some time for myself I joined a few boards. On the other hand, mental health is of utmost importance. If I'm not happy neither my family nor my employees would be happy. I do a lot to improve in that aspect.
Q What is the most challenging part about your engagements in diverse sectors?
Not having a proper knowledge base is the most challenging aspect. When you move into a new venture you need the knowledge base but there's a dearth in this aspect. If I take the coconut products venture, we are still in the learning phase. When I see gaps in the market I try to fill them but there's a challenge with the required knowledge base. On the other hand, there's a challenge with finding the right market to export.
Q The most satisfying part?
When I get an opportunity to tell my story. I like when people look up to me and I'm happy that I contribute to the country's economy. As an entrepreneur time management is in my hand.
Q Your message to women who aspire to engage and multitask in diverse sectors.
Have a goal for yourself. Communicate your goals to your spouse or immediate family members. Build your network, and reach out to people. Look after your personal brand and promote it as there are people willing to help. Look out for investment opportunities as well.
Q Future aspirations
Start exporting value-added coconut products via Elixir Ceylon and expand on my tourism venture while competing at the powerlifting meet.
Pic courtesy Nayomi