Today on WTF we went to check out the most popular bread shop in Dehiwala, Chandana Bakery & Stores. I was introduced to this store by my former co-host on radio, JOVI, who grew up close to the neighbourhood. Then I got some great reviews about this place from Cricketer Avishka Gunawardene who also lives in the same area, and even by the late Ronnie Leitch. So one day I drove by to try some of their bakery items, my hands first picked their doughnuts. Please note this is not what you will get at a hotel, this was made with love, it had the oil oozing, cream popping.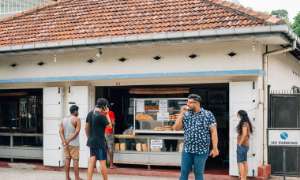 A true Sri Lankan doughnut, crunchy on the outside. Everything is fresh and they have a very limited lineup on the menu:
Maalu Paan
Fish Burger
Fish Pastry
Kimbula Bunis
Jam Bunis / Tea Bunis
Seeni Sambol Bunis
Doughnuts
Roast Paan - big and small Bread
Butter Cake & Sponge Muffins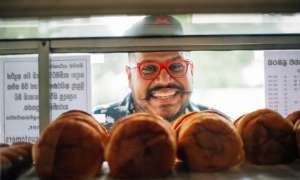 What I love the most about this place is the fact that it's very clean, you see the products. You see them serving it for you so you know you're buying something good for your family, and that fish burger took me back to school with that first bite. We used to fight to buy it at St. Peter's College. Those fish burgers are long gone. The gentleman who I spoke to, who is now heading the counter, used to be a small boy who used to enjoy bread from the same shop, so you can imagine how many years it has been around. From the time we took the cameras, we just didn't have a moment of "alone time". It was busy right around the clock. They also have a gas business on the side.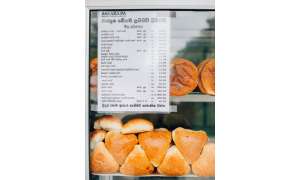 People come and book their bread and go off or even purchase it and leave it and go off or simply buy it and go, it's such a community that everyone knows everyone in that area, so safety and trust are guaranteed. The big house, the fancy cars to the tuk-tuk, and even the ones who found it hard all congregated here to buy the fresh bread. When the shoot was done, I made my way home, got myself a tea bun, and had it with my evening tea - dipping that fresh bun in the hot tea is always a good idea. With COVID19 we have all learned it's good to enjoy all the simple things in life.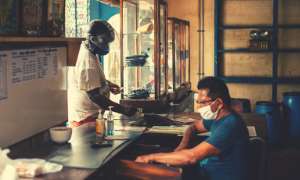 What - Chandana Bakery & Stores
Where - 79 Pepiliyana Rd Nedimala Dehiwala
When - 6:00 AM – 7:00 PM
Hair and Makeup- Capello Dressed by LICC and Double XL
Pics by You're my Favorite