What - WAFL
Who - Tharindu Dissanayake
When - Everyday
Where - Food Studio, One Galle Face Mall
Colombo, Sri Lanka
This week on WTF, we check out the all New rave about this waffle heaven that everyone is talking about, my instagram is just full of yum images, had to go taste it myself and it was just a sweet and spicy party. It's a place for a sweet fix and you can never get enough of it
I had a chat with the man who has made this possible in Sri Lanka, Tharindu Dissanayake
What made you get into this business? How is the vibe at one Galle Face

The main reason we got into this business is, we couldn't find a proper exclusive waffle station in Sri Lanka. All you have is one single waffle product among others on the menu, where you will not ever feel the actual taste of waffles. When we pay attention to the global food industry, we can find a number of renowned waffle brands and that's why we decided to bring down the best one into the town, WAFL.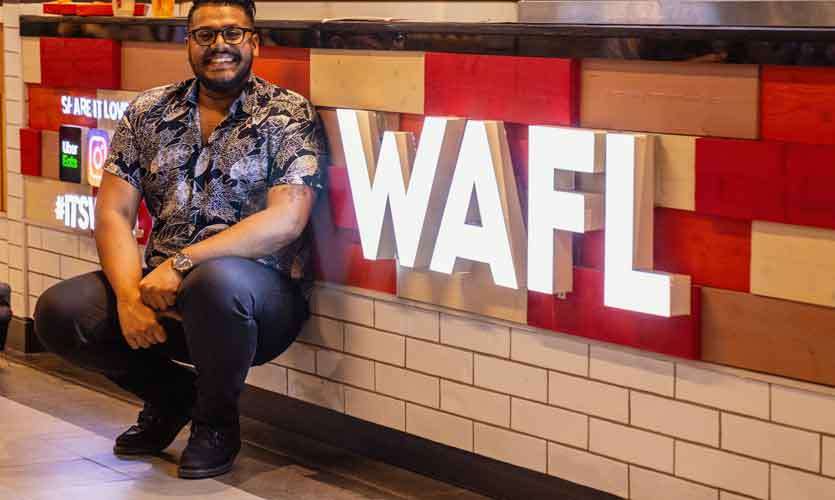 At WAFL, we serve a range of savoury and sweet waffles. Not only that, but we have a range of smoothies, coffees and many more.

In business perspective, franchise business is one of the best business in the current world. So we had to do something new and not available in the market. Considering all of them, we decided to invest on this and invite others to join with us to widespread this business.

Premium brand with premium taste, needs a premium place to serve a premium crowd. So that made our mind to open our first outlet at One Galle Face Mall, Shangri-La. Here's the most interesting thing. We will be available in many areas in Sri Lanka soon. Keep loving waffles. Because it's WAFL, not ordinary waffles.
Most selling on your list?

Since WAFL is new to the town, people tend to try all of our products. Therefore it is difficult for us to say the most selling item at the moment. But, when it comes to the global market, WAFL is famous for Hong Kong waffles.
Why did you pick waffles as your star feature?

It is because there is no any exclusive waffle franchise available in Sri Lanka. Hence, we have plenty of room to be the master of waffle arts. In addition to that, the main benefit of featuring waffles is, it is suitable for any time of the day.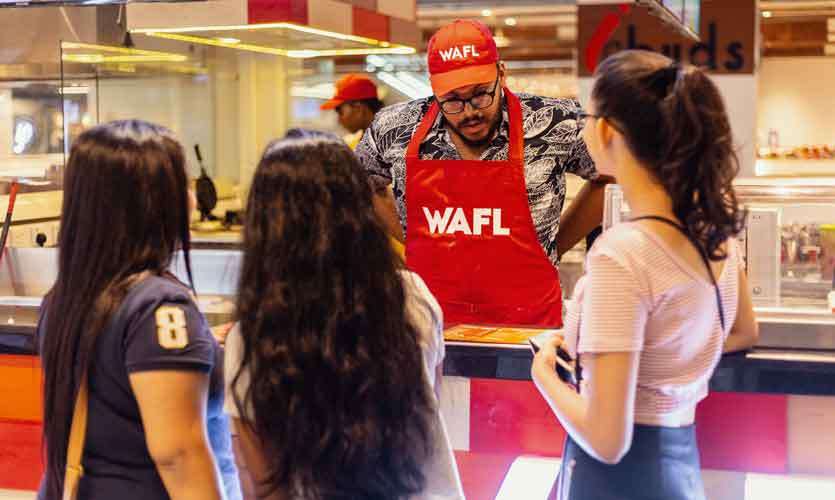 What should one try when they visit?

In my point of view, people should try at least one from each of our flagship categories because each and every dough you select and each and every topping you add, tastes different. Our product range is a delightful blend of not only sweet but savoury waffles as well.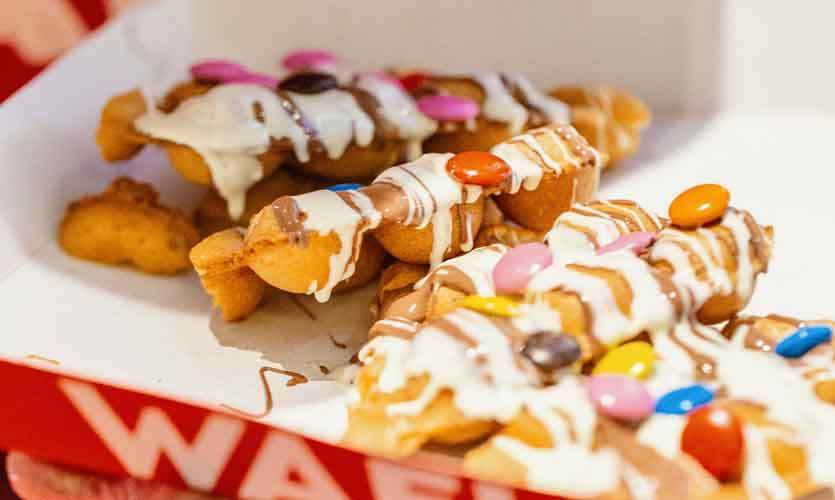 How long did it take to master this line up? And is this an international franchise?

Yes, this is an international franchise which made its inception in Russia. Our initial plan is to open 14 outlets in Sri Lanka. At the moment, we are looking for prime locations which we can dive into the Sri Lankans' lifestyle. We invite all investors who are intensely interested in joining with us, to partake in this mammoth venture and own a WAFL outlet as a delighted sub franchise in Sri Lanka.
Tell me about the partners? And how did it all come together and who is the foodie in the clique?

We are GoEats (Pvt.) Ltd. which was established as a food processing and delivering company a couple of years back. Even though we do not have a long history, there is one which is remarkable. We have been satisfying the food cravings of corporate sector and events for almost two years. Therefore, food industry is not a leap for us, but yes waffles are. We are in hellishly eager to take that challenge.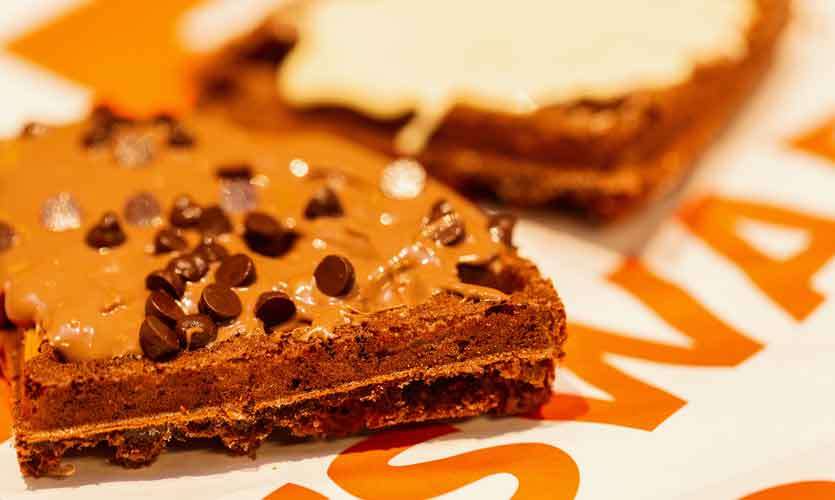 Fast food concept is hard, what would you say is your serving time, and how long did it take to master this?

Comparing to other fast food chains, we are bit different because we do not use any precooked items. Your own waffle is made after your choice, in front of your eyes. Therefore, it takes a little bit of time to serve you the best waffles with all the freshness in it. Our target is to reduce the serving time to 07 Minutes. But, due to huge crowd we have in our One Galle Face Mall outlet, it might take some more time than we expected.
You hope to add new things on to the menu? What should we be looking out for?
Yes, we have customised the WAFL recipes to suit the Sri Lankan taste. Now we have Veg and Non Veg products in our product range. Later we will be introducing a range of products which is made out of beef, for beef lovers and a range of oats products for health conscious people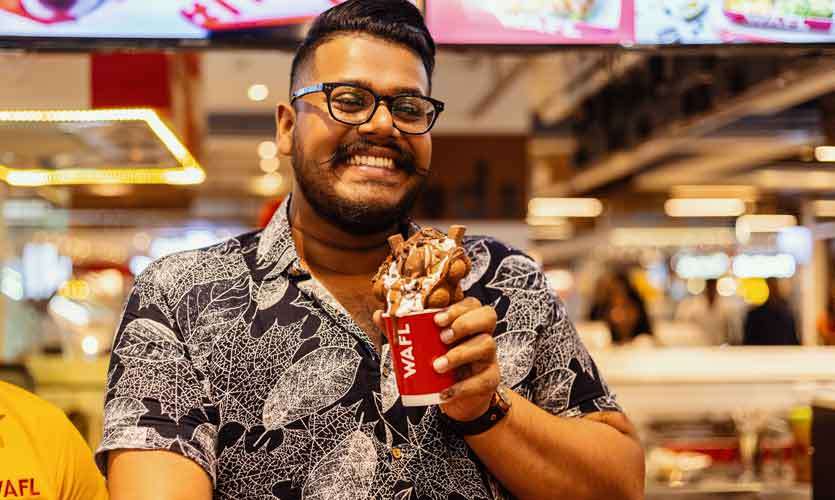 What's your personal favourite on your menu? And would you be changing the menu

I personally love WAFL Pie and Oreo Crush. We intend to make a significant change in our menu soon and give a customised experience to our beloved customers.
I had a selection of both sweet and spice and I must say the Nutella, Kit Kat combination was a win for me! And if you love the savoury lot, check out the ham and cheese waffle - it was yum
I can't wait to check them out again!

Today on WTF
Pics and production - You're My Favourite
Look by - Culture by Ari
Dressed by - LiCC Jeans
Hair by - Capello saloon