How do our food experts cook and eat? This week, founder and Executive Chef behind Mongolian Street, Shevon, takes our Q&A!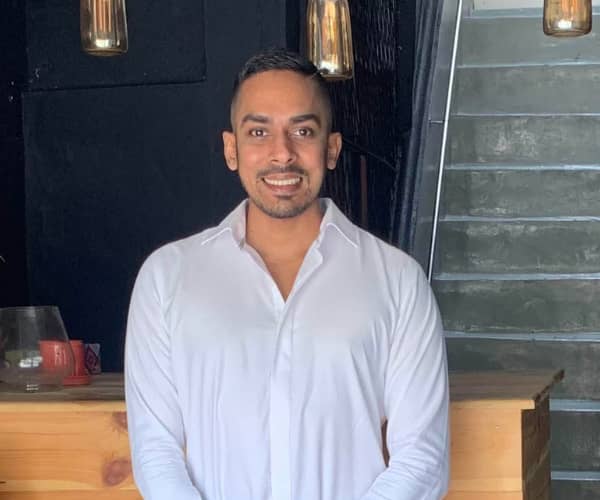 What's your first memory of cooking?
When my sister Imanthi and I were kids, our grandma looked after us while our parents were at work. Aththammi taught me how to cook so that I won't become a burden to my future wife! I started off with a fried egg and then learnt how to make a simple fried rice.
What's your cooking habit?
I put on my headset while I do 'Mise en place' (aka prep) and listen to a playlist that I've curated which includes a bit of jazz, blues and some worship songs. But I always take them off when I cook, cause you need to 'hear' the sound of the food being cooked to be able to gauge how it's going.
How did you learn to cook Mongolian dishes?
Since "Fried Rice" was the first full meal that I learnt to cook, I used to play around with it a lot by adding various ingredients to enhance the flavour and finally came up with a decent dish that I could eat regularly. The Mongolian Rice we serve is an evolution of 25+ years of trial and testing.
Why Mongolian food?
Mongolian is the perfect fusion food. You can do so much with it and a good Mongolian is packed with so much flavour.
What dish would you eat but never cook?
It would probably be a good Bone Marrow curry. I simply don't have the patience for it to cook and timing is everything when it comes to any slow-cooked dish. Kudos to my friend Ursula for mastering this!
What's the most exotic food you've eaten?
Kangaroo cooked as a Sri Lankan styled curry by a friend when I was in Australia.
If you had to serve only one dish in your restaurant forever what would it be?
It'll be the Mixed Mongolian. That was the game-changer for us.
What was your favourite childhood meal?
I hail from Kandy and most of the ingredients that my grandma used in her dishes were from the garden of our 200-year-old ancestral home, the Angunawela Walauwa. The beef curry she makes using these ingredients was bomb!
It's your last day on earth, where are you?
I'll be at my partner Ronali's place, having her Chocolate Biscuit Pudding. It's so good that I went from a person who hates desserts to a loyal fan of the CBP by Cake Commander!
What's the most unique (wish-I-didn't- try) dish you've tasted?
Deep-fried Dory fish filet from a popular global seafood franchise. It's too bland and soft for my liking. It made me discontinue visiting that place although their other dishes are awesome.
What's a dish you'd love to relive for the first time?
The "Kandy-fried rice" cooked by my mother. Nothing like it!
What was Mongolian Street's almost name?
As a Christian, I tend to pray a lot about important decisions. I had a couple of names in mind including Mongolian Kitchen by Shevon, but I was led to go ahead with Mongolian Street instead.
Your favourite odd food pairing?
Maggi Noodles with beef curry. Tried it out of desperation, loved it!
If you could dis-invent a food, what would it be?
Pani-aappa aka Honey infused hoppers. Yuk!
What's your favourite kitchen hack?
Peel garlic the fuss-free way. Separate the bulbs and whack each clove from the side of the chef's knife.
If you weren't running Mongolian Street - what would you be doing right now?
Actually, I'm also an independent economic analyst and a prime-time radio presenter! But I think I'd follow whichever career that I feel God inspires me to take up.
What's one food no one can even pay you to eat?
Masala Vadai. Something about the aroma puts me off. But I do love Isso Vadai!!
What's the most challenging part of running your own food business that no one ever told you about?
To be able to cater to individual tastes is very tough. Especially when you cook a dish that many people think they know but not many do. To be able to discover and maintain that "perfect taste" consistently.
What's does the restaurant of your dreams look like?
It would be located in a quiet street with a meda-midula that has a lot of greenery, an open kitchen featuring a fiery action station. A well-curated playlist of music to create the perfect ambiance and plenty of natural lighting.
Do the cooking or have someone cook for you?
Do the cooking and have someone else do the prep!