From the minute Isabel laid eyes on the little German shepherd puppy that looked like a little bear, she knew she wanted to name her Teddy. Today, Teddy is a large part of her family, and is a responsible older sister to Isabel's young son.
Pet's Name: Teddy
Breed: German Shepherd
Age: 1 year 9 months
Owner: Isabel Daniel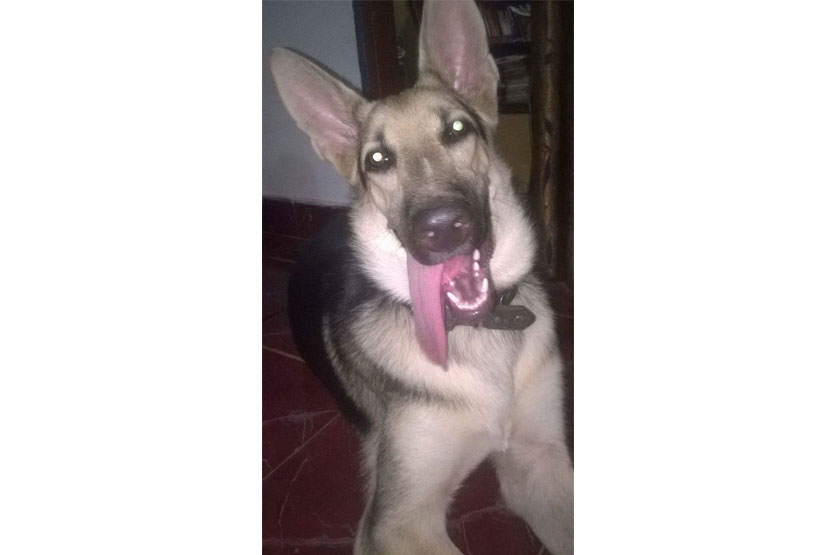 How did you find Teddy?
We bought her from a relative.
What's the story behind the name you've given her?
I love teddy bears. When I saw her for the first time she was actually like a teddy bear.
What are meal times and bath times like?
In the morning, she has milk and Pedigree, in the afternoon it's rice and meat, and for dinner she loves rice with fish. Most of all, her favourite dish is the fried rice that I make. Once a week she loves to have a half boiled egg. Bath time is once every two weeks and grooming once every three days.
What's her favourite thing to do?
Her favourite thing is to play with the ball.
What's the naughtiest thing she has done?
She never lets me grow plants in plastic pots. She destroys them and breaks all the pots. She hates them.
How does she react when you return home?
She will jump on us and she wants to lick all three of us. She wants to know that my husband, baby and myself all return home safely.
Does she do anything out of the ordinary that fascinates you?
Yes, she can jump really high. Usually she jumps more than 6 feet high.
What's the best thing about her?
She is my girl. She is like a child to me.
What was the most unforgettable moment you've shared with Teddy?
I got her when I was about 8 months pregnant and she was 7 to 8 weeks old. She loved to sleep with me on my bed and keep her little head on my belly. You won't believe she licks my belly too. My son is now 1 and a half years old and she still loves him and he loves her too. My son didn't say 'Mom' or 'Dad', but he calls Teddy 'Dee'. When my son starts crying, Teddy comes running to me to tell me that the baby is crying. She is the most adorable dog that I've ever owned. She doesn't have a cage because she always stays inside the house with us as a part of our family.