For the last two weeks, my usual shortcut back home after work is no longer short; what took me under twenty minutes now takes me forty-five. The shortcut falls in the way of the glamorous entrance to Colombo City Centre. While my PickMe meter is adept at adding on seconds to my waiting charge, I while away the time looking at the ensuing traffic and the creators of such. I realised most people entering the CCC were on what I imagine was a 'date night' – this triggered this update of the types of dates Sri Lankans are usually treated to.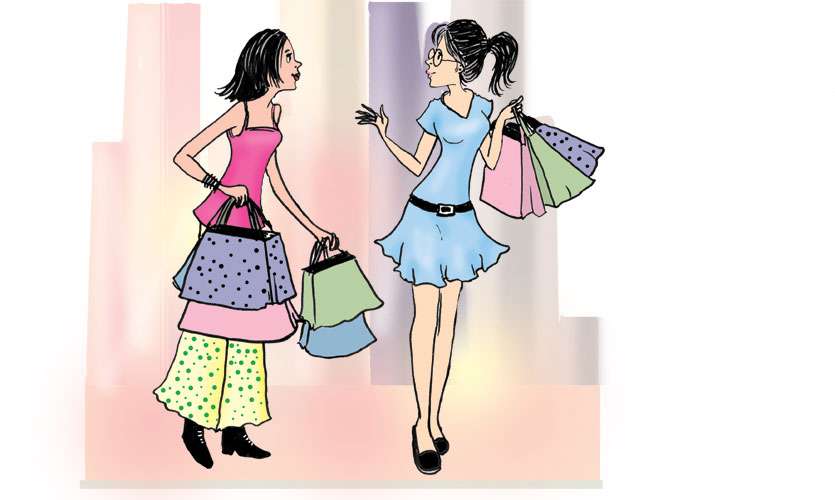 1.) The KFC Date
Or, McDonald's. I would imagine that this would be the point where you have established your actual appetites and don't have to worry about ordering half the menu and finishing it before you even exit the drive-through or eat it like savages in the Colpetty parking lot. You will be patronizing the said fast food outlet a.) You're sick of the bowls of quinoa and your body is craving trans-fats b.) You're wearing an old 'hil' tee shirt and Batas and cannot make an appearance c.) You cannot find parking in Colombo. You're so comfortable with each other that this date can even qualify as one the best things to do together. If you're like me, the level of comfort established between you and your partner allow you to eat the way you really want to – to deconstruct your food: i.e., de-layering a burger and consuming it from least favourite (lettuce) to most (patty).

2.) The Marathon
Perhaps I am late to catch on to this trends but I *know* people who do this and I don't know if I should be proud or scared. Ms Independents galore at the jogging paths of Independence Square, the kale consuming Kalyanis now in an effort to multi-task, invite potential dates to join them on the track. How well potential partners keep up determines qualification to round two. Isn't this genius? You're not compromising on your schedule, but carefully integrate others to it. Investing in active-wear and waterproof mascara isn't such a bad thing after all.

3.) The City Tour
These are the kind of dates where girls integrate mindless strolling so that it's a day well spent. Perhaps Sri Lanka lacks entertainment aside from a few lacklustre shopping malls, but don't most dates end with a casual stroll into Odel and now, Colombo City Centre? What Colombo needs is date night curators.

4.) Parks and Recreation
For many Sri Lankans living in Colombo, Viharamahadevi Park is known for its many forms of playing. Pardon my double entendre, but if you haven't had the inclination to scrub your eyes with Vim, you have not stumbled upon the couples' only zone in the far corner. While many signs warn you to behave respectfully, nothing can prepare you for what lies ahead of you. Most couples are unfazed by onlookers and gaping, and proceed with their under-umbrella activities.

5.) Home & Co.
Now my parents would have burned me at the stake if I brought a boy home to chill out, let alone a boyfriend. However, Gen-Xers in Sri Lanka are now experiencing an increased amount of liberty and are now able to bring home SOs and not have their parents summon a demon. While this is the most cost-effective types of dates, I think it can be achieved into a few months of dating so that you don't scare someone with what your unironed hair looks like.

6.) Fine Dining
Then there's checking into Shangri-La or Kingsbury – perhaps it's a first day or the hundredth, I love spotting couples who have invested a couple of thousand rupees on their outfit and makeup, but also taken time off to be fancy.

7.) The Outliers
Am I trying to earn kevum points (the local equivalent of brownie points) in saying this, but one bad date does not set the tone for all your future dates forever. I am yet to meet someone who's been taken to McDonald's on their first date, but I have heard umpteen stories where friends shared of how he 'forgot' his wallet, or how he was completely underdressed, she was disrespectfully late, or the other person was skimming through social media the entire night. It gets worse when people tell me of how he tries to force himself on her on the drive back as a 'thank you' for paying for dinner and getting irritable when this is not on the cards. However, that said, there are guys who would actually want to spend quality time with you and making plans to whisk you away down south for brunch or just spend time being touristy at Galle Fort.

8.) The Erranding
Since you are together, it doesn't make sense to complete evade adulating, so a few stops to Keells to pick up a few groceries or pay your Wi-Fi bill while you're at it, or a quick stop at the corner shop to buy paan for tomorrow morning can prove to be very satisfying. Never mind the high heels or the 2 hours of contouring, when you think of one less errand for the week ahead of you.