How do our food experts cook and eat? This week, food blogger Devour Diaries Ashani takes our Q&A!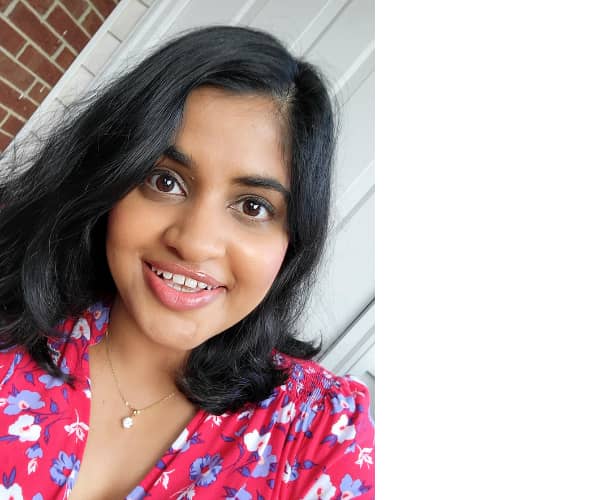 What got you into cooking?
- It was my mom who got me into cooking. I had this huge craving for fried rice (from roadside food stalls) and she taught me to make great fried rice with any kind of vegetable we used to cook at home. Those days you could have found okra, long beans and even steamed lotus root in my school lunch box.
Your food philosophy?
- Make dishes from scratch! From spice blends and pie doughs to a hearty Mexican Mole - I'm all into it. No matter how long the process takes, I love the endurance and rewards in the end.
Your favourite spice, tool, appliance in your kitchen right now?
- Spice: Ceylon Cinnamon. My dad sends us homegrown Cinnamon sticks.
- Tool: The can-fit-anywhere Odiris (blades) coconut scraper that my dad built when we came to the USA.
- Appliance: the red 7.25qt Le Creuset Dutch Oven that I got as a birthday gift from my husband. She is a beast with a feisty attitude and ready to take up any task, like me!
What's your particular cooking habit?
- There are so many! I need my kitchen to be a dirt-free, noise-free zone with no distraction and a clean sink so no waking up to stinky sinks either. I always want my spices and oils hidden away in the pantry from sunlight and heat. I love the concepts of mise en place (everything in place) and clean as you go. When you do this, cooking and baking are done in no time. These small practices save a lot of time.
What was your favourite childhood meal?
- OMG - pol sambola, soy meat curry and a dollop of rice. Amma would make me a small kesel kole bath packet. I put it in a shopping bag, go around the house, sit somewhere and eat it.
If you had Rs. 500, what meal would you make with it?
- This is tricky! Will a cup of cooked kekulu rice, pol sambola and a few fried dried katta fish pieces and a pickled lime fit the bill?
What dish would you eat but never cook?
- Foie gras. I hate that concept though.
What food trend do you hate right now?
- Any TikTok food challenge! Geez - it's so crazy and dumb and people just mindlessly follow it. Food has more meaning and life way beyond that.
What would your last meal be?
- My mom's mango curry with pol sambol, dal curry and rice.
What's your go-to comfort food to make?
- I'm addicted to Samyang double spiced hot ramen noodles. Next to me, I will have a mug of piping hot frothy, malted milk. No one eats them at our place except me, so it's all mine; the utmost comfort!
What's the most adventurous food you've eaten?
- Last summer we had huge crab cakes (so huge they won't fit into your palms!) made fresh from Blue crabs in Chesapeake Bay, Maryland. I have a shellfish allergy and had my epi-pen ready. But I ate those crab cakes anyway – ha! I came out of it alive, right?

Your proudest food invention?
- Mini chicken curry puffs made in a muffin tin – recipe is on my blog!
What's a dish you'd love to relive for the first time?
- Eating a Biryani from Hotel De Buhari in Sri Lanka.
Do you have a lockdown food invention?
- That would be Banana Leaf Knots. At some point last year, I ran out of cardamoms and cloves and even pandan leaves are a rare find. We stopped shopping in the Indian food store due to the pandemic, so I thought of cooking rice with a few banana leaves in it. Slowly I perfected a ratio. Cut 5 banana leaf stripes into 6-inch lengths each and wash them thoroughly. Tie a knot (stack 4 and tie them with the leftover strip) and dunk into the rice cooker with 3 cups of rice and cook. You will be in aromatic rice heaven in no time!
What are your favourite leftovers?
- A plate of Lankan style tempered rice. Yum!
Do the cooking or eat out?
- Do the cooking! Because I love it! I'd only eat out to have a break or check out a regional speciality food.