How do our food experts cook and eat? This week, food photographer and food blogger Mai Li takes our Q&A!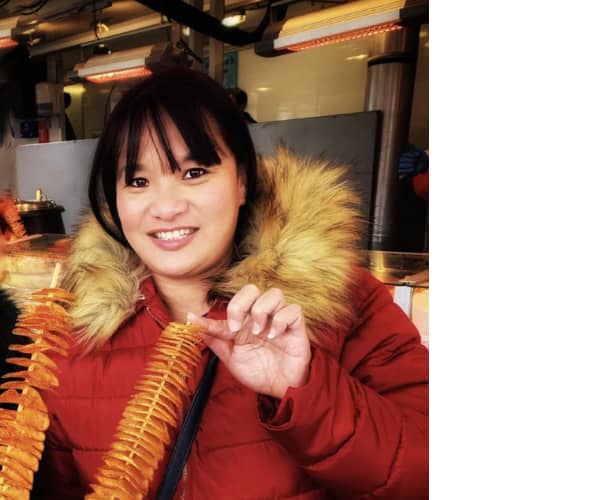 What's your story with food?
My dad had a restaurant growing up, so I was always around food from a young age. Whenever I went into the kitchen, I could eat whatever I wanted as he would make many different dishes such as samba fried rice and devilled chicken. This variety of food styles has stayed with me in my recipes now, which is why I make such a diverse range of food!
Your favourite childhood meal?
Chinese Dumplings with sauce eggs, batter fried prawns and roast chicken – this was my favourite because the whole family would make it together. It brought us closer, and I loved family time.
Living abroad, how do you keep your Sri Lankan heritage alive with food?
Because we do not have any Sri Lankan restaurants or shops near us, we have always kept our traditions alive by cooking them at home. My husband cooks at least 4 Sri Lankan dishes a week from roti to rice and curry to vadai.
What dish would you eat but never cook?
Macaroons, because it is time-consuming and there's too much technicality with the eggs. You also need a lot of patience for it, and they are very delicate.
A meal you'd cook to impress someone?
Biriyani, batu moju, roast chicken, tempered potato, fish cutlets, pappadam – a feast anyone would enjoy.
The weirdest food you've tried?
Mussels that we tried at home – they were yucky!
What's a food no-one can convince you to eat?
Sushi or smoked salmon. This is because the fish isn't fully cooked, so I personally feel it is still raw.
If you could dis-invent a food?
Black pudding because why would anyone choose to eat blood?
Your proudest food invention?
This cheese tower cake is for my daughter's 24th birthday. It had 6 kinds of cheese and 2 homemade chutneys. It was simple but elegant and delicious with a lot of crackers.
A dish you'd love to relive for the first time?
Watalappam because I love the flavour of the coconut milk and cardamom coming through.
As a food photographer, how long does it take to get the perfect shot?
If you overthink about the perfect picture, it can take a long time, so you need to visualise the picture you want in order to get the perfect shot. I have taken anywhere between 5 to 40 minutes to get my perfect shot. My daughter and husband also help by acting as hand models in the pictures. I feel this gives character and style to my photos as my family are in them.
You love your food but you also love your photography so - eat with your eyes vs. think with your stomach – which one wins?
Definitely eat with your eyes. I love taking food photography: it's the setup, lighting and editing that come together. You need a good pair of eyes for that!
Which cuisine is your favourite to explore?
Chinese cuisine as that is part of my heritage as well. I still haven't visited China and I am yet to try food from there.
Your favourite family recipe?
Malay pickle. Whenever I visit my mother, I always look forward to this Malay pickle she would make. After I got married and moved away, I now make it at home and my kids love it too.
Who is your go-to recipe person?
My husband because he is the head chef of our house. He has been a head chef for years professionally and brings with him a plethora of food knowledge and techniques which I appreciate and showcase in my cooking and food photography.
Favourite movie about food?
Ratatouille – even though I hate rats! Incidentally, my husband also makes a scrumptious ratatouille!!
Cook at home or go out?
Cooking at home because you can make and eat as much as you want – the sky is the limit.
What should not be missing in your kitchen?
Sri Lankan roasted curry powder as it is used in most of my dishes.
Of all your food shots, which picture is your favourite?
Kokis! This picture represents me overcoming challenges within cooking as no one ever expects you to get the dish perfect on the first go. Most of the time its trial and error. So, after trying a few too many times and not getting the correct shape, I finally got there with my Kokis shape. It was a proud moment for me.