How do our food experts cook and eat? This week, food blogger of @homemadewithyum, Muzna takes our Q&A!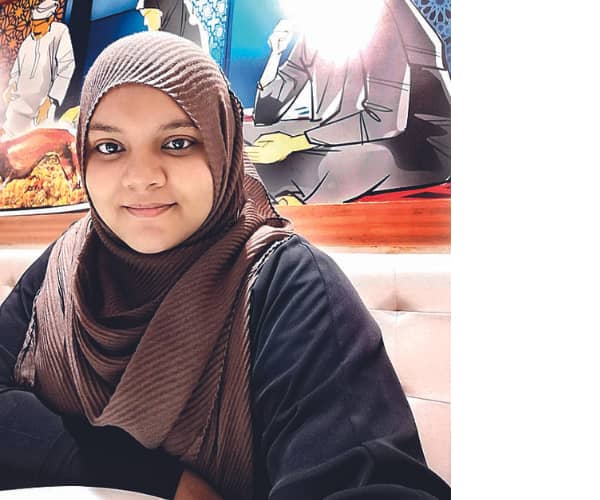 What got you experimenting in the kitchen?
I started cooking because I love eating – it's as simple as that! I started with baking when I was around 14 years old. I made lemon bars from a recipe book I borrowed from a friend and they turned out disastrous. (However, thankfully, I've managed to right that wrong several times since then). I would save up my school interval money and ask my auto uncle to stop at the supermarket on the way back home so I could buy ingredients. I got into savoury cooking as I grew older, especially when I had to move away from home and learn to make all the things that I would take for granted – starting at rice!
What's a dish you'd love to relive for the first time?
Biryani!
What food is underrated?
Simple foods we have on a daily or weekly basis actually! Ask anyone who has had to move away from home and they'll tell you it's the humble idiyappam or roast paan that they miss the most. For us, this also includes foods like idly and dosa because my parents come from a South Indian background.
How do you style your food when it comes to pictures?
I like my pictures to be bright, airy, and colourful. It's taken a lot of experimenting (and a lot of mess) to get to where I am today. I still have a long way to go, but here are a few things I've learnt when it comes to food photography, especially as a beginner: Firstly, always shoot your pictures in natural light. Secondly, look through the camera when you are setting the scene. And lastly, garnish, garnish, garnish!
Eat with your eyes or think with your stomach – which one wins?
Always think with your stomach. Not all foods that look good taste good, but foods that don't look good can definitely surprise you!
If you could only recommend one recipe from your blog – which one would it be?
Oh man, this is such a tough question. All my recipes are like my babies. But if I had to choose one it would have to be the beef pickle recipe. It's not something that most people have heard of or tried but it's one of the best things ever. Many of my readers have made it and ended up loving it as much as I have!
Your proudest lockdown food invention?
One thing that I made on repeat was my baked sticky chicken wings. I called them the SSS wings because they're spicy, sticky, and sooo good! But I love being creative, so one of my proudest creations includes a chicken and hummus sandwich cake.
Make a meal with Rs. 500?
I would make pasta. All you need is a packet of pasta and some veggies. If the budget allows, I'll make a white sauce with a knob of butter (or margarine), flour, and milk. At the very least, I could whip up something delicious with some spaghetti, fresh tomatoes, and premade meatballs.
has been passed down to you from family?
The spice blend that we use to make the "masala" that we use in pretty much everything – all kinds of veggies, meat, seafood and more. Just a couple of spoons of it can add bags of flavour to any dish. I even tend to add it to things like pasta! The masala recipe is unique to our hometown in India, and everyone who hails from there uses it no matter what part of the world they end up in! It's a little bit different from family to family but typically shares the same ingredients and flavour profile overall. We usually bring it back with us when we visit, but with travel being restricted due to the pandemic, we learned to make it ourselves!
Your favourite childhood meal?
There is this white chicken curry that my grandma used to make whenever we go visit our hometown in India. She makes it on the day we arrive because she knows I love it. She's even frozen some and sent it with me when I lived alone in another city!
It's your last day on earth, where are you?
I'm at a luxurious beach resort, stuffing myself with all the things I can from the lavish buffet.
Easiest meal you'd make to impress someone?
Fried rice! So quick to make and you can never go wrong with it. It's also one of those dishes that you can either add a ton of ingredients into or make do with just a few – so you can simply raid your fridge and whip something up if you have guests who've sprung a surprise visit on you.
What's the most adventurous food you've eaten?
I love to try new foods, but I don't usually go for exotic ones. However, I have tried quail and rabbit – both of them at home. Although the first time I had either of those was because my mother tricked me into believing they were just very skinny chickens. And that's exactly what they taste like! It's the thought of a fluffy rabbit that stops me from eating it regularly. Quail, on the other hand, I have gone back for.