In this series, we talk to people who turned their passion for food and baking into a business idea amidst lockdown and COVID-19 fears. Some have been in the market for years and others saw the new opportunity and took it! With new challenges presenting themselves in light of the current economic crisis in the country, we talk to home bakers who are navigating through these difficult times and bringing the sweet and savoury to your very own doorstep!

Shalini De Fonseka attributes the humble beginnings of Shalini's Cakes to the teamwork of the mother-daughter duo. "It all started with the work of a mother who can bake delicious cakes and a daughter who has a creative eye to decorate according to the customer's needs. Shalini, left her corporate career to follow in her mother's footsteps as a baker, fulfilling her childhood dream of working in the creative industry. "I helped my mother expand her home-baked cake business among our family and friends while publishing our work on social media and then I took over the main responsibilities and got into catering to the wedding industry."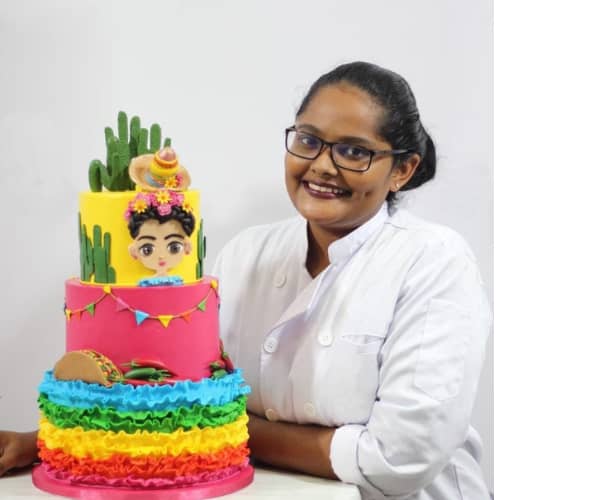 What do you offer?
We started with my mother's signature chocolate cake and did many additions and customisations over time and now we have focused attention on Wedding Cakes.
What is your signature style?
The touch of elegance!
What is it like running your operations in times like these – first with a pandemic and now with an economic crisis?
Since we mainly cater to weddings, we normally get prior bookings. But with the lockdown and pandemic, every public event got postponed with travel restrictions and health guidelines and a few of our clients had to fully cancel or postpone the event with many difficulties. But as always whenever they request, we did our best to customise according to their new requirements and deliver on time as promised. We had to face a cake tsunami every time they lift curfew and events started happening again and had many sleepless nights to make each and every one of our clients' dream cakes a reality on their special day. I'm so thankful to my closest family members, event planners, and delivery partners who went above and beyond to meet our deadlines to cater to our client base without any complaint. Now we are faced with a different challenge. With skyrocketing price hikes in almost everything (from ingredients to fuel, power cuts, and limited access to quality ingredients), it's much more difficult when pricing an affordable product. However, compared to the pandemic time, it's much easier to get more orders and deliver them without any prior travel permissions as people have started to normalise living with the Covid-19.
How are you ensuring the proper hygiene measures are taken in preparation and delivery?
I almost do everything alone which means less interference and fewer germs. I ensure my workplace is clean and take care of my personal hygiene before and after I work with my cakes. When delivering, I make sure I visit the location personally for every cake set-up to add that final magic touch.
What do you enjoy about baking and operating your own home baking business?
Baking for me gives me peace of mind. I also like that by operating my own home-based baking business, I get the chance and freedom to try new techniques and follow the trends.
What's in store for your brand in 2022?
Introducing more and more uncommon, elegant, trendy designs to the wedding cake industry.
Any advice to anyone who wants to start their own business?
'Always remember why you started.' I think that will give enough motivation to keep going.
Shalini's Cakes operates within Colombo, Negombo, and Wennappuwa areas. Shalini's Cakes take orders via Facebook and Instagram (@shaliniscakes). Bank Transfers or Direct Bank Deposits are preferred and delivery can be arranged.