Mama Rana is on a mission – she wants you to eat well and she's not shy about commanding you too! Her 'Thank You' note with every order has a gentle but stern maternal reminder on the side to 'eat more greens' and 'wash your hands!' in a tone not too far from what our own mamas would say. "I can't wait to cook for you again" the card signs off, "Love, Mama Rana."
Meet Mama Rana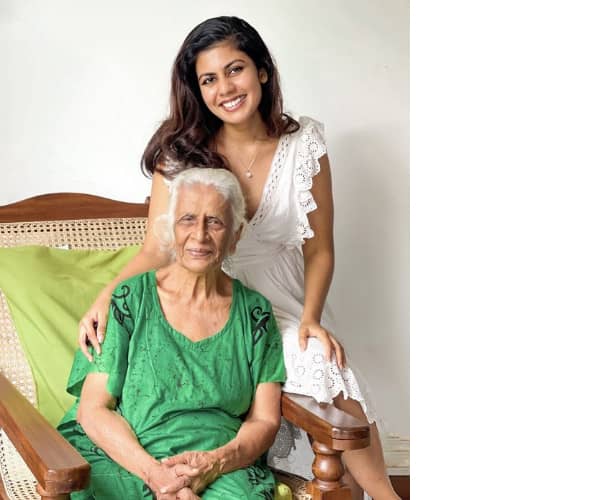 A home-based food venture, Mama Rana's is inspired by Mama Rana herself: a mother, a grandmother, and a great-grandmother. For Mama Rana, food has always been her language of love – first to her 6 sons, then to their friends, later to their growing families and now to her 14 grandchildren and great-grandchildren. By all those who know her, Mama Rana is fondly associated with the wholesome food she whips up with all the distinctive flavours and tastes that only seven decades of experience can bring. "Ask anyone," she says, "Anyone will tell you that whenever they come to my home, whatever time it is, there is always food on the table."
Mama Rana's venture was conceptualised in June 2021 by her granddaughter Senuri Ranatunga who handles the operational aspect of the business, responsible for creating the brand and handling the logistics while Mama Rana directs the kitchen in executing her recipes to perfection. Mama Rana's was inspired by the idea that while there are an abundance of places to eat from today, finding comforting food is rare to come by. Mama Rana's focuses on the food that tastes like home, with added attention to the healthy, nutritionally rich aspect of eating well.
Mama Rana's 80:20 rule
Mama Rana's embodies the concept of clean, wholesome food, focused on delivering all the necessary nutrients packed with flavour in a rich and balanced diet. An aspect of Mama Rana's that has made the business popular in just a few months, is their strict adherence to the 80:20 rule: 80% curries and 20% rice. "One thing we saw so often when we ordered rice and curry was that there was always so much rice and very little curry which is not very appetising or healthy. The concept behind Mama Rana's is food that has just the right proportions of carbs, vegetables and proteins for it to be considered a nutritious meal. We are very conscious of what goes into our food and how we make it, so we use less oils in our cooking and we carefully select our spices and condiments by considering their antioxidative and inflammatory properties".
The Menu
The Mama Rana's venture started off with their signature lamprais and rice and curry and has recently added Biriyani to their menu with plans to expand more in the future. Mama Rana sent some homemade food our way together with a note of thanks from Mama Rana herself and we had to taste for ourselves and see what Mama Rana's homemade food has to offer.
Lamprais
This Sri Lankan Lamprais is a delightful amalgamation of fragrantly flavourful rice, meat curry and side dishes. Mama Rana's signature lamprais is satisfyingly good. It includes ghee rice, curried ash plantain, brinjal, seeni sambol, cutlet, fried egg and spicy curried chicken wrapped in banana leaf and oven warmed for a few minutes till all the aromas mingle and intensify. Mama Rana's pick up the slack of what some of the more commercialised Sri Lankan lamprais spots have dropped with lamprais that is flavoursome and wholesome and thankfully, not seeping in oil! The lamprais comes in vegetarian, prawn, fish and mixed meat options and Mama Rana's is also currently exploring a vegan alternative as well.
Rice and Curry (White Rice & Yellow Rice)
The 80:20 rule by Mama Rana is no exaggeration and is obvious when the banana leaf is unfolded - five different curries and vegetables nearly covers the bed of rice underneath. The White Rice and Curry included Jaffna curry style dry prawns, a coconut-based mixed vegetable curry, curried mushrooms, gotukola sambol and pol sambol. The Jaffna style prawn curry was delicious; a balance of creamy and spicy with a generously served portion of 8 medium-sized prawns per pack (we had to double-check if it was simply by a stroke of luck – it's not, that's their portion size).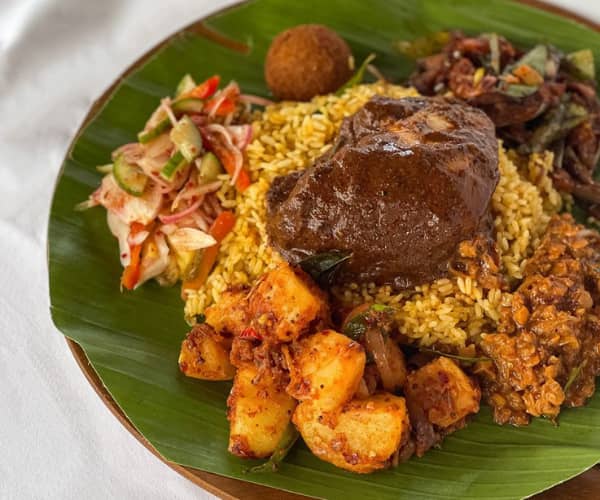 Yellow Rice
The Yellow Rice pack includes turmeric-infused yellowed rice, devilled potatoes, brinjal moju, cucumber salad and a cutlet with a choice of meat, either chicken, fish, prawn, mutton or pork. We opted for their black pepper pork curry, a thick curry coated with aromatic spices that just melted in our mouths. Mama Rana's shares that they are a halal-friendly venture and that all pork dishes are prepared and cooked separately and away from their other food preparations.
Chicken Biriyani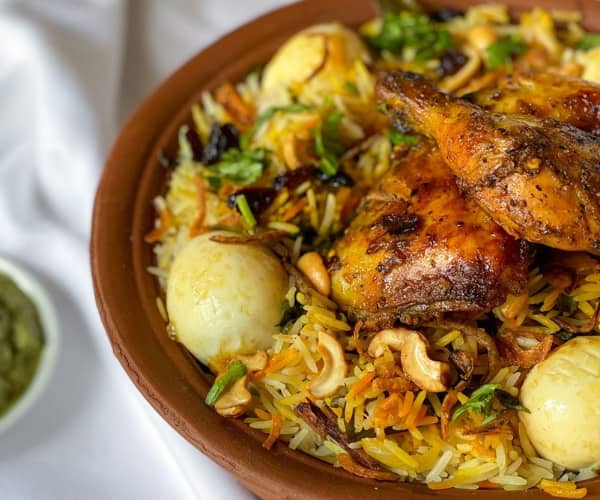 Mama Rana's latest addition to the menu is one which she proudly proclaims to us as 'possibly the least oily biriyani you will eat'. The biriyani, served in a clay pot, is enough for 5-7 persons and is topped with roast chicken and eggs and garnished with toasted cashew and mint leaves with a side of raita, mint chutney, mango chutney and vegetable korma. This biriyani is slow-cooked for 3 hours and as a result, the long grain basmati rice has plenty of time to absorb all the aromas and flavours of the biriyani spice mix. The biriyani is a generous portion both in rice and in its meats. The Mama Rana's ethos of less oil does make the biryani slightly drier than the rest but it's easily cured once mixed with the korma and raita. And what compliments biryani more than dessert? While watalappam is traditionally the go-to, Mama Rana's will be introducing a different dessert– Kheer, a decadent, mellow, rice pudding with many layers of subtle flavours that juxtaposes between light and sweet.