How do our food experts cook and eat? This week, Sri Lankan-born Janani of @jansistubitsukitchen takes our Q&A!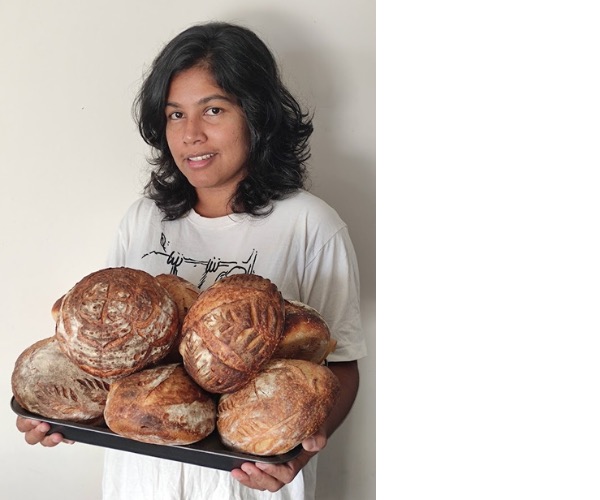 What's a dish you'd love to relive for the first time?
Achchiamma's hoppers and egg hoppers with a wobbly yolk, without S & P, That is very important!
Easiest dish you'd make to impress someone?
Cashew curry. It has been a hit amongst my white friends.
Your first memory of cooking?
Standing beside the grinding stone with my paternal grandma (Achchiamma) while she was grinding pol sambol. I would have been about 5 years old then, I remember she would always get me to scrape the leftover coconut sambol from the stone.
What's a recipe you struggled with?
I was experimenting to make the aasmi that resembles my achchiamma's asmee. After many failed attempts, I successfully made some that I can be proud of for the last New Year!
Dead or alive, who would be your dream dinner-party guests?
Chef Heston Blumenthal – I would cook my favourite childhood meal for him.
What meal do you love to eat but would never cook?
Dum biriyani! For me, home-cooked biriyani and restaurant-made biriyani are two different products. I like restaurant-made biriani.
Your favourite recipe that has been passed down to you from family?
I love a fresh batch of amma's welithalapa that has cracked black pepper in it which makes it the perfect pairing with a cuppa.
What's the most adventurous food you've eaten?
I never forget the two weeks I spent in Shanghai. I had frog meat! It tasted like chicken.
How did Jan's Istu Bitsu Kitchen start?
My friend Rudi suggested that I should start a food page after seeing me posting food photos on my personal IG handle. Thought I'd give it a go! "Istu Bistu" is what my dad used to call Stew.
What's the secret to a good sourdough?
A strong, well matured starter, and patience of course.
What ingredient is underrated?
Curry leaves.
Your favourite odd food pairing?
Avocado and chocolate brownies, you gotta try that combo!
If you could dis-invent a food, what would it be?
Gnanakatha! I cannot stand the texture and the smell of it.
Your proudest food invention?
I became quite obsessed with sourdough baking and making Sinhala kewili lately. I'm very proud of the sourdough bread I bake for friends and family and am also thrilled about the last batch of aasmi I made.
Your favourite food shot and the story behind it?
That would be the welithalapa shot! My mom is famous for her welithalapa. They are perfectly square in shape, so glossy on the outside and they melt in the mouth with a little sting that comes from the cracked black pepper. On the day I shot that picture, I made welithalapa from scratch as I was craving for some. I love the fact that I could make fine pittu like her, and how my welithalapa turned out to be just like my mom's.
How did you learn to cook?
I grew up helping Amma and Achchiamma in the kitchen. My day-to-day cooking is pretty much what I learnt from watching them. But I must say Thaththa was my biggest inspiration. He taught me to be fearless in the kitchen. I'm not very keen on following recipes. Baking is probably the only time I follow recipes to the T.
Your favourite childhood meal?
I have two. Growing up, our weekday dinner was mostly rice, one curry and a condiment or two. Freshly milled raw rice from our fields, potato and sprats gravy, gotukola sambol/pol sambol, papadam or potato and boiled egg curry, with the same condiments would be my favourite childhood meals.
It's your last day on earth, where are you?
I would be in Sri Lanka, in our home, with my family, eating ghee-roti for breakfast, rice, breadfruit curry, angunakola mellum and dry fish fry cooked by amma for lunch and cuttlefish curry, raw mango curry and freshly ground coconut cooked by my mother in law, and karthakolomban mango for dessert all day!
What are your favourite leftovers to work with?
Rice and any curry. I would make a "raja bojane" the next day. I mix leftover rice and curry with chopped shallots and green chillie, pinch of salt, two boiled eggs and freshly ground coconut. ( Taththa used to make this dish most of the afternoons from the leftover food when we got home from school. We call this "raja bojane" because it is so delish)