In this series, we talk to people who turned their passion for food and baking into a business idea amidst lockdown and COVID-19 fears. Some have been in the market for years and others saw the new opportunity and took it! With new challenges presenting themselves in light of the current economic crisis in the country, we talk to home bakers who are navigating through these difficult times and bringing the sweet and savoury to your very own doorstep!
With more than 40 years of experience in the cake and baking industry, Fainaz Milhan started baking at the age of 10 years, watching and learning the craft from her sister. "I also learnt cake decorating from the likes of Mallika Joseph, which was many years ago, and more recently sugar flowers from Robert Haynes with everything else being self-taught. I've always dreamed of teaching my skills to students and seeing them succeed. There was no real "aha" moment to launching the brand, we just sort of took the plunge and it's paid off luckily. The brand is about showing our students that anyone can bake, you just have to take the first step by learning."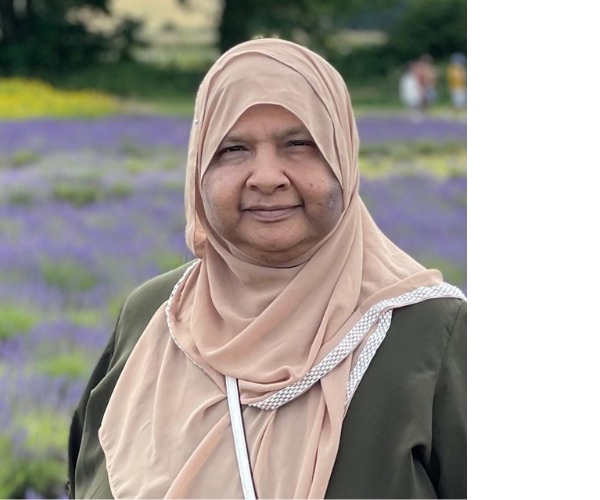 What do you offer?
We offer a wide range of classes from Celebration Cakes Classes, which cover pretty much everything from a basic cake to something more large scale like an engagement cake, to Dessert Classes, Macaroon Classes and Sugar Flower Classes. We also do seasonal classes for Christmas, Eid, Indian Sweets and so on. Our best sellers are the Basic Cakes Class where we teach our students how to make my Classic Signature Chocolate Cake, Ribbon Cake, Coffee Cake and Red Velvet Cake. Our Chocolate Madness and Macaroon Workshops are really popular too.
I'd say I'm known for my realistic-looking sugar flowers which I learnt from the 'Sugar Fox' Robert Haynes - they're definitely my pride and joy.
For a first-time customer, what would you recommend?
I'd recommend the Celebration Cakes Class as this is great for any skill set, whether or not you've ever touched a baking utensil before, and the Sugar Flower Class, where you'll learn how to create life-like flowers.
What is your signature style?
Baking is considered by some to be hard or impossible to achieve. But our classes are designed to teach you to hone your skills in the most straightforward manner - I've had students who've never touched a single baking utensil or ingredient before come to my class and absolutely outdo themselves with their cakes and bakes. I have designed my classes to not only be easy to follow but also fun so that they don't get bored and enjoy the process. It's also filled with my tips and tricks to get the perfect outcome.
When did you start operations?
We launched in 2016 and our follower base grew so rapidly that we could hardly believe it. It's always been something I've wanted to do and teaching brings me so much joy. It's been ever better seeing my students succeed, with most even setting up their own businesses during the pandemic.
What is it like running your operations in times like these?
Initially, I was really worried about how we were going to continue with our classes during the lockdown, and I'm sure a lot of businesses, big or small, had the same worry. But to be honest, apart from the initial worry, we didn't face many challenges. With software such as Zoom gaining popularity and usage, it was only natural that we conducted our classes online - and we're so happy to say that it was a huge success. We also tapped into the baking/cooking at home social trend that was at its peak at the time and created quick step-by-step recipe videos on Instagram Stories just to give a little something back to our followers during those difficult times. We never expected how popular it would become, with people even messaging me with photos of the recipes that they've tried!
What do you enjoy about baking and operating your own business?
Baking has always been a passion of mine and I'm so glad that I get to share what I can with my students, along with my own tips and tricks that I've learnt across the years. It's been so rewarding seeing how successful my students have gone on to become after graduating from my classes, I'm so proud of them. Operating a home-based business gives me the flexibility to conduct classes within the comfort of my kitchen and allows my students to feel like they're in a comfortable, homely space to learn from. The environment I create at home is one of fun and enjoyment while baking.
How do you see home bakers going forward and navigating through these difficult times?
During an economic crisis, it's about being clever with the ingredients you use and finding creative solutions to fulfil your customer needs. It's also about being mindful about what the country is going through, as not everyone can afford as much as they could previously, but understanding that they will still like to celebrate occasions - and this is where doing your best to provide happiness through your bakes comes into play. There'll definitely be a certain level of compromise given tighter budgets but going the extra mile will be your key to success.
What's a baking basic everyone must know?
The oven temperature and time for each and every dish should be specific to its quantity and the ingredients used - it's not a one-size-fits-all, which can be an easy and common mistake to make.
Your advice to anyone who wants to start their own business?
Consistency is key. Your business isn't going to instantly pick up and there will be ups and downs, but if you're consistent with your service and messaging, you'll reap the rewards much sooner than you think. You also need to listen to and understand your audience and what they're looking for. A few things to think about would be: how can you give them the solution? What would the customer experience be? Are my products/services affordable?
Contact Fainaz Milhan Cake Design via Facebook and Instagram (@fainazmilhancakes). Classes are conducted in Wellwatte and are suitable for beginners or experts. They also undertake cake orders depending on availability. Bank Transfers and Cash payments are accepted and delivery range includes Colombo and suburbs.