Dumplings & Parathas is the newest food spot in Colombo focusing on introducing Chinese street food. A sister brand of the famous David's Dangerously Delicious Char Siu, Dumplings & Parathas (D&P) is bringing yet another opportunity to indulge in delicious Chinese delicacy. Auntie Lily is the face behind D&P. Growing up in Mainland China, Auntie Lily's fondest memories are of making dumplings from scratch on every special occasion.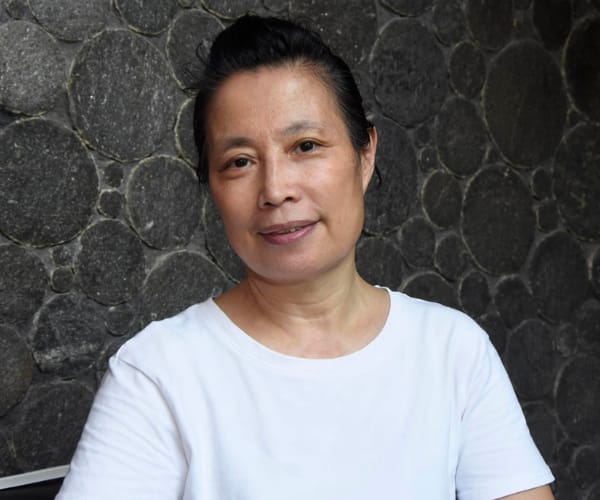 "Dumplings are a big part of our culture and growing up, at almost every occasion - especially during the Chinese New Year, we would all sit together as a family and make dumplings together. Making food together was always so important to us" shares Auntie Lily. Having moved to Sri Lanka for business purposes, Auntie Lily was often missing food from home and was constantly creating dishes from family recipes and sharing her work with her Sri Lankan friends and family. "My friends over here really loved my food and kept encouraging me to start my own business and I thought it was a fantastic idea!".
Together with a local partner, Auntie Lily opened Dumplings & Parathas in August 2021. Their tag line reads 'Have some Inner Peace!' based on the idea that each bite of their food would bring inner peace to the diner. The D&P menu is inspired by Chinese street food offering dumplings, Chinese parathas and steamed seafood with speciality sauces and dips. Street food is an important part of Chinese eating culture and dumplings are arguably the most popular street food in China. "The menu is a reflection of the street food we used to eat back home, the kind we'd find right outside our school; it's warm and comforting and reminds you of home." We decided to check out what D&P has to offer and here's what we thought.
Dumplings (Rs. 1,600 for 10)
Auntie Lily makes each batch of dumplings to order and that includes making the dough from scratch. The difference between fresh homemade dumpling wrappers and frozen, industrial ones are obvious through the taste and texture. D&P offers 5 varieties of dumpling fillings: prawn, pork and celery, pork and chives, egg and chives and veggie. We opted for a mix of pork and celery and pork and chives. The dumplings are boiled instead of pan-fried and we thought this allowed us to get a clean taste of the dumplings, perfectly nuanced by the light dipping sauce.
Chinese Spring Onion Parathas (Rs. 500 for 2)
At first, the words 'Paratha' conjoined with dumplings confused us as well, but then we realised that it was referring to the famous Chinese Spring Onion Flatbread! Chinese spring onion flatbreads or parathas is one of the most popular street foods of China and for a very good reason – it's delicious. It's crispy, thin, soft and super flaky and is accompanied by two delicious dipping sauces: a sesame peanut dip and a chillie oil. The uniqueness of this paratha is the dough and its preparation; the dough, mixed in with spring onion, is rolled into a spiral before being flattened in order to give the paratha thin, flaky layers. The Spring Onion Paratha at D&P is such a treat – the paratha is addictive all on its own but alternating between the two dipping sauces only heightens the flavours and the textures to it.
Chinese Style Pork Burger (Rs. 1,000 for 2)
While D&P by name specializes in dumplings and paratha's – this hidden gem of a dish in the menu was an absolute star. The Chinese Style Pork Burger is a different take on the original burger bun which is replaced by a homemade Chinese pocket bun. The bun itself is very soft, adopting a bao-like fluffy texture and is coated with toasted sesame on top which renders its own flavour. What left us so impressed however was the filling, which was definitely loved at first bite. The pork is heavily spiced with all the Chinese 5 spices and is stewed for 4 hours until tender and soft. The pork is then shredded and mixed in with onions, green and red chillies along with the left-over spice gravy of the pork stew. Sandwiched between the soft bread, the Chinese Style Pork Burger is an explosion of flavours and we could not get enough of it.
Succulent Steamed Crabs
D&P also offers steamed crabs, another popular street food in China. They offer either Lagoon Crab (2 full crabs for Rs. 4000) or Sea Crabs (2 full crabs for Rs. 3000). Because we are generally more used to eating crab prepared in different styles, it was a novelty to eat simple, steamed crab. In Chinese food culture, however, steamed crabs are preferred and eaten simply by themselves or with dipping sauces. D&P offers their steamed crabs fully cleaned and served with their signature dressing. This dish needs advance reservation as the crabs are handpicked fresh to order. Auntie Lily strongly recommends eating the steamed crab meat by itself to appreciate the crab flavours or to dip it sparingly in a light, gently flavoured dressing for best taste.
OVERALL
D&P was a delight to our tastebuds. It was lovely to have food made then and there to our order and it was a treat to have such flavoursome food. The dumplings and the steamed crab offer a very clean-eating experience while the spring onion paratha and the Chinese style pork burger is jam-packed with flavours and textures. Following the ethos of their sister brand, D&P is also keeping their menu small and focusing on the quality and originality of their dishes. We enjoyed our visit to D&P and is looking forward to more!
D&P has its own open-air dine-in patio but is currently open only for delivery and pick-up due to the Covid-19 pandemic.
Social media: @dumplingnparathas
Address: No.27/5, Rosmead Place, Colombo 07
Photos Nimalsiri Edirisinghe