How do our food experts cook and eat? This week, vegan food blogger of @ceylon_tastes and founder of Leema – Eco World, Keshy takes our Q&A!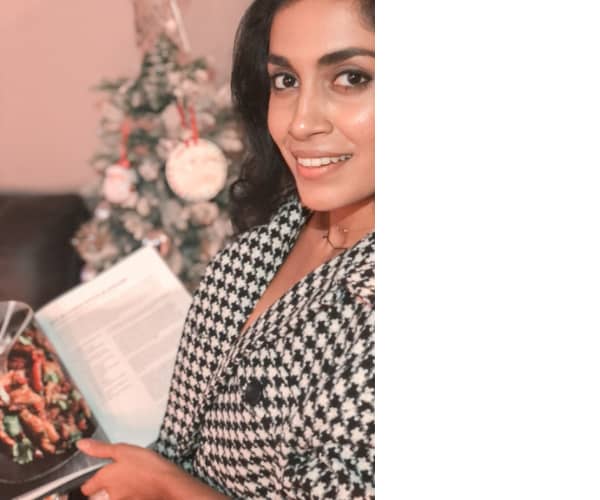 What got you cooking?
I came to the USA at the age of 18, up until that point I've never cooked a full meal. I remember the first month of being in my dorm room, I was struggling to cook. Slowly I improved every day. Later in life, my husband's encouragement kept me creating new and fun recipes which lead to the blog.
What introduced you to the vegan lifestyle?
I worked at Sanford hospital where I dealt with patients' charts on a regular basis. Most patients had "common" (preventable) medical problems and some of them were in my age group. So that got me into researching and learning about healthy living. All the research made me curious about the whole food plant-based vegan lifestyle. My husband and I both made the switch to a vegan lifestyle after the amount of evidence we found. Staying committed to this lifestyle got so much easier for us after learning about animal cruelty.
An underrated ingredient?
Curry Leaves! I took this mighty condiment for granted when I was in Sri Lanka. It's a rare find in this cold climate and expensive to buy. But still, it is a staple in my home.
Your favourite childhood meal?
Amma's white rice, coconut sambal, and onion fry is always my favourite. I remember impatiently waiting while she makes it.
If you had the opportunity to introduce vegan food to someone, what would you be serving?
I would serve my KFC style fried Maitake mushroom burger. The flavours and crunchiness will make anyone want more.
The most overrated food that's served right now?
Sadly, it is Hot Chocolate! The holiday movies always make me want it, and every time I have my first few sips, I instantly regret it. It's too rich and too sweet for me.
The most exotic food you've eaten?
When my husband and I were in the Maldives, we had a lunch date at 5.8 Under the Sea restaurant. They served a five-course lunch menu. Each entrée was unique and exotic. It was an amazing experience.
Your favourite odd food pairing?
Curry Pasta. Replacing marinara sauce with curry. It is delicious.
Your proudest food invention?
My proudest is "Vegan Hot Buttered Mushrooms". Many of our American friends have since made it by following the recipe and fell in love with Sri Lankan cooking. My Instagram post was discovered by a food journalist and an author, and she published it in the "Fantastic Fungi Community Cookbook". It was a proud moment to represent our Sri Lankan flavours in such a renowned book.
What inspired Leema Eco World?
My dad is a hardworking businessman. I always wanted to start my own business but didn't know where to begin. My passion for always finding natural and sustainable products made me take a chance. We are now planning on a new launch of spices for our anniversary. We want to directly buy from small farmers in Sri Lanka and get the highest quality natural products while paying a fair trade for these hard-working farmers.
Eat with your eyes or think with your stomach – which one wins?
I would have to go with my stomach. It goes with saying "go with your gut", gut microbiomes always win, of course, the food needs to be appealing!
Your favourite leftovers?
Leftover rice. My husband and I love making curry leaf rice in the mornings.
Your favourite recipe that has been passed down to you from family?
Hands down, it is Malay Pickle. I remember growing up, wonderful memories associated with making the pickles at my grandparents' house with my family.
Who is your favourite go-to recipe person?
There are so many great recipes and channels that I follow. One of my go-to is @rainbowplantife recipes.
What's the best thing about your vegan lifestyle?
All the energy and health improvements I have while living a cruelty-free lifestyle is the best feeling. A misconception is that vegans only eat boring food (salads). In reality, because we have many vegetables, grains, nuts, and legumes to choose from, it's really easy to create unique flavourful dishes every time.
If you aren't cooking at home, what's your go-to dine out order?
We love travelling to find new vegan restaurants. But sweet potato sushi rolls and avocado peanut sushi rolls are our go-to on Fridays.
What's a food that pops into your head when you think of Sri Lanka?
Collection of short eats. Whenever I visit Sri Lanka, one of the first stops is for short eats on the way home from the airport.