How do our food experts cook and eat? This week, qualified chef, food blogger and restaurant reviewer based in Australia, Shanaz of @hungrychefaustrailia, takes our Q&A!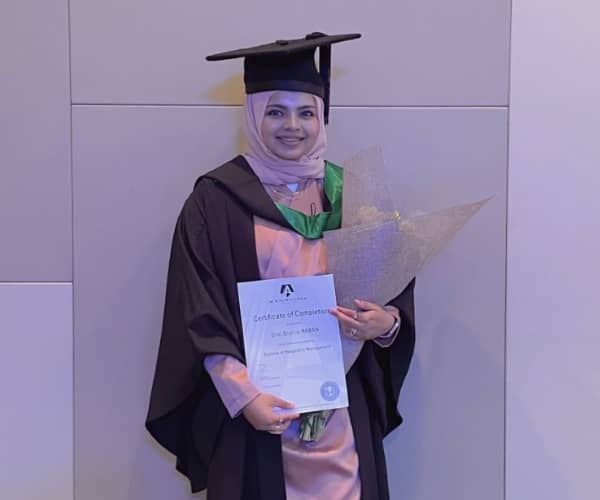 What made you fall in love with cooking?
I started cooking on my own when I relocated to Australia. At first, I didn't have much of a choice. But with time, I started making dishes which I missed from back home with my own touch to it. I have a habit of guessing the ingredients and building the recipe in my head whenever I want to cook something for the first time, and whenever I want to replicate a dish I have consumed before, I try to recall the way it tasted and looked then create the recipe in my head. I was honestly surprised by how delicious the meals turned out to be from my first attempts given that I never used any outside recipes.
How did Hungry Chef come about?
While I was studying International Cookery, I learned different cooking techniques and methods which were useful for everyday cooking, and I simply wanted a platform to be able to share what I learned with others and I saw the perfect opportunity through social media. When choosing the brand name, my partner and I wanted simplicity which speaks for itself. What can be more specific and simpler than HUNGRY CHEF for a Chef girl who is always Hungry? Hungry Chef is a perfect combination of both Passion and Education.
You explore a variety of cuisines, what food is underrated?
Your favourite childhood meal?
My Dad's Crab Curry with Red Rice, baked Fish, and Kohila Root batter-fried is my childhood favourite. Because in my younger days, my dad didn't always cook. But when he did, it was like a party for my brother and I. Very heartwarming.
Dead or alive, who would be your dream dinner-party guests to cook for?
Hugh Allen, Uncle Roger, Jock Zonfrillo, Melissa Leong, Andy Allen, Curtis Stone, Nigella Lawson, and Gordon Ramsay (only if he promises not to swear though!)
What do you love about being a chef?
Being a Chef is not easy. To be a Chef is physically and mentally very demanding. But at the end of the day, a small note from someone who tasted my food saying how much they loved and enjoyed it, makes me never give up!
If you had to cook only one dish forever?
Chillie Garlic Prawn Rice with Cherry Tomatoes and Baby Rocket leaves. Cannot miss thickened cream, lemon juice and chillie flakes to bring out the best flavour combination.
It's your last day on earth, where are you?
In Sri Lanka, eating Chicken and Beef Kanji (Rice Porridge made with Meat, mostly during the season of Ramadan).
Your pet peeve when dining out?
Making a reservation just to try a specific dish and the dish not being available when I order.
Easiest meal to impress someone?
Pasta. Make it with a Cream base or a Sauce base, Meat or only Veggies, extra Cheese or less Cheese, no matter, cannot go wrong with Pasta.
The most exotic food you've eaten?
Kangaroo Meat Stir fry in Australia at my Cooking School. Had to cook, had to eat.
Your proudest food invention?
Cream Cracker Cutlets. Yes, that's right. It's the usual Tuna-Potato filling and Mozzarella Cheese between two Cream Cracker biscuits, coated with breadcrumbs, then deep-fried.
What's a dish you'd love to relive for the first time?
Afghan Shorwa with Lebanese bread and fresh Herbs.
What are your favourite leftovers to work with?
Bread! Some slices for Crispy Croutons and some for Bread Koththu.
What cuisine is your favourite to make?
French cuisine, as it takes pride in presentation and cooking techniques. The cuisine holds an appreciation for rich but simple flavours. And mainly because fresh ingredients and herbs are at the centre of French cuisine.
Your favourite recipe that has been passed down to you from family?
I have a favourite recipe from each grandparent of mine. My Kaake's (grandfather's) beaten Beef Satay, Nene's (grandmother's) Watalappan, Aachchi's batter-fried Eggplant snack, and Seeya's Wood Apple Ice Pops.
As a restaurant hunter, what are 3 major things needed for you to give it a 5/5?
Presentation, Taste and Value for money. I'm a big fan of food presentation. It's so important for me to first be impressed by how a dish is plated and garnished. Then comes the taste. As a person who has explored my fair share of cuisines, my taste buds have gotten used to different types of spices and flavour combinations. It helps me understand how much work has been put into creating a dish.