How do our food experts cook and eat? This week, food blogger, baker and food photographer, Nilashee takes our Q&A!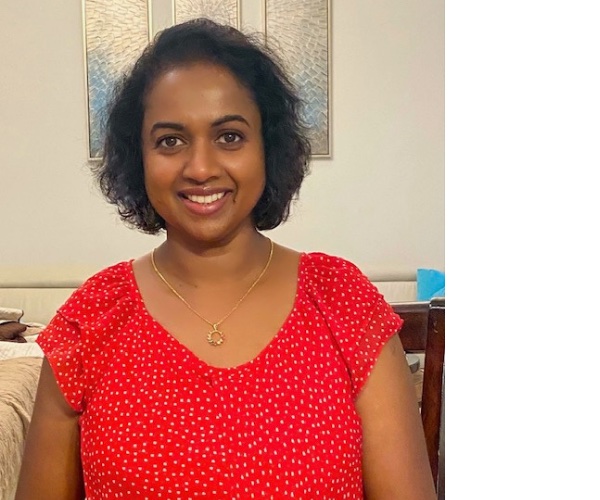 What's your story with food?
My mom is my cooking inspiration, she is a passionate cook and makes fabulous food! However, I could make only chocolate and butter cakes when coming to the USA. I started off cooking the basic dhal curry, but after cooking a few more dishes it naturally came to me. Usually, I try to incorporate the flavours of my mom's dishes and aim to master the exotic flavours. Now, I've matured as a cook and enjoy bringing new dishes to the table!
How did Nilashee's kitchen come about?
Nilashee's Kitchen started with boredom during the pandemic. I was cooking more than usual and enjoyed taking pictures of my creations. My friends encouraged me to post them on Instagram. Taking their ideas into consideration, Nilashee's Kitchen was born.
What was your favourite childhood meal?
I am all about sweet, spicy, and sour dishes! My mom makes the best batu moju I have ever eaten. It's even better when combined with rice, polos, miris malu, and mallum in the pot moju was cooked. And yes… I still make it!
You are also a talented baker – what is your favourite baked good to make?
Sri Lankan marble butter cake is my all-time favourite baked good! I've always been fond of baking; it was the first thing I learned to cook as a child. I enjoy seeing faces light up while eating the classic moist buttery cake!
If you were cooking to impress, what would be on the menu?
I've gone through many twists and turns during my cooking adventure which is why I would choose Dragon sushi rolls and cream brûlée. I find Sushi to be one of the most intricate dishes. While solving problems such as textures and flavours, this always impresses friends and family. For dessert, creme brûlée. The creamy goodness inside and the crispy sweet layer outside always make this one a favourite!
What was a challenging dish you perfected?
Chillie fried shrimp, it tastes exactly like what is served in Sri Lankan Chinese restaurants.
It's your last day on earth, where are you?
In an Ethiopian restaurant in North Carolina called Goorsha, eating Injera and Doro Wat chicken!
You also do food photography; how did you get into it?
Food photography is also another passion and talent I discovered during the pandemic. I particularly like dark food photography which takes time for setup, light control, and composition. Using my professional camera allows for better-quality pictures! What I post on Nilashee's Kitchen is always a quick click from my cell phone since my family is always waiting to savour it.
Light, colour, composition, set up – you can only have one in a shoot; which one would you pick?
I'd pick light. Without proper lighting, you cannot bring a picture to life because the lighting is what illuminates the subject.
What's your favourite shot of all time?
My favourite shoot is the one I did for Halloween last year. I wanted to enforce the spookiness of the scene and I think I captured it perfectly. I didn't have a model for the shoot so I had to do the modelling and the photography at the same time. Thank goodness for the timer feature on DSLR cameras! I am happy to say that I became a finalist in a competition that was done for Halloween.
What's the most adventurous food you've eaten?
Chapulines - which are grasshoppers in Spanish. I tried those when we were in Mexico. Surprisingly they tasted like fried haalmasso.
What's a dish you'd love to relive for the first time?
Tom Yum soup. Originating from Thailand the soup bursts with sweet, sour, salty, and spicy flavours.
Would you ever open your own restaurant?
I don't think I'll ever open my own restaurant. I cook when I'm in the mood for it. It's an escape from the outside world, and I enjoy it as alone time for myself.
What's a dish you miss from Sri Lanka that you can't get in the US?
Deep-fried hurullo is what I miss the most.
Who is your favourite go-to recipe person?
Definitely my mom.
What's a recipe that's handed down from family for generations that you still use?
My mom's date cake recipe. It's the best of all the date cakes I have tried.
What's the trick to perfect sourdough and your favourite sourdough craving so far?
Make sure my sourdough starter is fully active. It's the main key for any sourdough bake. Sourdough bagels are my favourites. I like it with cheese and spicy jalapeño peppers.
Your favourite cuisine to cook?
Thai. I never get bored of Thai food.
When you aren't cooking at home, we can find you at _____ eating ____?
At Brassica eating salad bowls. (Mediterranean cuisine)
Your favourite foolproof recipe you can recommend to anyone?
It's the coffee soufflé from Anita Dickman's Cookery book. It's always a hit at parties.