How do our food experts cook and eat? This week, food blogger Kalani of @cookingwithklez takes our Q&A!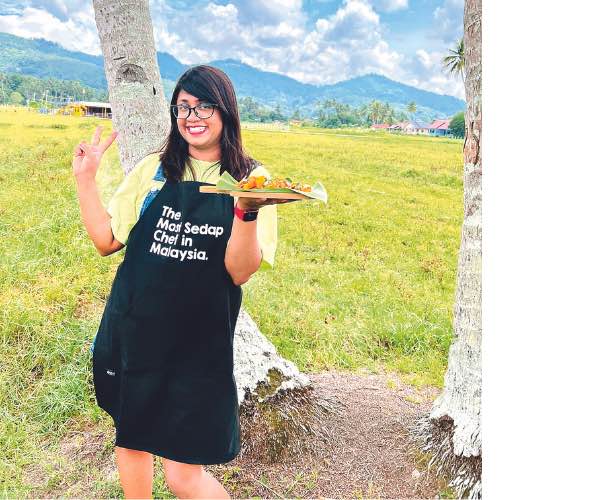 What started Cooking with Klez?
In one of my previous workplaces, among our commercial team, there was once a funny conversation about influencers, and we all discussed creating Instagram accounts for us. I created this account back in 2018. However, it was only during the pandemic that I started engaging more with this account. At that time, I was in Malaysia and it was easy for me to find all the Asian ingredients easily.
As a content creator, what's the secret to getting the right content and the right shot?
Mainly colours, and how you prioritise the items in your picture. Which items are to be highlighted and which items you keep as support to highlight the main item and whether the audience will give their attention to the star of the picture.
What's your favourite habit while cooking?
I always cook when I want to "cook" not when I want to "eat", because cooking is like therapy to me. I'm someone who always prepares everything ahead before I start cooking but my favourite habit while cooking is actually to have my husband stay around me – annoying of course, but I like it!!
What was your favourite childhood meal?
When I was a child, I didn't want to eat rice and curry, I always wanted to eat Sri Lankan short eats. One of my favourite memories was of me and my two cousin brothers - wherever we go when we are passing the Kandy Dalada Maligawa area, we get hungry because we want to eat some baked items from Devon Bakery. I remember my mom used to say "No Devon today so you better eat at home and go", but still the three of us made sure we got "hungry" when it was closer to Devon bakery.
What ingredient is underrated?
Nutmeg – I don't think people use nutmeg enough!
I love adding nutmeg when I make caramel pudding aka Sri Lankan Flan
Would you ever open your own restaurant one day?
Wow! That is a cool dream to have. Life is a journey, so I still don't know which country I will be in next, so I'm not sure for now. But if I start a restaurant, it will be a Sri Lankan Fusion.
When I'm back in Sri Lanka, the first thing I'll eat is ___ from ___________?
Oh my gosh! How can I select now? I always have a list before I go on vacation. But right now, I need my Aunt's Fish "Ambulthiyal" aka Sri Lankan sour fish curry and fish patties from the Cinnamon Grand Coffee Stop.
Your proudest recipe development so far?
I did this Chicken Kebabs for a Malaysian Spice provider.
It came out beautifully.
What makes or breaks a Sri Lankan meal?
The amount of Coconut Milk. From milk rice to other curries, coconut milk plays a big role.
Eat with your eyes or think with your stomach – which one wins?
Both are important; however, we tend to "Eat with Eyes" because when you see the beautiful presentation you will get an appetite to eat. If you make the most delicious food and if your presentation is not good, oftentimes, you don't even feel like trying that food. So, all that energy spent on cooking a nice meal will be in vain if you can't present it in a beautiful way, so eating with your eyes will win.
Your favourite odd food pairing that works?
Chicken and Grapes Curry with pandan-infused rice.
Living in Qatar – what local food is your favourite?
In general, I love Middle Eastern food. But out of everything, Hummus is my first choice. And, I recently tried camel meat, and it was delicious too.
Easiest meal you'd make to impress someone?
I don't say whatever is the easiest when it comes to time. However, when I want to impress someone, my favourite menu of choice is Spicy Prawn Curry, Creamy Cashew Curry, Tuna Cutlets and Stir-Fried Potatoes with Ghee Rice.
You are entering a cooking competition - which one would it be?
I like to participate in a "Master Chef" competition, but I want Gordon Ramsey to be the judge. I want to cook some Sri Lankan food for him one day and see his reaction.
It's your last day on earth, where are you?
I would love to be in Sri Lanka with my entire extended family. My mom's sisters are great cooks and my father's two sisters are too. So, I would love to have a big Sri Lankan feast with all of them.
What's your first memory of cooking?
My cooking journey started only after I got married. Being the only child in the family I never never had any interest in learning to cook at home. But after I got married, for the first few weeks we basically ate sandwiches, boiled veggies, and salads as we both didn't know how to cook. But with time, I started missing my mom's and her sisters' yummy meals and slowly started cooking. However, I still recall what I made for my better half as the first meal, and it was a pinwheel sandwich which my mom used to pack for my nursery lunch box. So, really, I think my cooking journey started with that nursery lunch box memory.