How do our food experts cook and eat? This week, food blogger of @jani_s_digitalcookbook, Janitha takes our Q&A!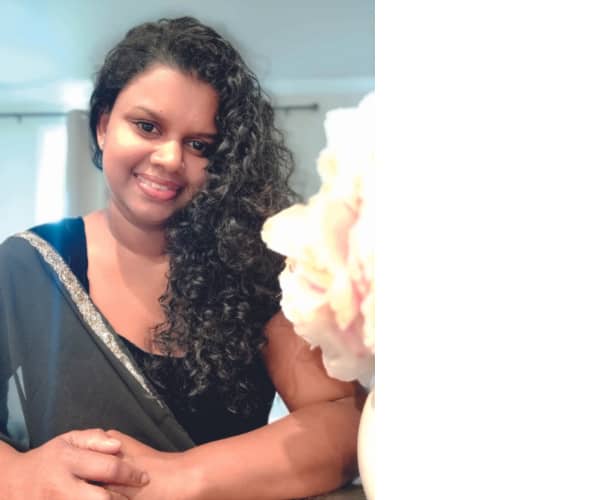 Your first memory of cooking?
My first memory of cooking is a precious one with my beloved Seeya. We used to pretend-cook in small clay pots but one day he bought me a new set of tiny clay pots, and we cooked rice and dhal for real on a hearth. Best day ever with my favourite partner in crime.
What started Jani's Digital Cookbook?
My elder daughter is quite interested in baking and always refers to my cookbook where I note down my recipes, tips, notes and experiments. My Amma used to have a cookbook too. I wanted to make mine more elaborate with pictures. Therefore, decided to upgrade my personal IG account into a food page. I'm so glad I did. That opened a door to a new world for me.
What food is underrated?
Rice. Gluten-free, low GI compared to wheat, versatile, flavourful, some varieties are immensely beneficial for health, yet the right place and value for rice is yet to be found in my opinion.
What's one dish you've perfected?
I believe I have perfected cashew curry. It is creamy, flavourful, cashews melt in your mouth and literally you can eat a whole pot in one sitting. Many have said it is the best cashew curry they have ever tasted.
What's the most adventurous food you've eaten?
Sashimi and Sake. I visited Japan for training as a fresh graduate and got to taste Japanese food and other cuisines that I have never known existed. One day, I gulped a thin slice of raw tuna dipped in hot wasabi and held it in with lots of effort. Rice wine (Osake) was a big mistake too. Luckily, I had some ramen in the hotel room!!
Your favourite odd food pairing?
Apple butter and potato chip sandwich. Sounds odd but heavenly!
What's a dish you'd love to relive for the first time?
Pakistani Mutton Nihari. Love to live that dreamy moment of the first taste of slow-cooked tender mutton, with flavour bomb stew, again.
Your proudest food invention?
There are a few! My top favourite is Sweet Potato Cream Buns. Loved cream buns as a kid and I ran many trials to find the perfect recipe to incorporate healthy, fibrous sweet potatoes into the dough and it was a total success.
Your favourite childhood meal?
My list is lengthy! One meal I dearly love is boiled Jakfruit, Pol Sambol and dried fish curry that one of my Thaththa's aunts used to cook. We lived close to each other and visited them quite often. I used to go to her kitchen and sniff to know if she had made Jakfruit or dried fish curry or pol sambol! I can still recall that heavenly smell. This menu is so close to my heart and hands down one of my favourites up to date!
Your favourite recipe that has been passed down to you from family?
My Amma's chicken curry recipe. Second to none.
Your favourite go-to recipe person?
Stephanie Jaworski of Joy of Baking YouTube channel. Her recipes have never failed me.
Your favourite comfort food after a long day?
Certainly a cuppa milk tea. It replenishes my energy! Won't resist if there is any short eat to pair with it.
The toughest dish to master but worth the effort?
Konda Kavum. Some master it in one try but many may need a couple of attempts. Mastering the konda in the kavum, and the perfect shape is totally a triumph and worth all the effort. Can ensure one thing, konda or not, no kavum will go down the drain during the process!
Your favourite leftovers to work with?
Three kids mean lots of leftovers so I love working with baked chicken. Add it to my quesadillas, burritos, sammies, bowls, chickpeas, fried rice, salad, pasta, oh.. so many possibilities!
What's something you miss from Sri Lanka?
I miss wood apple so much. Like, I won't die without it, but still could not outgrow this nostalgia for "Divul Kiri" that I've been craving for the past 8 years.
Easiest meal you would whip up to impress someone?
Easy or not, it's my feathery soft butter sponge cake with buttercream frosting on top if I really want to impress someone. There is no one that has not been obsessed with a slice of this goodness after tasting it.
Dead or alive, who would be your dream dinner-party guests to cook for?
I wish and dream that I may host Gordon Ramsay as a guest one day. I would prepare a Sri Lankan feast consisting of: pappadam topped with gotukola sambol for appetiser; hoppers, fish curry and katta sambol; milk rice, chicken curry and seeni sambol: roast paan and pol sambol for main course; and end with watalappam and tropical fruit platter for dessert. Would serve king coconut wine and hibiscus juice for drinks. I can imagine how he would praise the balance of flavours and Sri Lankan cuisine!