How do our food experts cook and eat? This week, food blogger and recipe developer Irshana of @shanaskitchen, takes our Q&A!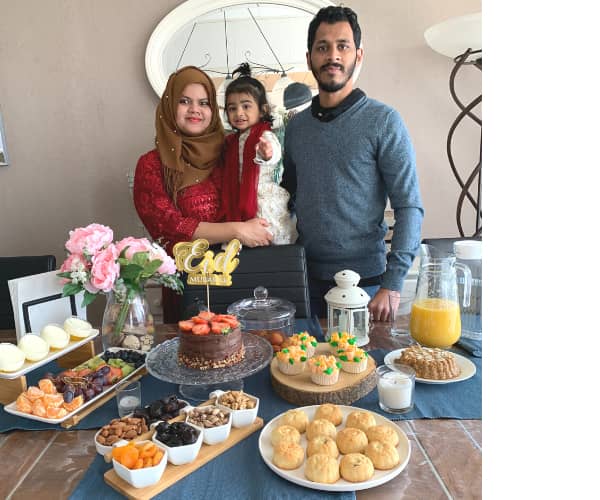 Easiest meal to impress someone?
A good charcuterie board, Pizza and Pasta
What's a dish you won't ever try?
Bean sprouts and Sushi. I would not try anything that's raw or not thoroughly cooked.
When I'm back in Sri Lanka the first thing I want to eat is _______ from ______?
Soya rolls from Soya Centre Kandy!
What's a dish you'd love to relive for the first time?
Sweet Crepes. I had it for the first time in Disneyland, Paris. It was the first time I had a crepe and never thought a thin crepe would be this delicious. I must also mention the mind-blowing Belgian chocolates and Belgian Waffles I had in Brussels. The Brussels waffle is completely rectangular with perfectly shaped square holes, served with toppings of your choice. Its gooey richness makes it so delicious I really want to relive the moment.
As a recipe developer, your proudest food invention?
I developed a recipe for Vanilla Marie Biscuit Pudding and Salami Rose buns.
What's the trick to mastering Sri Lankan food?
Using the correct amount of spices, fresh ingredients, use of pandan leaves and curry leaves for the smell and flavour, use of correct utensils for each dish and add a pinch of love to whatever you cook.
The most exotic food you've eaten?
Cotton Candy grapes from a supermarket in the Netherlands. Cotton Candy grapes taste, well, exactly like cotton candy. They're sweet and juicy and have a hint of vanilla, with all the best tastes of pink spun sugar and none of the sticky mess. Those grapes were like designer fruit. They were developed by horticulturalist David Cain and his team. I was so amazed about the taste and researched about it over the internet.
What are your favourite leftovers?
Pizza leftovers!
What started Shana's Kitchen?
Shana's kitchen started when I got married and moved to the Netherlands in 2018. When my husband went to work, I was very bored at home and started cooking various dishes and posted pictures on my personal Instagram account. My friends used to request the recipe all the time and I used to write all my favourite recipes in a book but also wanted to have all my recipes on a platform where I can access anytime and share them with my friends. My husband suggested that I do a recipe blog and that's how Shana's kitchen started. He is the tech-savvy behind my blog.
The most daring dish you've ever made?
French Macaroons.
It's your last day on earth, where are you?
At home, in my backyard with my husband, eating Sri Lankan short-eats with a hot cup of Ceylon tea.
Your fail-proof recipe on your blog?
All my recipes are fail-proof as per my knowledge. I have tried and tested them so many times that you can't go wrong with any of them. Most of the time, a failed recipe can be attributed to mistakes with ingredients, the quality of the ingredients, temperature or methodology so simple that it will make you feel the recipe failed.
What got you into cooking?
I had an undying passion for cooking since I was 12 years old. I read recipe books, noted down recipes from newspapers and watched cooking shows. When I see something interesting that I haven't tried, I try it. I also try to recreate the food I've had in a restaurant. I can remember the first time I cooked white rice was a disaster. I only managed to master my techniques by trial and error and developing recipes according to the scientific approach. The compliments I got from my friends and family boosted my confidence, pushed me out of my comfort zone and inspired me to get into cooking.
What was your favourite childhood meal?
I loved Sri Lankan Ribbon cake as a child. Loved the sight of it more than enjoying it. It's basically a butter cake with layers of two or three different pastel colours. We used to have them at birthday parties and other household celebrations.
Your favourite recipe that has been passed down to you from family?
My mom's signature chicken curry recipe. My mom uses her own homemade roasted curry powder to make chicken curry and everyone used to be amazed at how delicious and flavourful it was.
Your comfort food after a long day?
A good Burger.
If you are put on the spot to whip up something - sweet or savoury?
Savoury! I would make mini sausage rolls in less than 15 minutes. I have pre-made frozen pastry sheets in my freezer and mini canned cocktail sausages in my pantry all the time. If I were to make anything sweet, I would make coconut ice snowballs. It's no-bake and you only need 3 ingredients.