How do our food experts cook and eat? This week, Dubai-based Chef de Cuisine and YouTuber, Chef Upul takes our Q&A!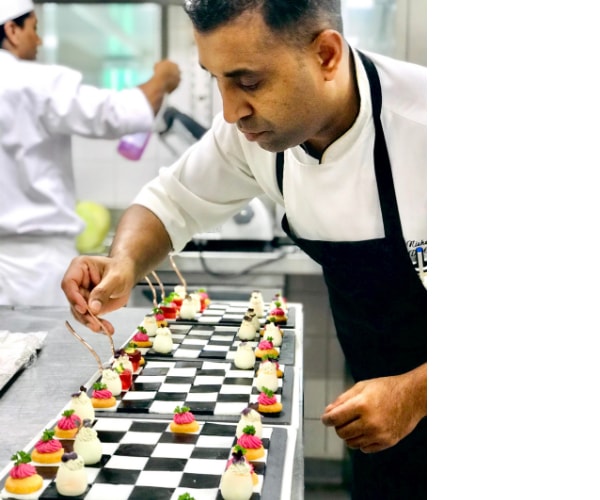 Your first memory of cooking?
I asked my mom to teach me how to cook. My first meal was cooking tempered potato and dry fish curry with her and the next day she made me cook a prawn curry alone (and complained about the seasoning!)
Your go-to dish?
Seared tuna loin and ginger candidate with a wasabi mousse and sous-vide vegetables or something super simple like savoury mixed-nuts granola bars.
Easiest food to impress someone?
As a starter, fresh herbs marinated heirloom tomato with fresh burrata cheese and basil pesto and fried basil leaves and langoustine risotto with parmesan cheese and fried capers in a white wine sauce on white truffles form for the main course. And for dessert, dark chocolate waffles with wild berries and vanilla ice cream.
The most exotic food you've eaten?
Smoked horse meat paired with red wine at a food tasting in Dubai with a Michelin star chef from the White Rabbit Moscow restaurant.
What does your own restaurant of your dreams look like?
My dream restaurant will be a mix of Middle Eastern, Spanish and Mexican with Mediterranean cuisine where I can highlight my experience from the Middle East. I'm also a huge breakfast person so I'd love to incorporate healthy breakfasts too!
What's your comfort dish after a long day?
Ham and cheese toasted sandwich
Your proudest food accomplishment?
Perfecting the Pate en croute - a traditional French cuisine. When my General Manager and an Executive Chef from France tasted it – they couldn't believe the taste because it had the original French flavours and texture.
What do you love about being a professional chef?
It's a lot of long hours but it's honestly such a fantastic career. I love the creative aspect of this job because it's so important to make our food stand out and customers return based on this creativity.
What's your favourite recipe on your YouTube channel right now?
The easy chicken and prawn Tacos recipe and the healthy green detox juice.
When you are not working - do you do the cooking or have someone cook for you?
I always cook for myself and on my days off, I love to make many dishes because I love to create new flavours in my kitchen and have my friends over to share and get feedback.
You are a chef with a keen eye for presentation - eat with your eyes or think with your stomach – which one wins?
Of course, I'll eat with my eyes first and then think with my stomach. Every time we cook and do the plating, we always think 'ah, I can do better than this and we play with the presentation about 10 times and then we just get 10 better ways to present the food beautifully!
As a chef, your thoughts on modernising traditional food?
Traditional food is like a signature on a master recipe. I think we can always modernise maybe up to 40% but we should never change the original recipe. Change up the presentation, add new things but always keep the taste original!
What dish would you eat but never cook?
I love to eat this Middle Eastern dish - Lebanese Stuffed Grape Leaves and the Moroccan Lamb Tagine but I won't make it myself.
Your favourite childhood meal?
Mash potato, boiled vegetables and a fried egg and also my mom's vegetables broth soup.
What 5 -star meal would you make with Rs. 500?
Jackfruit burgers with cheese and homemade tapioca chips and Gotukola chutney.