Wedding photographers by profession, husband and wife duo Dinesh Wanigarathna and Ruwanthi Perera love their food as much as they love a good photo! While exploring different cuisines and foods is a passion they both share, desserts, in particular, has a special place in their hearts – reflected by their newly launched dessert venture 'Artisan Diletto'.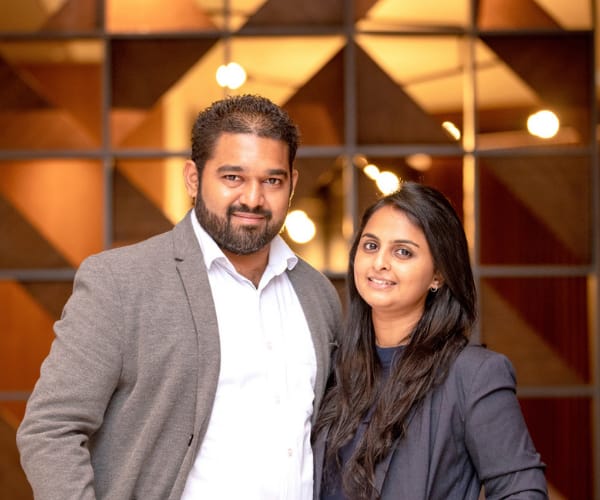 'Diletto' meaning 'delight' in Italian, the brand specializes in premium chocolate biscuit pudding (CBP) – the unofficial-official choice of dessert in Sri Lanka. The handcrafted CBP was inspired by their travels in Italy where the couple had a delightful Italian chocolate pudding they immediately wanted to replicate with the traditional CBP. "We created this recipe back in 2019 and it was an instantly loved recipe by all our friends and family – we were always catering it for them! Food has always been our special passion and we both enjoy creating desserts and we definitely wanted to share it with people but didn't find the time to get to it. Finally, the pandemic gave us the right time to make it happen and take the next step. We spent months perfecting the recipe and testing new flavours and finally in May 2021, we went commercial as Artisan Diletto!".
Artisan Diletto, a few months since its debut, has racked up great feedback and good word of mouth – with many customers complimenting their CBP as 'one of the best in the city'. Artisan Diletto sets itself apart from others in the same market by offering a 'premium CBP' – handcrafted with premium ingredients that are 100% locally sourced.
The secret, they say, is in the chocolate. Artisan Diletto uses premium, pure bean-to-bar chocolate from a local supplier. Opting for the more expensive, top-of-the-range couverture chocolate over generic compound chocolate allows them to offer a CBP of quality. Couverture chocolate is a class of high-quality chocolate that is made with cocoa bean and cocoa butter with no preservatives or flavouring. It contains a higher percentage of cocoa butter in order to lend the dessert a stronger and more authentic chocolate taste. Their Premium CBP's are made with 85% pure chocolate and milk base with no preservatives or artificial flavours or refined sugars.
Currently, they offer 4 varieties of CBP in 330ml jars (2 servings per jar). The flavours are Classic, Mocha, Milo and Mint.
Classic
The classic is the CBP that easily allows the chocolate to shine through with layers of milk-soaked Marie biscuits smothered in rich, chocolate sauce. The lack of refined sugars and the high concentration of cocoa made sure that I didn't experience the overly sugary nature most CBP's have that makes even my non-existent cavities ache. All I tasted was a reach, creamy chocolate sauce with perfectly soaked biscuits and a generous addition of cashew nestled between the layers for an added texture.
Milo
I am always sold on any Milo dessert and this was no exception. The Milo CBP has a slightly runnier sauce compared to the rest as the malt alters the usual consistency. This dessert is recommended to be consumed within 2 hours of delivery as they top the CBP with a heavy dusting of Milo before send-off and the granulated texture combined with the smooth sauce is divine!
Mocha
If you love chocolate and you love coffee – this one is for you! The Mocha had a strong taste of coffee throughout and achieves a good balance between the coffee and the chocolate.
Mint
Sticking to their ethos of not using artificial flavouring, this Mint CBP uses mint extract in its recipe. Unfortunately, I have a personal grudge against any mint flavoured desserts and cannot be an accurate judge of it. However, the mint chocolate enthusiasts in our team loved it – so much so, they finished it in seconds!
Overall, the Artisan Diletto CBP's are a top contender – great consistency, balanced flavours and chocolate so rich, smooth and decadent you can't get enough of it! In the coming months, they hope to expand their menu to offer more chocolate and non-chocolate desserts and are gearing up for an exciting Christmas!
Artisan Diletto Premium Chocolate Biscuit Pudding is available for order via direct messaging on Instagram or Facebook (@artisandiletto) and on Uber Eats and PickMe Foods.