Sri Lankan Michelin-starred Chef Lahiru Jayasekara collaborates with Shangri La Colombo for a gastronomically delightful culinary affair. It's a Friday evening and the Capital Bar and Grill at Shangri-La Colombo is buzzing with a full house, and tables of guests all eagerly awaiting to enjoy a night of gastronomical delight curated by Sri Lanka's very own Michelin-starred chef – Lahiru Jayasekera.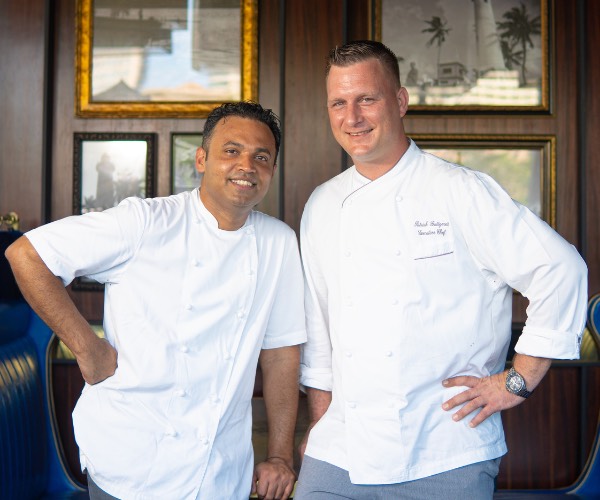 The Hikkaduwa native who migrated to London as a teenager, Chef Lahiru (now more fondly known as 'Chef Larry') is Sri Lanka's very first chef to be awarded the Michelin star recognition and is one of only two Sri Lankan chefs to hold the distinction. Chef Larry has worked at some of the most celebrated restaurants in the UK, including Marcus Wareing's The Berkeley, Raymond Blanc's Le Manoir and Michel Bras and most notably as the former head chef of Gordon Ramsay's famed Michelin Starred restaurant – Pétrus. He is also the recipient of several highly acclaimed accolades such as National Chef of the Year 2016 (UK) and Young Chef of The Year 2007 (UK).
Though the young chef has returned to his island home on several occasions over the years to conduct training and workshops for culinary professionals, Chef Larry joined Shangri La Colombo in hosting his first-ever dining event in Sri Lanka as a part of the hotel's Culinary Collaborations series, an initiative aimed at showcasing star personalities in the culinary and gastronomy field and offering guests the opportunity to explore novel culinary delights through curated pop-up experiences.
At the dinner, a 5-course menu card was laid ahead of us. It promised us appetisers of combinations we've never tried, traditional mains that left us curious about their execution and dessert, simple and unimposing at first read. The menu for the evening finds its strength in Sri Lanka, put together by Chef Larry just two days ahead of the event, inspired by his visits to the local markets after landing in the country. "I think when we have such fantastic ingredients right here in the local market, it would be a shame to try to do something with imported products. Sri Lanka is a beautiful tropical country with amazing seafood and some of the best ingredients around. I knew when I collaborated with Shangri La that I wanted to highlight how well we can use the concept of farm-to-table dining here in Sri Lanka." The curated menu is coloured by Chef Larry's inspiration at the local markets - kokis, pickled pathola and calamansi glee stood out to us as we prepared for our meal, curious to see how these underrated ingredients married with the rest.
Our dinner started off with a snack platter, Coronation Prawns, Kokis with Apple Gel, Local Otoro with Soy and Keta Caviar and Tart of Grilled Octopus with Spiced Coconut and Tamarind. At first, it was odd to see our Avurudu kokis as a part of a fine dining menu, but Chef Larry was quick to correct our train of thought immediately, clarifying that 'fine dining is not about eating fancy'. "It's about balancing the menu. 'Fine' refers to the quality ingredients you dine on as opposed to a reference to opulence. Ultimately, fine dining is eating good food with quality ingredients." A few bites into our crispy kokis, filled with a creamy prawn mousse in its hollowed crates, we concurred on the philosophy of balance. The Local Otoro with Keta Caviar was refreshing while the Tart of Grilled Octopus with Spiced Coconut and Tamarind stole the show for its contrasting flavours and textures.
Our appetiser Cuttlefish, Pickled Pathola and Cardamom Dashi was one of the dishes that deserved the limelight - a dish Chef Larry himself was particularly excited about, "I was walking in the market when I saw pathola and I knew I wanted to do something with it. We usually eat pathola as a curry, but I wanted to combine this often-underrated local ingredient with our amazing seafood and put an unexpected twist to it". The pickled pathola was served with fresh calamari and cardamom dashi made with fish stock and red wine. Appetisers were soon followed by Andrea's Brioche (fondly titled after chef's manager Andrea) with Roasted Chicken Butter and Caramelized Onion (divine!) and an entrée of freshwater Lagoon Prawns, Calamansi Glee, Yoghurt, Horseradish and Lemon Zest. Our main was Pork Wellington with pickled apple and Shellfish Crème - a twist on the classic beef wellington with a succulent fillet of pork and a rich crème sauce that was creamier than the usual bisque topped off with the juxtaposing flavours of pickled apple and mushroom. For dessert, an elevated take on a snickers bar inspired by a conversation between Manager Andrea and sous chef David en route to Galle. The snicker bar made with Malt Ice Cream, Caramel, Peanut and dark chocolate was decadently sweet and paired with a Whisky Alexander (whiskey, crème de cacao, milk) it was a rich end to a delightful dinner.