Lankan-Canadian singer/songwriter Duava will host his first ever concert in Sri Lanka on the 22nd of July at the Nelum Pokuna Amphitheatre. A year since the release of his first album 'BAHU', the 'Colombo Rain' hitmaker returns to his roots to perform for his Sri Lankan fans. Duava's unique blend of contemporary pop and traditional Sri Lankan sounds has gained him a loyal following both locally and internationally and his concert in the country he considers a home was naturally in the works due to popular demand for it among his fans.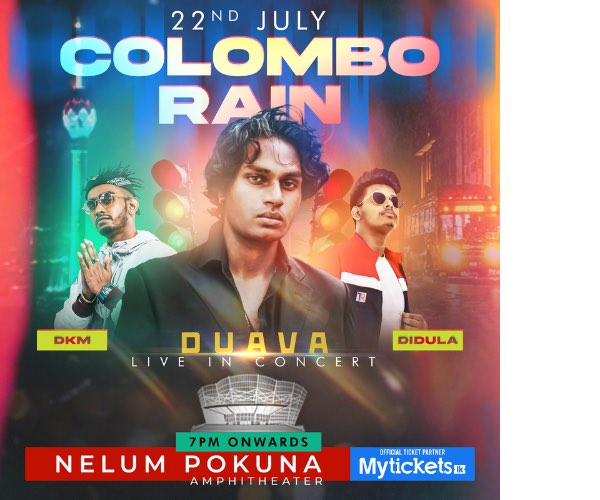 "I felt the demand for this concert all the way from Canada," shares Duava in conversation, "Between just the comments and the direct messages, I've had thousands of people awaiting the first Duava concert ever in Sri Lanka and I thought, "why not give them what they want"? And once that thought hit me, everything just started rolling, and I let the hype build up by gradually teasing the show over the last year."
Although the singer initially made his name in the music business as an English-language singer with hits like 'Colombo Rain', 'Including You' and 'Get Even', he made a dramatic entrance into Sinhala music last year that captivated a whole new audience. His first Sinhala song, "Anduru Yaame," with LJ and DKM, charted almost immediately, entering the Top 100 on Apple Music the very next day.
With his unique ability to combine and juxtapose his western style with Sri Lankan influences, Duava quickly became a sensation in the local music scene and the songs that followed, such as 'Gammane', 'Pathuwe Obe Sene' and 'Maa Lanwu" were instant hits, garnering millions of views on YouTube and gaining him a dedicated fan base.
"I will be performing all the songs that come to mind when you think of Duava, and I mean all of them. That includes "Anduru Yaame" "Gammane" "Pathuwe Obe Sene" and many more" he promises. He adds at the feedback to the announcement of his show has been 'mindblowing', "I have a really loyal and passionate group of supporters and even though I have always felt their love and energry when I announced things before, this is on a whole different level. The concert is going to speak for itself."
Local artistes Didula and DKM will also join Duava on stage. Duava had previously collaborated with the two on a number of songs, and despite the fact that these collaborations were coordinated from continents apart and this is the trio's first time meeting in person, Duava is confident that their musical chemistry on stage will be explosive. "Didula and DKM are great artistes in their own right and I'm so glad to have them on the line up for this show. The songs we put out together were so well received by everyone here and I thought it's only right to have them be a part of this experience."
On an ending note, Duava comments that it feels amazing to be back in Sri Lanka, and that the thought of having this concert only elevates the already amazing emotion of being back home. "I honestly have no idea what to expect because I haven't performed in Sri Lanka yet, but I know my audience so I know it's going to be a crazy night. I don't want to give too much away before the show, but I will say that the concert will be big and I'll be giving it my all - the vibe will be unmatched."