Celebrate Colombo together with Colombo Fashion Week (CFW) hosted a meaningful art exhibit titled 'One Won' on the 6th of August at The Stables of Park Street Mews that brought together 40 Sri Lankan artists to collaborate on a one of a kind project that embodies and celebrates the spirit of Sri Lanka.
The 40 artists were from a diverse range of backgrounds, practising different mediums of art, following different faiths and religions but yet came together for this special project to join hands to demonstrate unity and togetherness as people and a nation.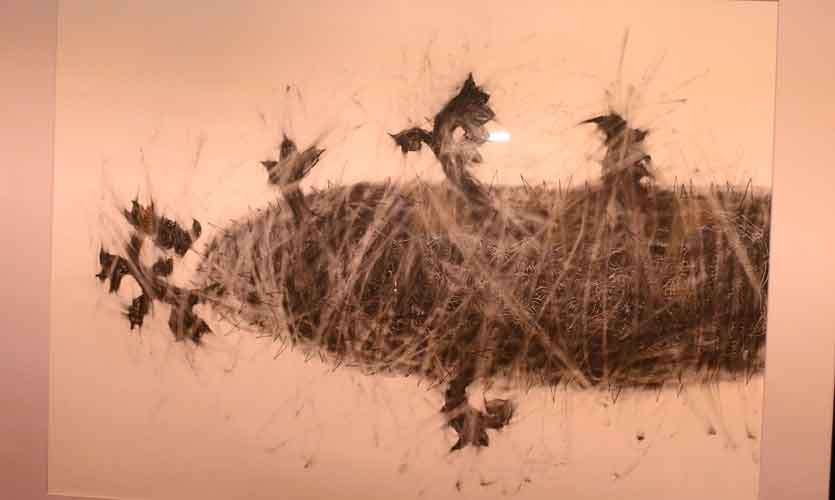 "This is such a special evening for us. We really wanted to bring all the creative industries together and the 'One Won' exhibition celebrates one such creative industry – Art. We wanted to show Colombo as this vibrant city and we wanted to show how united we are and there are 40 artists here today with us showing their pieces based on unity and peace. Both the event and the cause behind it are just so pure and fulfilling" commented Ajai Vir Singh, Founder and Managing Director of CFW.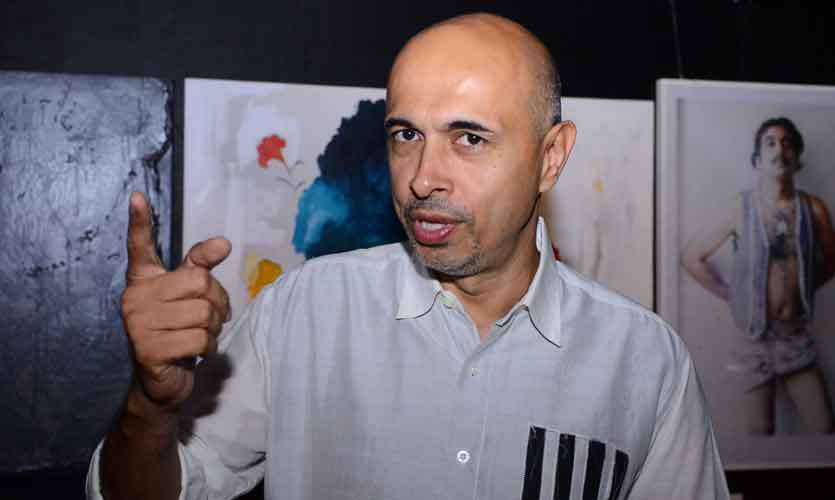 A portion of the funds raised from the exhibit will be given to their selected charity World Vision Lanka where the proceeds will support the Physiotherapy Unit of the Batticaloa Base Hospital where those injured in the explosion on April 21st 2019 continue to receive treatment.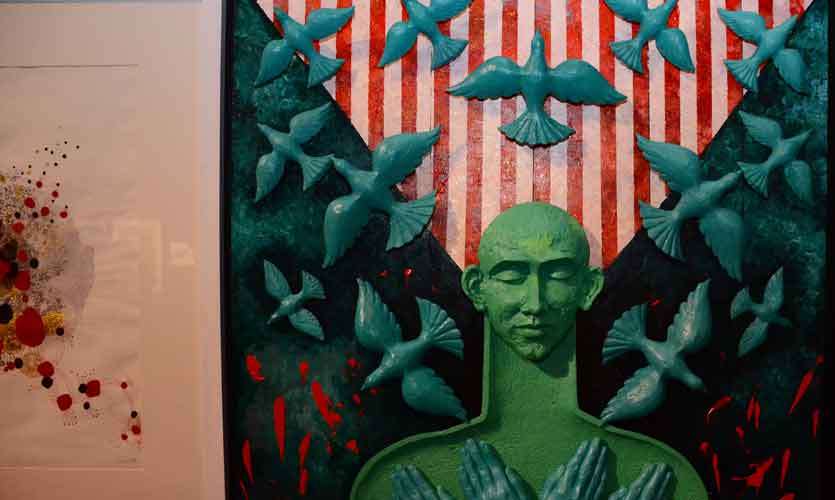 The 40 artists that took part in the exhibit are as follows – Anoma Wijewardene, Anura Krishantha, Anuradha Henakaarachchi, Anusha Gajaweera, Bandu Manamperi, Buddhika Nakandala, Catharina Danial, Chamila Gamage, Chaminda Gamage ,Chathurika Jayani, Danushka Marasinghe, Dr. Manoranjana Herath, Dumith Kulasekara, Gamunu Vithanage, Gayan Prageeth, Godwin Roger Constantine, Jagath Ravindra, Janani Cooray, Kingsley Gunatillake, Kirushan Sivananam, Koralegedara Pushpakumara, Lakisha Fernando, Lalith Manage, Liz Fernando, Mahen Perera, Pakkiyarajah Rupaneethan, Pala Pothupitiye, Pradeep Chandrasiri, Sanjaya Geekiyanage, Sanjeewa Kumara, Sarath Gunasiri Perera, Sathsara Ilangasinghe, Shaanea Mendis D'Silva, Sivasubramaniam Kajendran, Sudath Abeysekara, Sujeewa Kumari Weerasinghe, Sujith Rathnayake, Thisath Thoradeniya, Vajira Gunawardena, and Wasantha Rathnayake.
We spoke to some of the artists about their collections and their messages of peace and unity.
Anoma Wijewardene - The Golden Rule
Anoma Wijewardene is a Sri - Lankan born contemporary artist who works in England. Her work has been showcased at Sotheby's Hong Kong, London, New Delhi, Kuala Lumpur, Maldives, Sydney and Colombo. Her work ranges from pure paint to performance, digital, video and sculpture installations and is centered largely on issues of environment, sustainability and climate crisis.
Her work for One Won 'The Golden Rule' was inspired by the principle of treating others as one would wish to be treated and dates to early Confucian times.
"I thought The Golden Rule was very appropriate to the current situation because it's about unity and reciprocity. It's amazing to be coming together will all these artists in solidarity and even though our work is very different from one another, we are here together celebrating in unity and that is exactly what The Golden Rule is about"

Sivasumbramaniam Kajendran - No More Slave - Island
Born in war torn Mullaitivu, Kajendran's work is inspired by the deep concerns of human existence. His work largely centres around immensely personal issues such as self-identity and global issues concerning colonialism, orientalism and racism.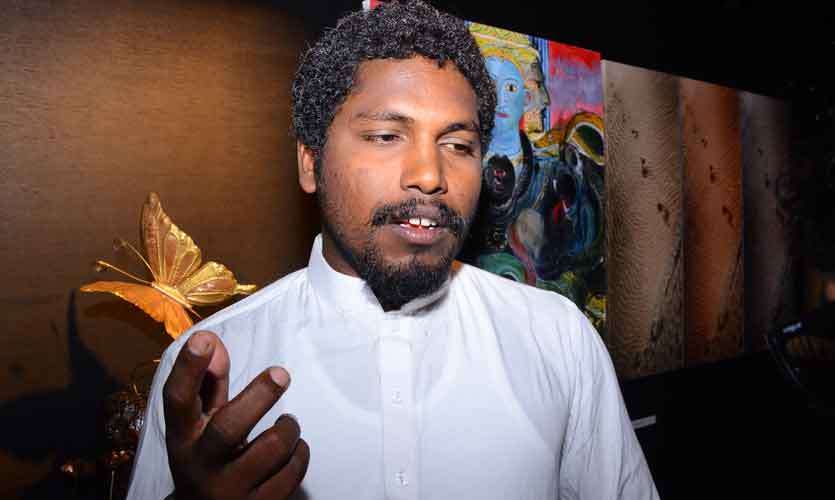 "My painting has two objects of which both are personal to me. On one end is my experience with the 2004 Tsunami where I lost my family members and on the other end is the battle war in Mullaitivu in 2009. The painting really is me questioning who I am and where I am. In the end the painting was a healing process for me and even being here today in this open space, sharing my art among others, is equally healing."
Buddhika Nakandala – The Black History
Buddhika is a visual artist who specialises in print making. He studied visual arts at the University of Visual and Performing Arts in Colombo. His work explores the different experiences and fates of his life. His work 'The Black History' explores the nexus between two of Sri Lanka's blackest histories – the Black July of 1983 and the April 21 Easter Sunday.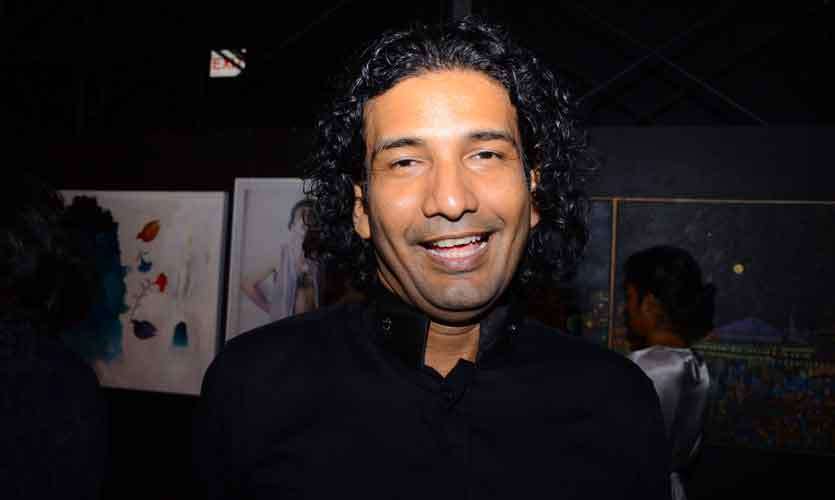 "When I thought about the two incidents, I thought about how the incidents were all about the need for power and how the powerless had to suffer for it. My series of paintings were done by pressing various leaves and within the mix of leaves you will see pieces of torn clothing and how all the paintings are connected through a wire tearing through the canvas. I believe this is the time to think about the black history to be written in the future."
Chathurika Jayani – City and Night
A graduate of the University of Visual and Performing Arts in Colombo, Jayani's work has gained much prominence due to her attention to the intricate details and creative methodology. Specialising in pointillism technique her two-piece artwork titled 'City and Night' showed the industrial revolution that changed the skyline of the city with a multitude of colours and shapes and neon lights that has transformed a city into a dreamscape.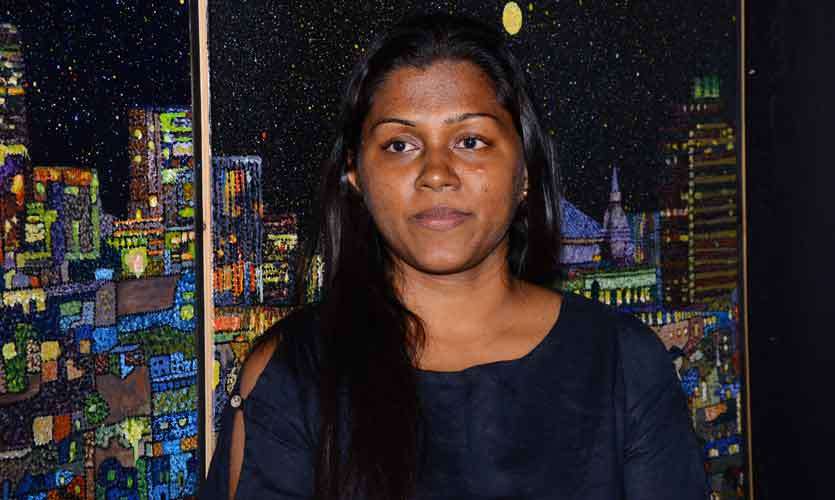 "This is my second time showing with CFW. I'm so grateful for opportunities like this. I sold my painting at the first CFW Art event and I'm so happy to have sold my work again at this event! To be in a show with seniors of the art industry is such a huge honour for me."
Gayan Prageeth – Pallete of Hope
Prageeth studied at the University of Kelaniya and holds a Bachelor of Fine Arts degree. Having established himself as a prominent artist to look out for, his work ranges from political turmoil to geometric symbolism that aims to demonstrate the global history. His work 'Pallete of Hope' was made entirely of 'panduru' a practice of Sinhala Buddhists when making a wish from god.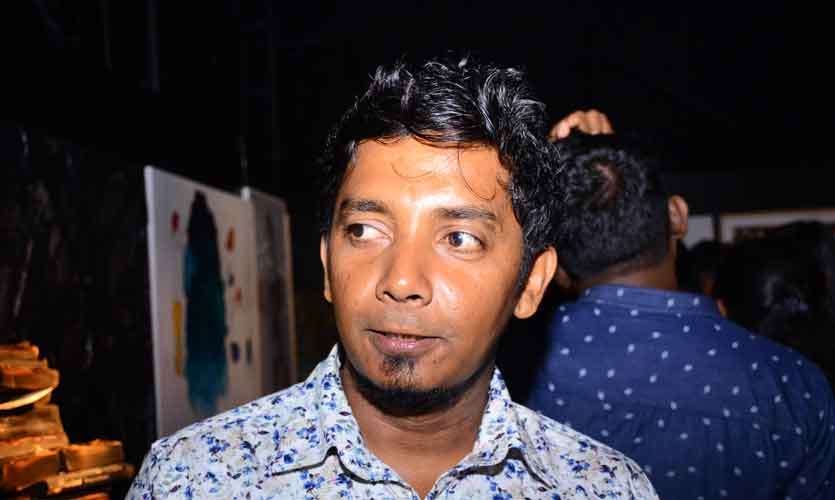 "A lot of people tie panduru to be cured from illnesses and I wanted to use that practice of tying a panduru for a wish for a cure for our biggest illness – the religion divide. I wish for people to be cured from their unawareness and my artwork is a symbolic representation of my earnest wish"
Chamila Gamage – Man with National Icon
Having initially worked in creating pandols, temple paintings, woodcarvings, poruwas and banners, Chamila has turned his experience into creating visual art pieces by creating sculptures and modern contemporary art. His sculpture at the exhibit was made purely from steel chain and copper and depicts a male body growing the national flower water lily within it as an expression of how people have lost the value of respecting cultural diversity.
"The bended steel chains represent the toxic political agendas in the country where public opinion is manipulated for cheap political gain while the water lily represents freedom and national pride and how I want this freedom and national pride to take over these cheap manipulations."
Pictures: Waruna Wanniarachchi