The 16th edition of HSBC Colombo Fashion Week 2019 kicked off at the Hilton Colombo this evening, with 11 emerging designers showcasing their collections. All of these designers who are graduates from various design schools in Sri Lanka and overseas have undergone a mentorship programme organized by CFW in preparation for the show. Stunning colour combinations and creative silhouettes were the order of the day as these talented clutch of designers wowed the audience.
Commenting on the Emerging Designer Showcase, Founder and President Ajai Vir Singh stated
"The emerging designer showcase 'is very close to our heart. Empowering, strengthening and guiding the next generation gives us great satisfaction and is the fruit of that we saw today."
"This segment encompasses the future of fashion design in Sri Lankan. CFW invests time, resources and several Mentorship programs throughout the year to collectively impact these designers, their work and prepare them for the industry"
shared CEO and Director Fazeena Rajabdeen
Nilusha Maddumage
Take a walk in the jungle with Nilusha's collection of green, green and more green. From olive and emerald to bottle green and moss; pops of white and grey added contrast to this collection. As a designer, Nilusha veers from the conventional and this collection is no exception as she has used squares of cloth to create her silhouettes. Exposed zips were also a feature of this collection.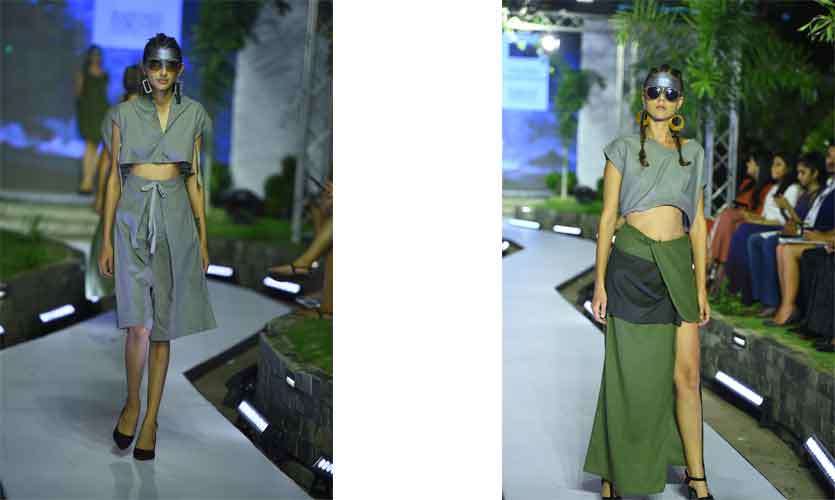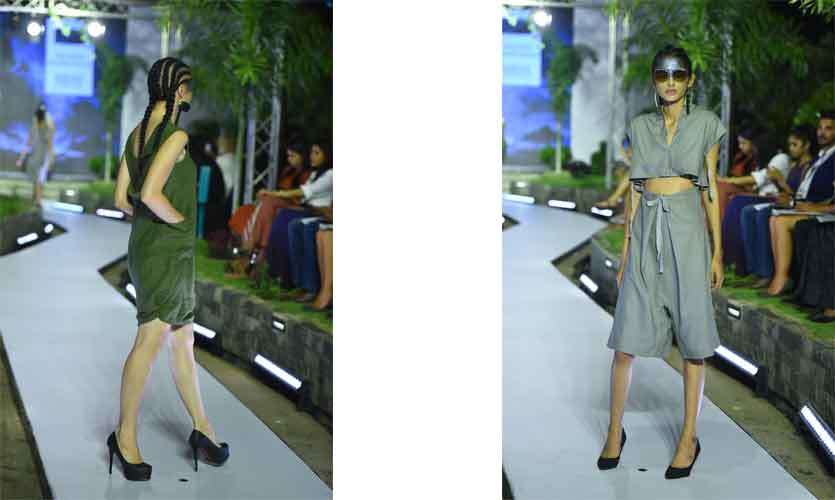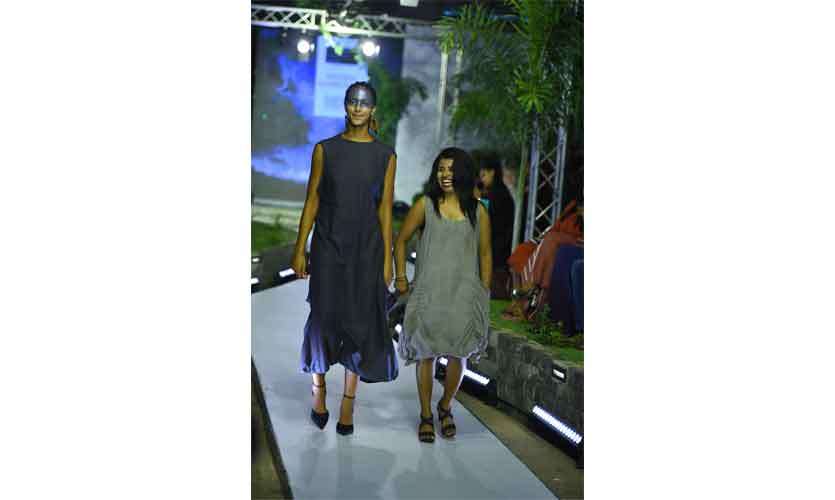 Shimalka Bodaragama
Having only just recently launched her label Waves of Glory, Shimalka used Hakoba fabric to create most of her designs. Adding a luxurious feel to her collection, the Hakoba fabric in blue was complemented with contrast colours of brown and mustard. Asymmetrical hemlines on the blouses were complemented with elaborate shoulder embellishments along with frills. Pants and jumpsuits formed the mainstay of this collection.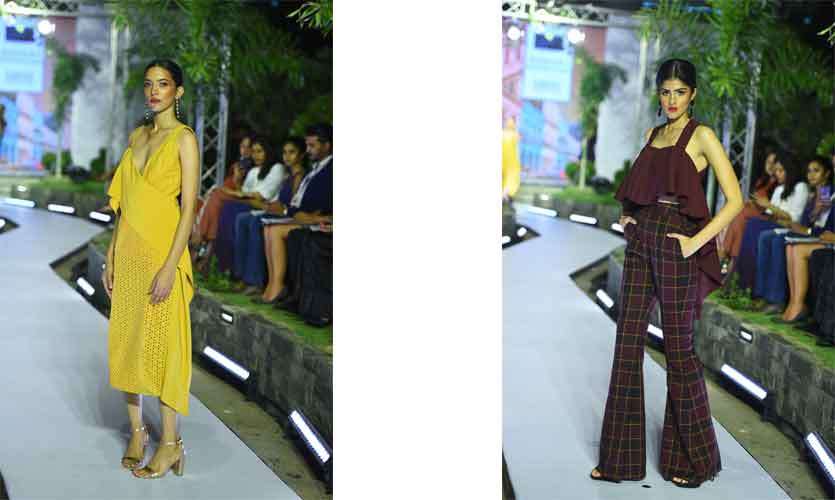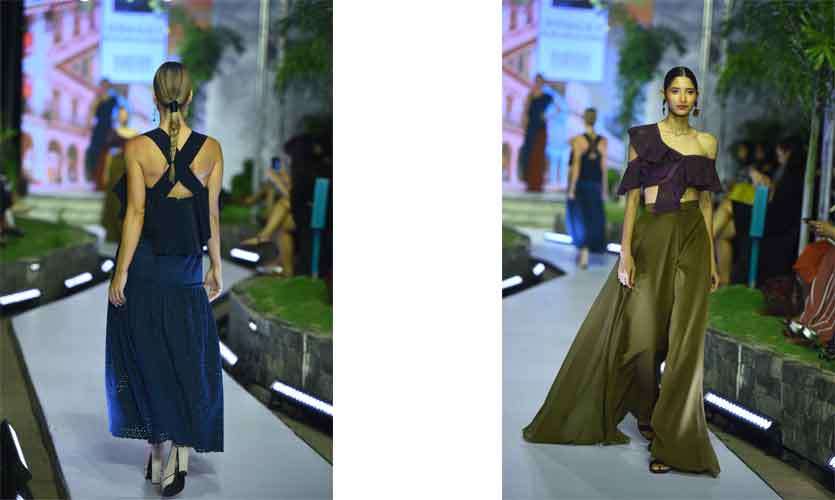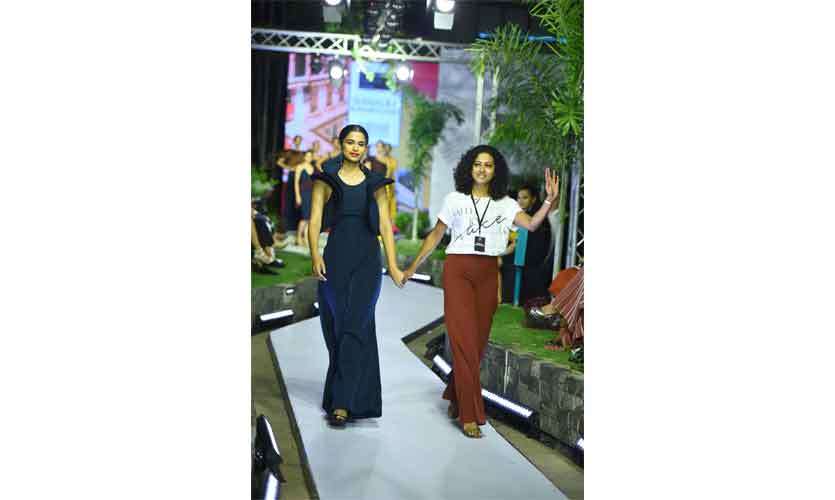 Marlon Rae
Showcasing at the Emerging Designer platform for the third consecutive year, Marlon has channeled his energy to create his own fabric. Using tie and dye along with dip dyeing techniques, this collection featured minty greens. Delectable hues of green reminiscent of mint ice cream were used with silver fabrics in a plethora of patchwork and colour blocking combinations to create jumpsuits, flowing dresses and high waisted pants.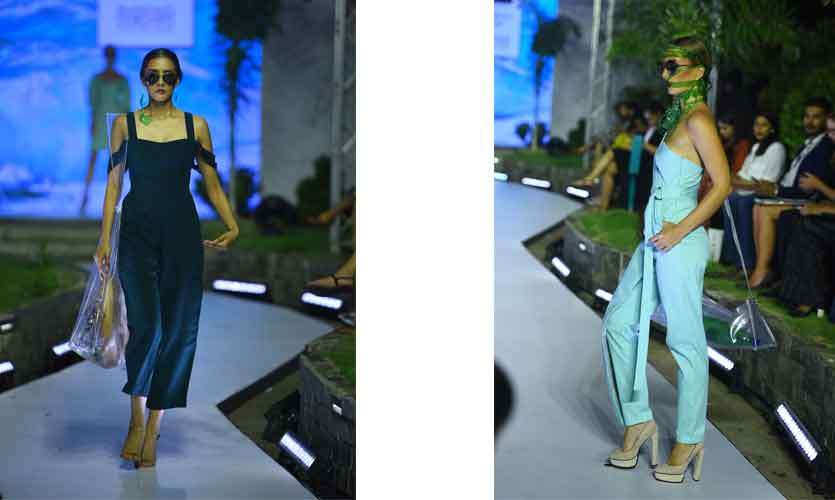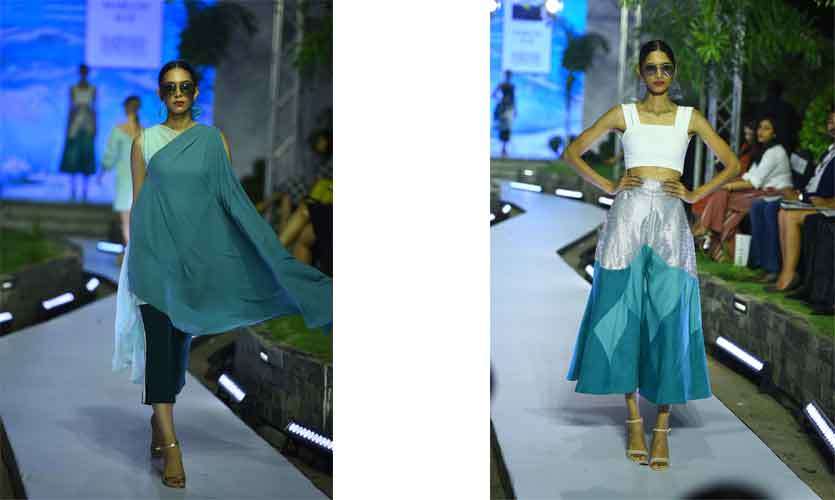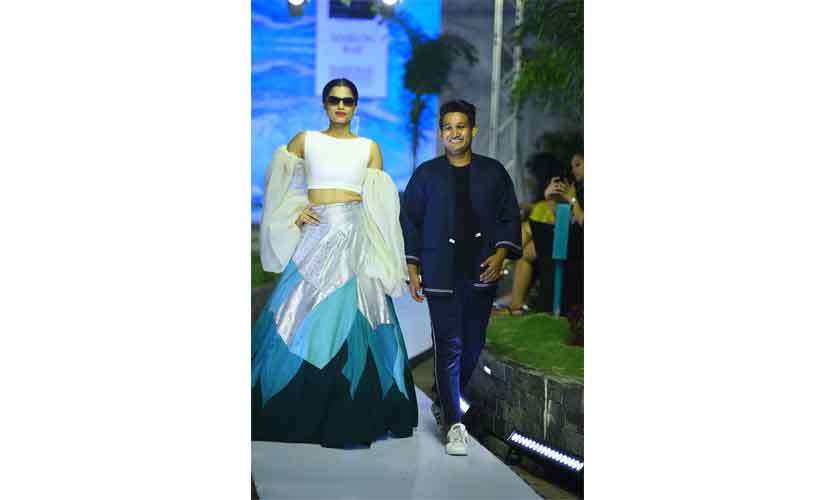 Manasha Silva
Making her maiden appearance as an emerging designer, Manasha whose life revolves around fashion as an up and coming stylist has used her experience to create a new line of clothing. Experimenting with gender fluid clothing, this collection had oversized silhouettes in asymmetrical cuts. She has used a mix of prints of old photographs which have been manipulated along with fabrics in colours of white, blue and grey with pops of orange.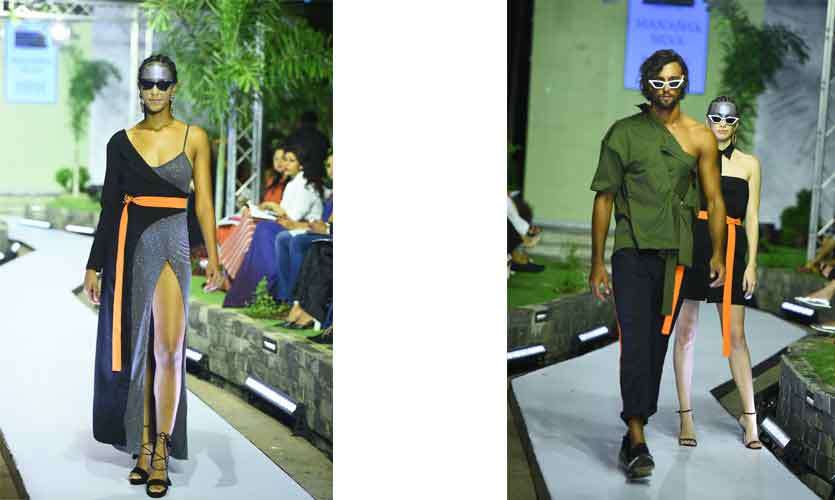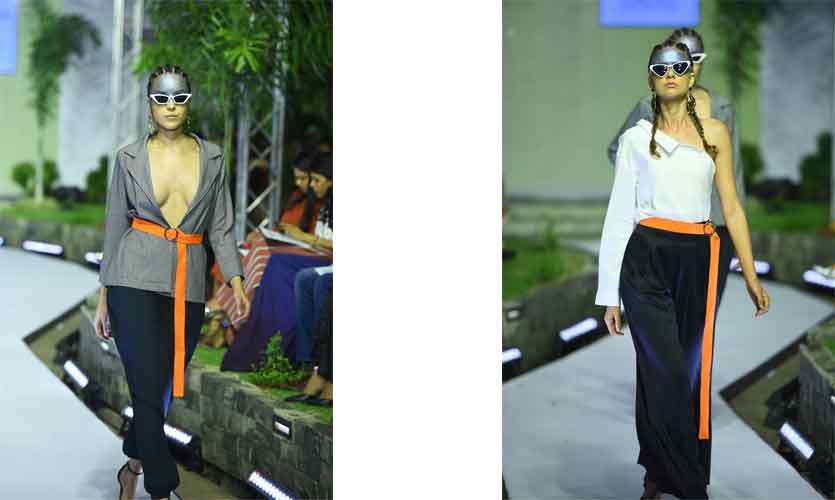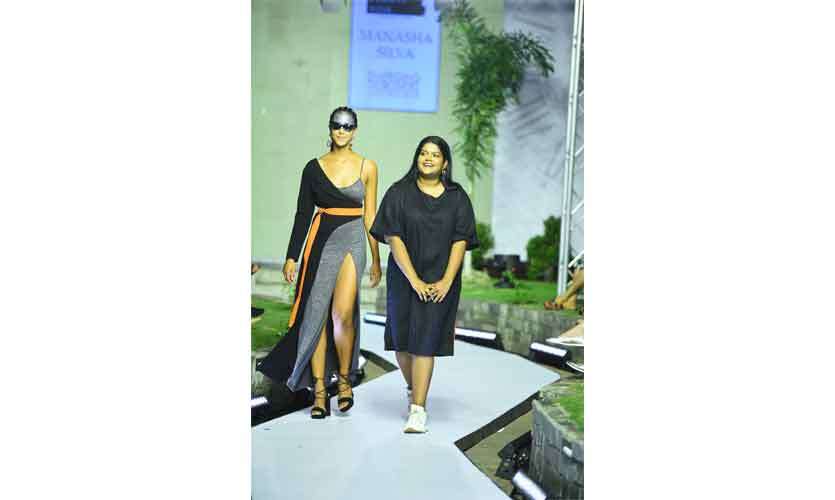 Shehana Dayananda
Presenting a collection of silhouettes varying from daringly cut shorts, dresses, pants and sharply tailored blazers, designer Shehana has injected an adventurous vibe into her silhouettes. Viscose, satin and crepe are her colours of choice with beige, mauve, navy and indigo being her colour palette. Big pleated belts in suede add a statement to her collection.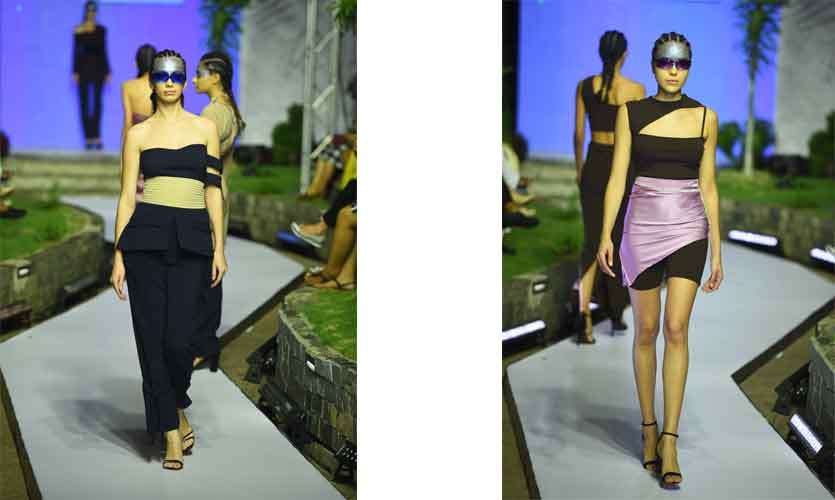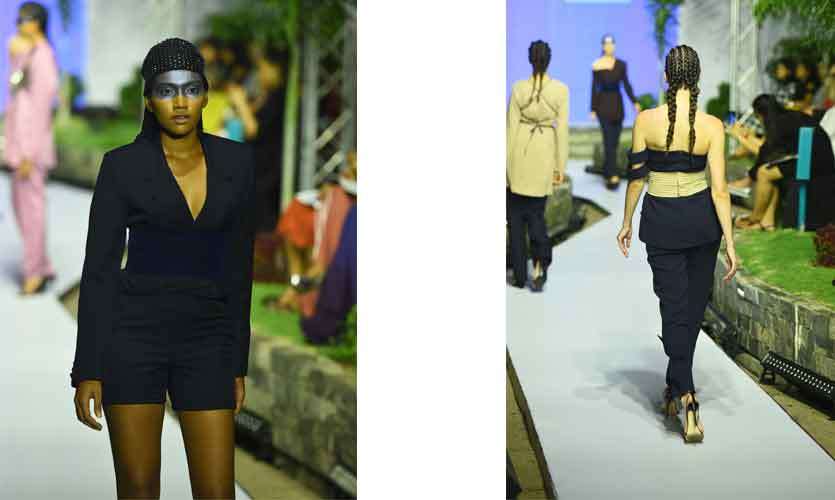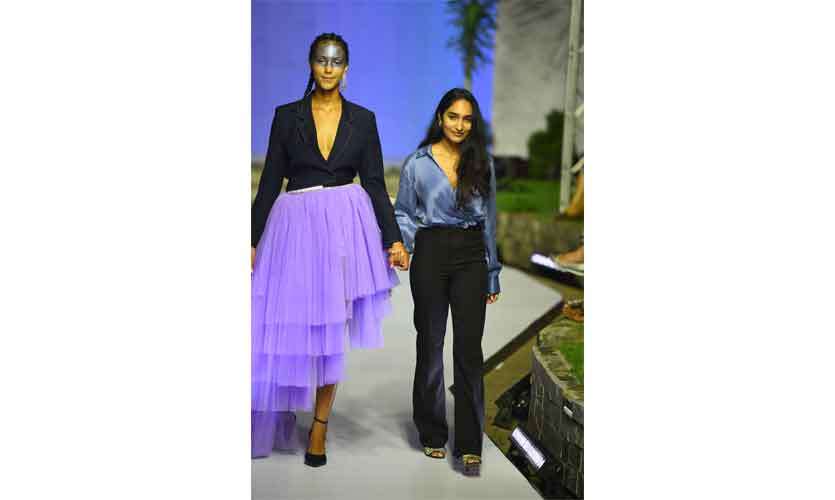 Himashi Wijeweera
Using beeralu lace as her focal point, the collection presented simple yet stunning silhouettes with intricate details. Inspired by orchestral music, the collection aimed at recreating the contrast between soft voices among the loud orchestral music by using sculptural silhouettes with soft beeralu lace work. A colour palette of grey, blue, green, dusty pink and ivory was used in materials of tulle, satin and linen.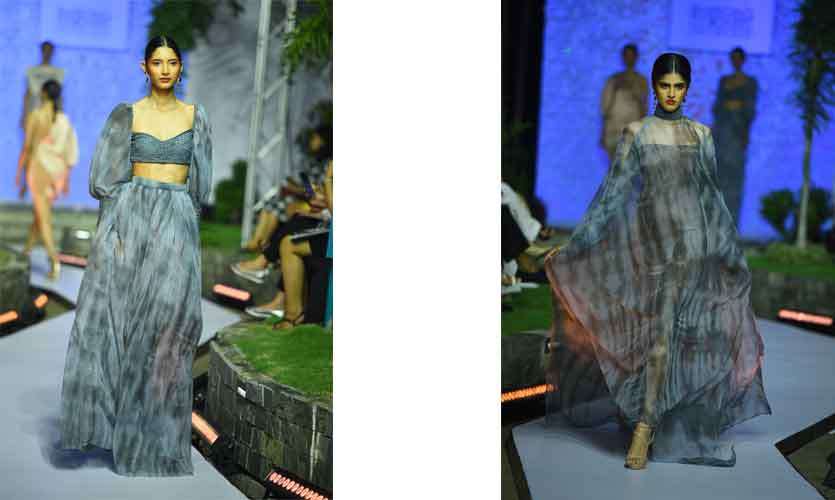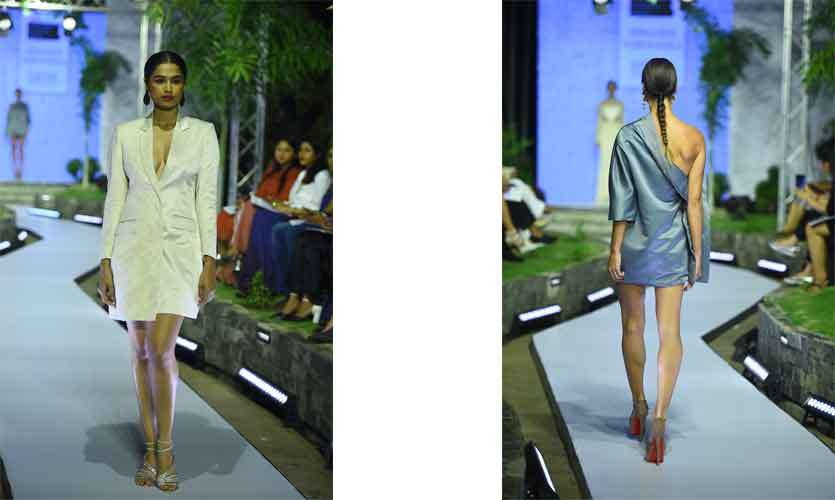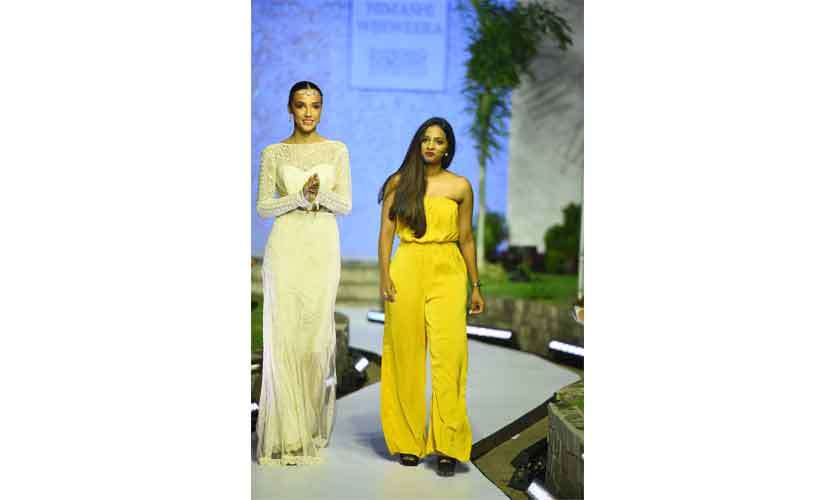 Nads Ratnayake
Architecture meets fashion as Nads Ratnayake presented a collection full of structured forms. The collection focuses on pattern and texture by using a Japanese folk embroidery method known as 'Shashiko' by using a continuous running stick to create abstract geometrical patterns. A monochromatic theme ran along her collection while the hand embroidered textures and patterns brought out the essence of her collection.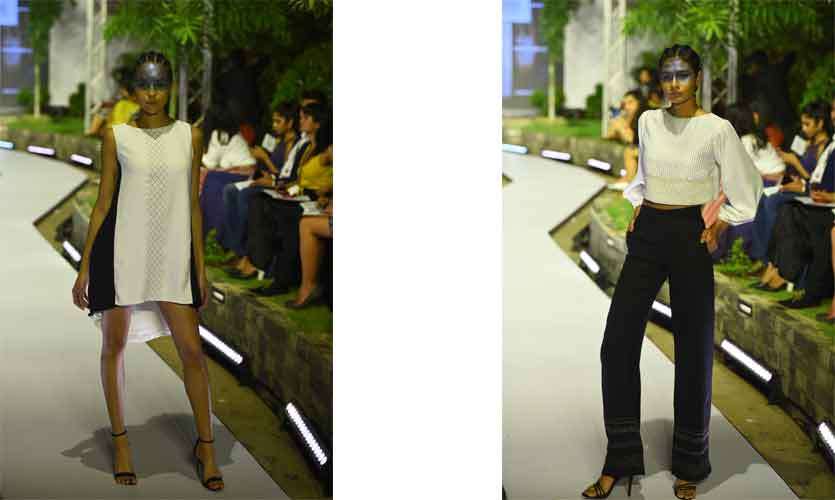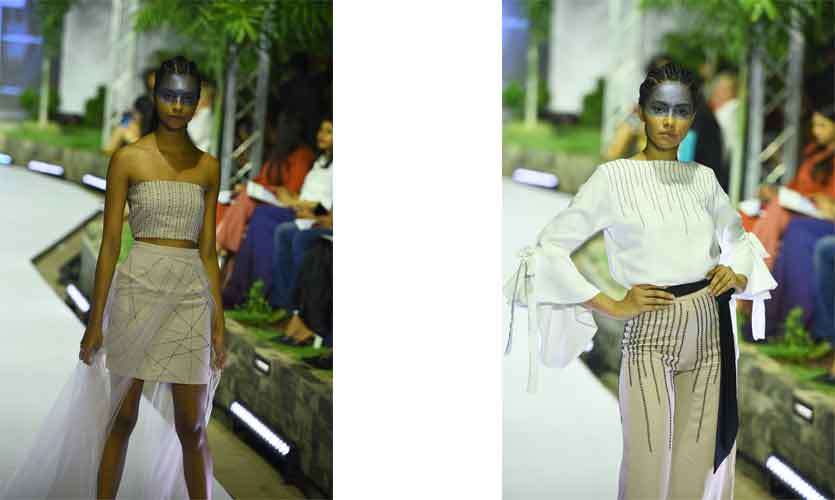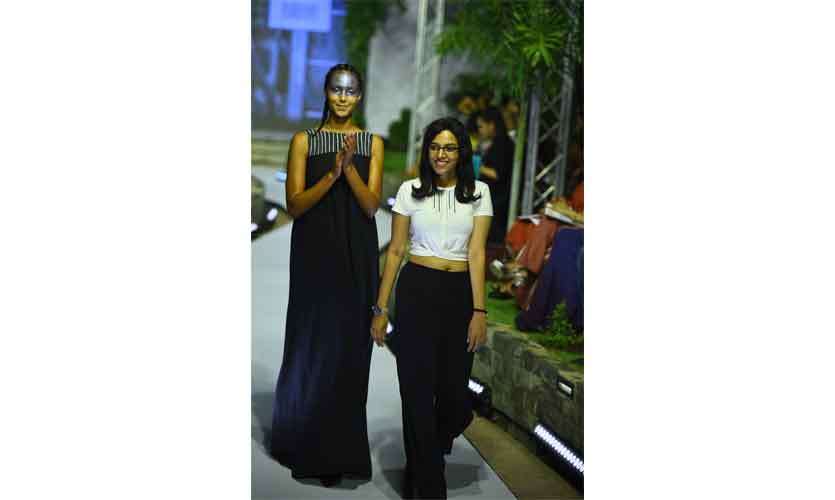 Achala LeKoh
As an environmentally conscious designer, Achala's collection explored the ethereal beauty of the sea. This evening wear collection captured the fragility of washed up shells in layers of delicate pleats and layers of mesh in shimmery chic silhouettes. The outfits were rooted in her love and passion towards the celebration of mother nature in colours of white, blue, purple, red and coral. Materials of silk, chiffon and mesh formed the mainstay of her collection with sea inspired prints, coral textures and sea foam patterns.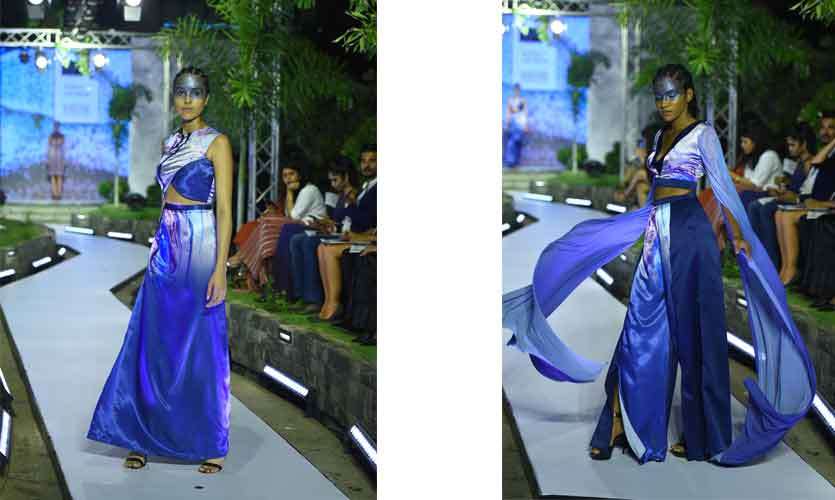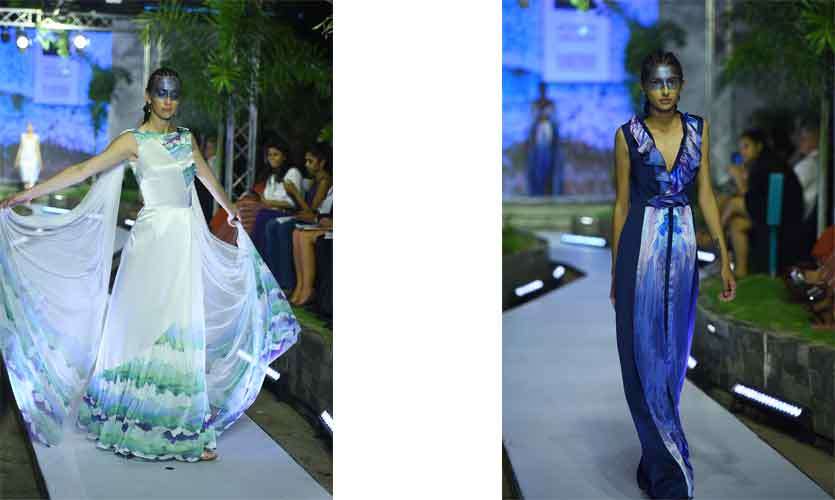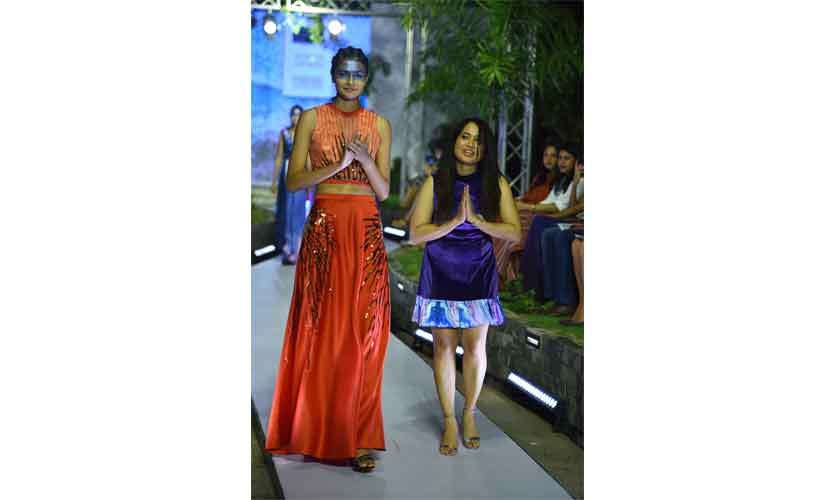 Ayesh Wickramaratne
Drawing inspiration from the rustic life at sea within his Pirates of the Caribbean themed collection, Ayesh presented an all denim ensemble. Using different sustainable denim fabrics, his collection included one-piece garments and his collection aimed to merge designer wear with different finishing techniques like washes and different printing techniques. The creative pattern making throughout his collection added a sophisticated touch to the outfits.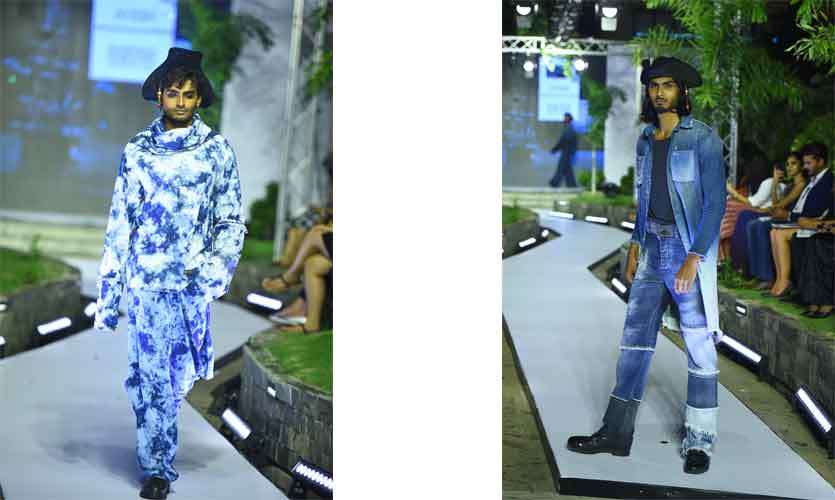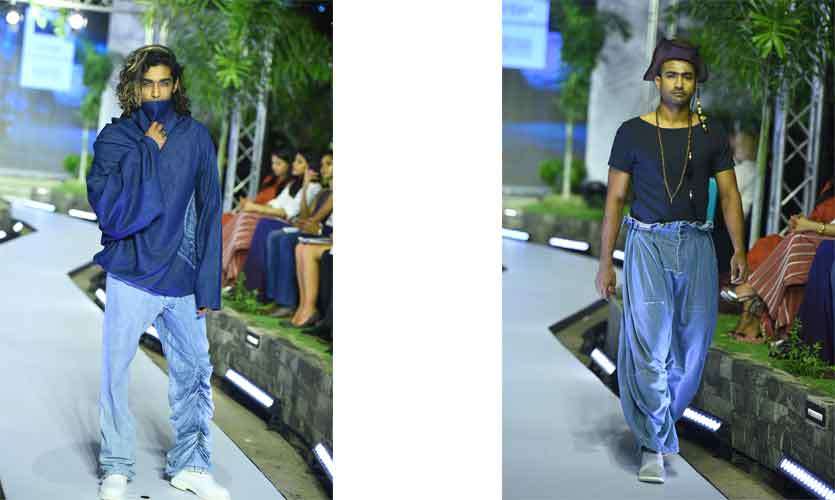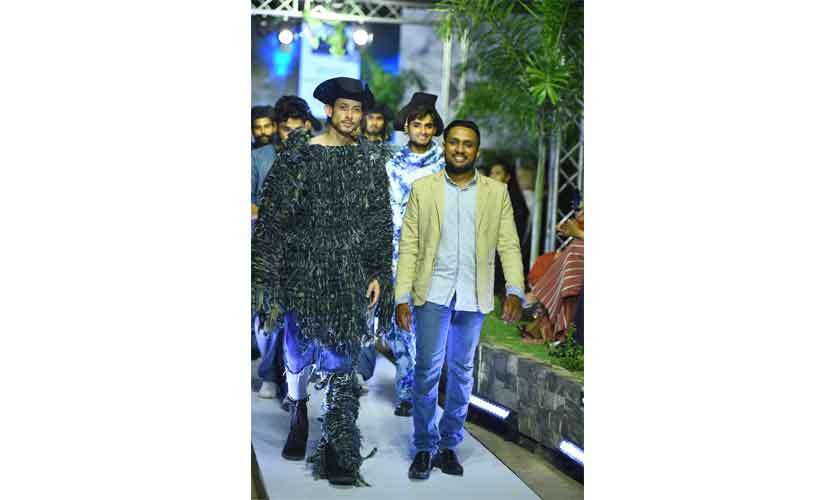 Ridma Samaranayake
Ridma's collection drew inspiration from the Sri Lankan culture and history as it focused mainly on the traditional clothing styles and cuts of the Kandyan era. Her pieces incorporated the traditional craft of beeralu lace patterns and the silhouettes of the garments paid tribute to the Kandyan era with elaborate sleeves, drapes and fills. A soft blend of linen and silk in soft pastel and neutral colours; the collection was elegant and sophisticated yet bold and abstract at the same time.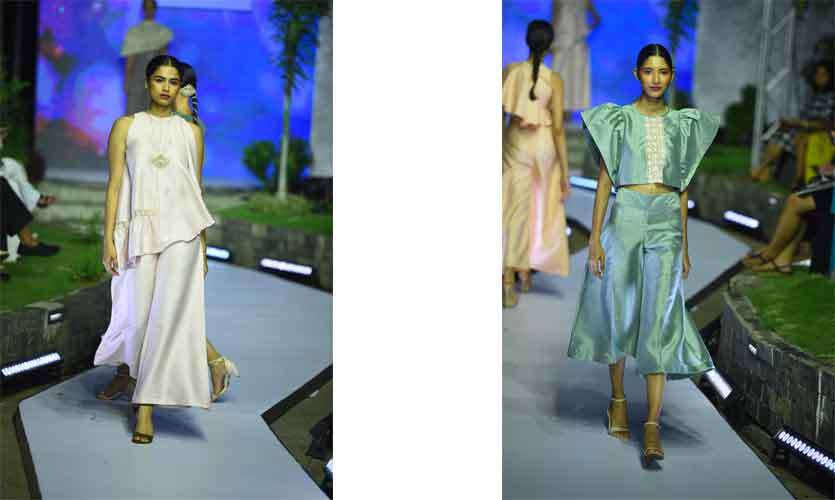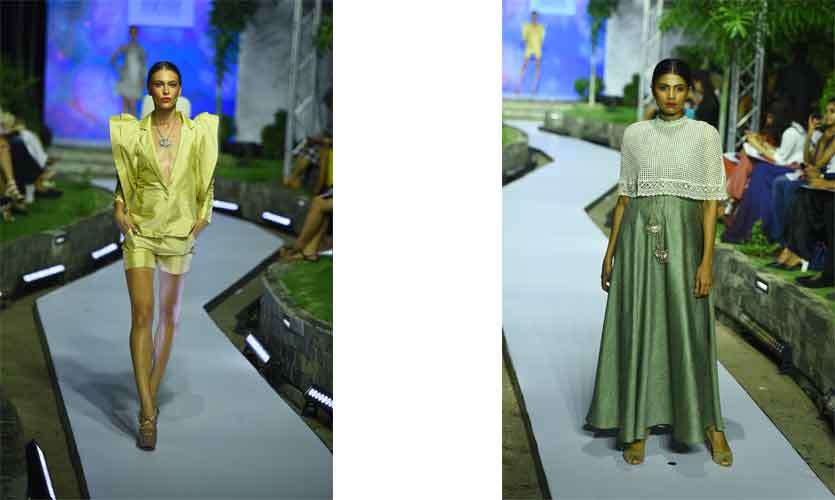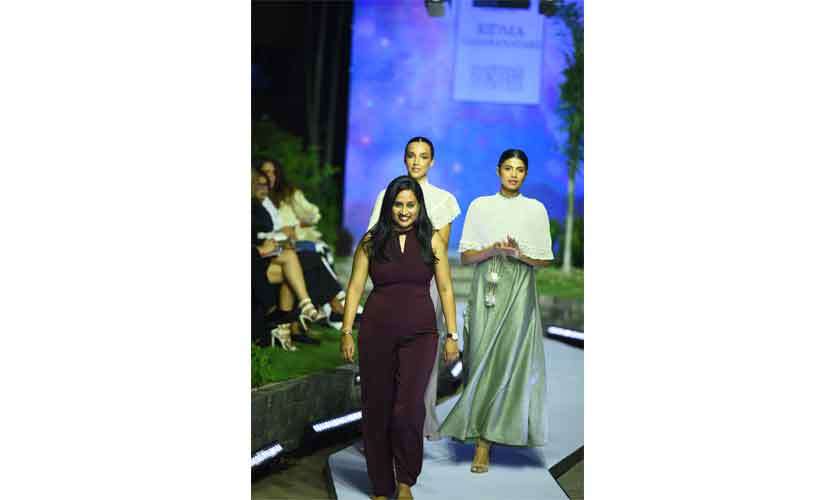 Udarika Dalugama
A strong advocate for gender equality and human rights, Udarika's label 'Anonymous' is an upcoming brand promoting collections of unisex wear. Her collection for CFW was inspired by the inner personalities inside humans. The silhouettes were voluminous and structured and contrast of deep and pale colours were used to bring out her overall theme.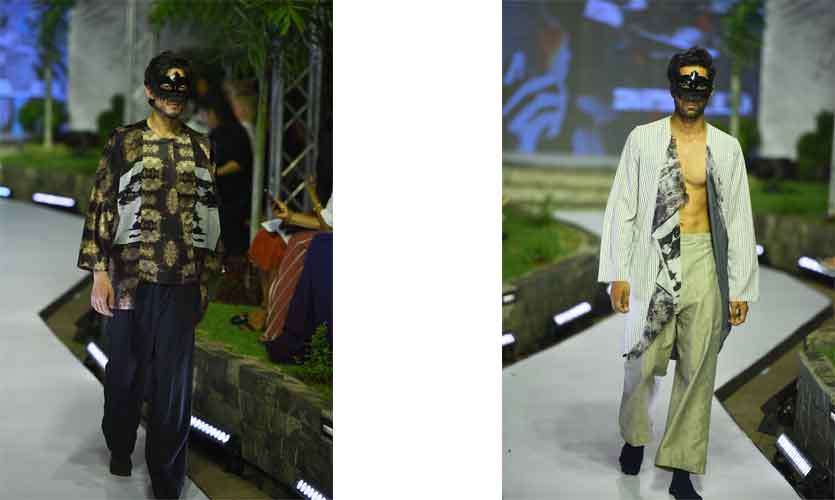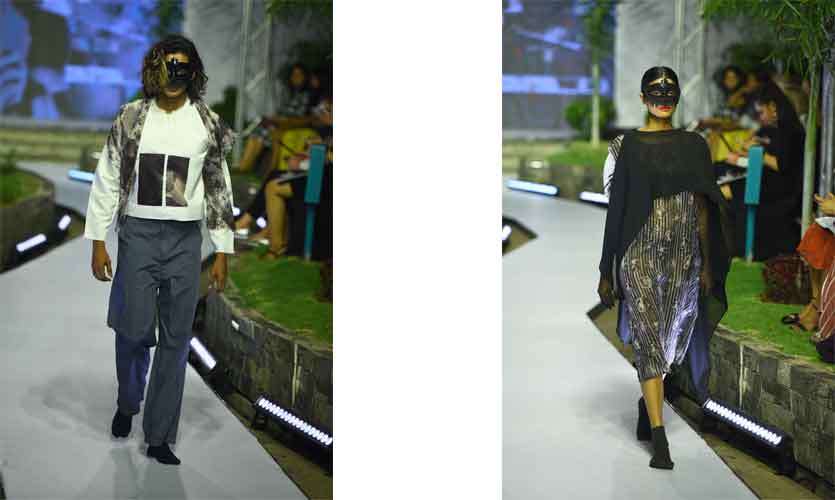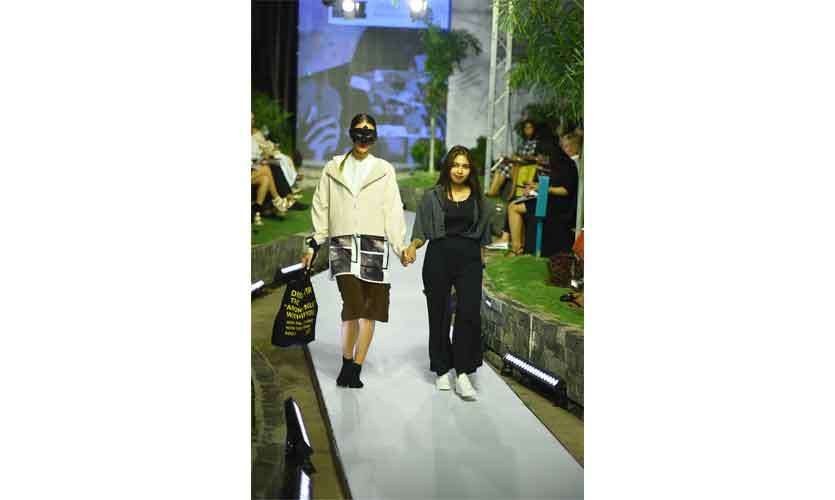 By Tina Edward Gunawardena and Panchali Illankoon