Baking exquisite confectionaries since 2016, The Bake Cottage by Amandi Eliyapura and fiance Eran Alahakoon is introducing a brand-new facet to their business – Dessert Jars! Having reviewed The Bake Cottage previously, we are no strangers to their mouth-wateringly delicious cakes and desserts and was beyond exciting to try their new venture.
Having launched their Jars on the 22nd of July, they tell us they wanted to 'try something new' when they first thought of the idea. "The Bake Cottage has been doing cakes for over 4 years now and we wanted to see if we can introduce something new and exciting. I don't think the market offers many options in terms of quality, premium single desserts so we wanted to introduce Dessert Jars to restaurants and food delivery apps to fill in this market gap." Privy to a sneak peek of the new Dessert Jars prior to the launch, here are our thoughts on The Bake Cottage's latest pursuit.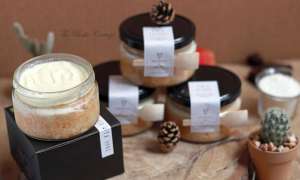 Packaging
One of the things we loved about the new Dessert Jars is their beautiful packaging. Each dessert comes in eco-friendly paper boxes with an individual bio-degradable wooden spoon. The desserts come in short, wide 170ml glass jars that are reusable. The size and width of the jar ensure that you get quite a big portion and we were happy that The Bake Cottage fills in their desserts all the way to the brim.
THE DESSERT JARS
The Bake Cottage introduced 5 new flavours with hopes of expanding into more flavours in the future.
TRES LECHE (Rs. 395): Tres Leche is easily one of the most popular desserts in the market right now and The Bake Cottage certainly doesn't disappoint with their take on it. The original Tres Leche was a spongy, soft cake soaked through three kinds of milk and topped off with a layer of heavy cream.
CHOCOLATE TRES LECHE (Rs. 395): Having always tried and tested the original Tres Leche, the Chocolate version was a novelty. Switching out the vanilla sponge cake to a chocolate cake and topping it off with a cocoa and dark chocolate mixed heavy cream, this simple variation combined two of our favourite things into one; chocolate and Tres Leche!
COFFEE TRES LECHE (RS. 395): The coffee flavoured spin on Tres Leche was another variation we loved. Using Island Coffee as its main ingredient, this coffee-spiked dessert tasted very close to an Italian tiramisu and was ultra-moist and milky.
CHOCSTASY (Rs. 475): The Chocstasy Dessert Jar presented a chocolate cake with a dark chocolate mousse on top. Contrasting to the light and fluffy textures and flavours of the Tres Leche, the Chocstasy is richer and denser.
WHITE CHOCSTASY (Rs. 480): Personally, we preferred the white chocolate-based Chocstasy over its dark chocolate counterpart. Replacing the chocolate cake with a vanilla sponge cake, we thought there was a perfect balance in texture with a rich, creamy white chocolate mousse and a soft, airy sponge cake.
The Dessert Jars are now available at Kottulabs for dine-in or as a takeaway order directly from Kottulabs or via Kottulabs' UberEats, PickMe Foods and EATSS menu and will be introduced alongside their promotional deals – the '2020 Deal' and '699 Deal'. It is also available for direct pickup or delivery by The Bake Cottage (Rajagiriya) and they hope to soon be available independently on UberEats, PickMe Foods and Eat Me Global.
For more details on The Bake Cottage's new Dessert Jars visit their Instagram or Facebook pages (@thebakecottage) or thebakecottage@gmail.com