Explore the finest European food as Movenpick opens its doors to their latest restaurant 'Santina'. Featuring Mediterranean cuisine inspired by the lands of Spain, Italy and France, this chic new restaurant offers guests a culinary passport to the best of Europe cuisine.

Ambience
Located on the first floor, the Santina restaurant offers diners a homely experience with intimate seating, low lighting, sparse décor and light background music. The restaurant occupies a large floor area and allows spacious seating. From intimate corners to comfy sofa chairs – the restaurant is decked for a romantic dinner for two or a group gathering for family and friends.
We liked the low lighting and the subtle décor of the restaurant as it gave a very intimate atmosphere to our overall dining experience.

Drinks– 5/5
Santina has its own beverage menu offering a small selection of wines, cocktails, aperitives and digestives, soft drinks and hot beverages. The wines are especially brought down from France and Spain. We recommend trying their specialty cocktails that can also be ordered as mocktails. Certain drinks such as Lemon Gin Tea and the Green Lantern are best ordered as cocktails but the rest of the drinks make for a good mocktail.
On their recommendation we chose the Virgin El Classico (Rs.690) and immediately loved it. The drink is a concoction of strawberry, ginger and passionfruit pulp mixed with fizz and it is the most wonderful combination. It's the perfect marriage of sweet and sour as the sweetness of the strawberry is immediately balanced by the sourness of the passionfruit. The rest of the drinks sound equally great but we were sold with the El Classico and will recommend it with no fear.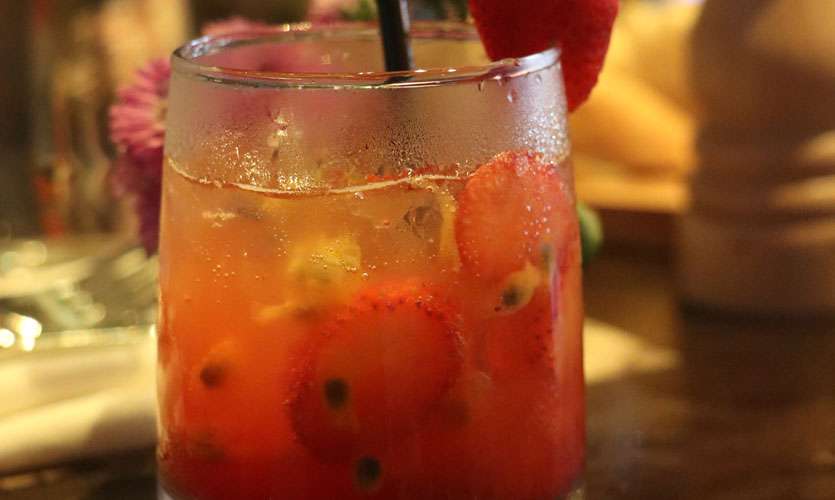 Food – 5/5
The Menu at Santina is quite small with a wide variety of tapas and a selected variety of pastas and seafood dishes. The concept behind Santina is that it is 'truly Mediterranean' and in line with this concept the menu encourages diners to order a variety of tapas and dishes to share.
The tapas menu has over 15 varieties ranging from octopus to oysters, liver pate to bruschetta. We opted to have their Garlic Prawns (Rs. 665), Fried Calamari and Small Silver Fish (Rs. 685) and Croquetas (Rs. 495).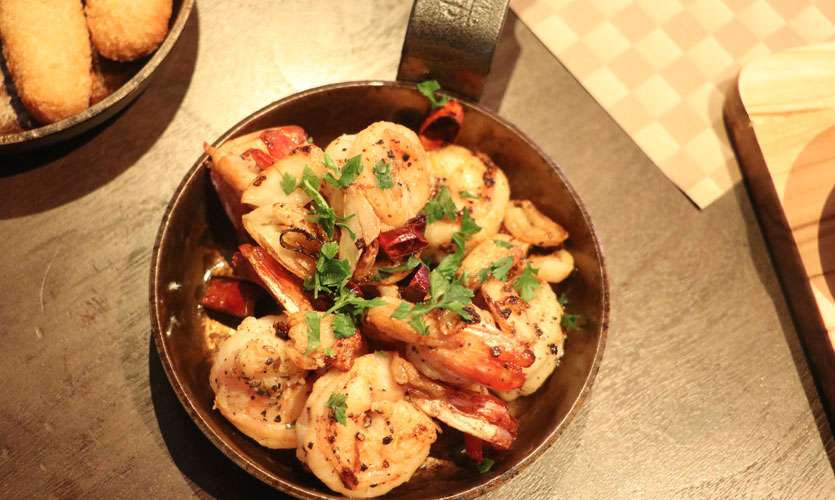 The Fried Calamari and Small Silver Fish was delicious. The batter used in both the Calamari and Silver Fish was slightly different from the rest as it had a slightly thicker consistency and ensured that the batter remained crisp while the calamari and fish were soft and cooked well. The seafood was served with a cocktail and aioli sauce. The Croquetas was a soft mix of mashed potatoes and melted cheese fried until golden.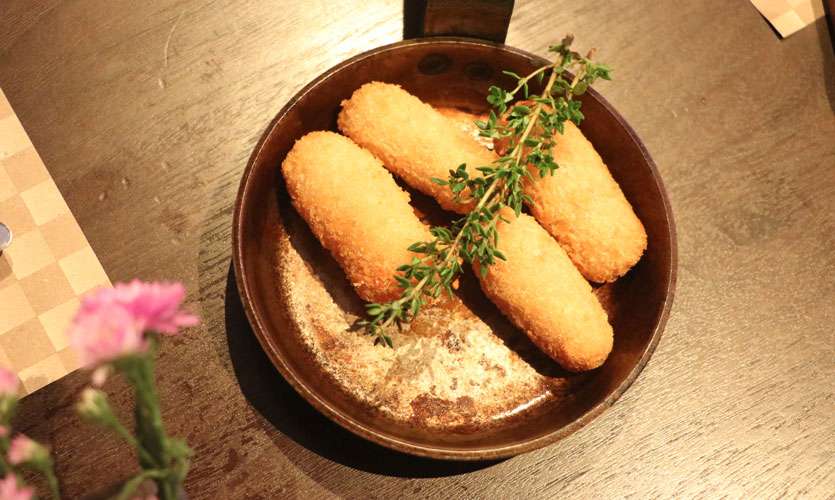 Our favourite though was the simple Garlic Prawns dish which at first glance looks simple but packs a punch of flavour on first bite. Fresh prawns, seasoned well and tossed in red chili and sliced garlic served hot, had our mouths watering from the get go. The prawns were cooked perfectly and the flavours were on point with just the right amount of spice. Combined with crispy garlic – you've got a winner!
For a heavier meal the menu also offers freshly cooked paella to be shared by a minimum of 2 persons. They offer Paella Valenciana (with chorizo, chicken, squid and prawns) or a Seafood Paella (tuna, snapper, squid, black mussels and prawns). We opted for their Seafood Paella (Rs. 4400). Even though the menu states that it can be shared by 2, it can very easily be shared by 3 or 4 if you've ordered plenty of tapas.
The seafood is tossed in with saffron infused rice, tomatoes, beans and capers and cooked in a seafood broth. The preparation time for the dish is around 30 minutes but it is well worth the wait. The paella was packed with seafood and the broth has been absorbed by every element in the dish from the seafood to the vegetables to even the rice. The result is that diners are given a freshly cooked paella with authentic Spanish flavours.
Of course, you haven't visited a Mediterranean restaurant if you haven't tried their pasta and having eaten all seafood we decided to try a vegetarian pasta. We choose the Linguine (Rs. 1500) made with porcini mushroom cream with truffle and baby mozzarella. The dish was rich, creamy and smooth.
Despite being quite full, we decided that no meal is complete without desert and tried their Orange and Brandy Crepe. The desert is a very theatrical affair because the dessert is flambed as it appears at your table. The dessert is somewhat bitter due to the orange and the brandy (which they are very generous with!) but it is immediately smoothed out by the cold vanilla ice cream served alongside the dish.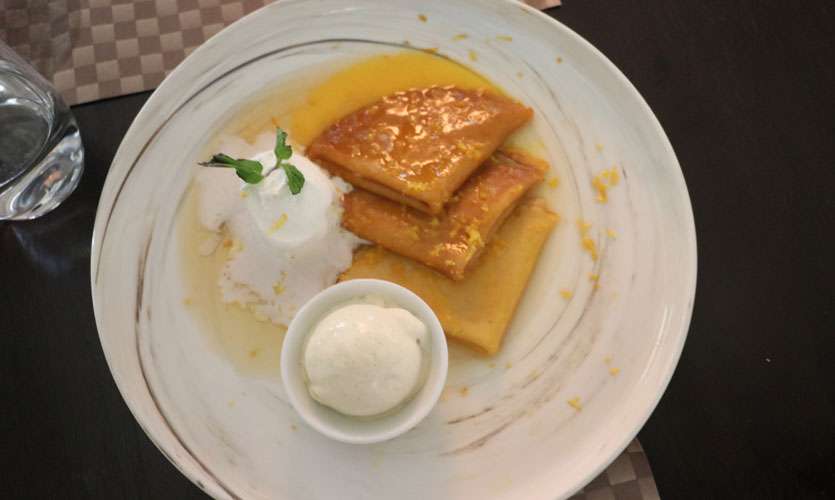 What we Recommend – The Garlic Prawns and the El Classico. Perfect drink and the perfect tapas!
Service – 5/5
Movenpick always has excellent service and Santina won't disappoint. Special mention to our server Dinithi, who knew exactly what kind of food we'd enjoy and what drinks would work best. We constantly asked her for her opinion on what dishes to choose and her recommendations worked very well for us. Picking unfamiliar dishes at a specialty restaurant can be a bit of a tedious task and that is why we are super grateful for staff like Dinithi who we can easily converse with and ask for help.

Parking Facilities – Available
Toilets – Available. Clean and Sanitary.
Would we go again? Most definitely!
Tips – Grab a friend or a couple of friends! The food is great and it's meant for sharing.