Colombo has seen a growing appreciation for Japanese cuisine, and indulging the gourmands is Mövenpick Hotel's newest offering, Robata Grill and Lounge. We recently dropped by for lunch.
Ambience
Located on the second floor of the Mövenpick Hotel, the interior of Robata Grill and Lounge is urban, sophisticated and tasteful, subtly incorporating elements of Japanese decor to tie in the look perfectly. The black and red theme maintained throughout the space adds to the allure. Seating is conveniently spread out with all spaces utilised perfectly, with seating along the counter available so you can watch the chefs in action.
Beverages
The restaurant has an extensive beverage menu that will have you grapple with indecision. From classics to in-house creations, their inspired lineup of beverages spans pages with delightful concoctions such as Ebony (Cognac, Nutella, Oreo and butterscotch ice cream), Blonde (Vodka, coconut ice cream, mango, whipped cream and cornflakes) and Green Lantern (Rum, green grapes, green apples and lemongrass). Many of these cocktails are also available in virgintail versions. Adding to this impressively comprehensive lineup are various coffees, teas, milkshakes, fresh juices and more.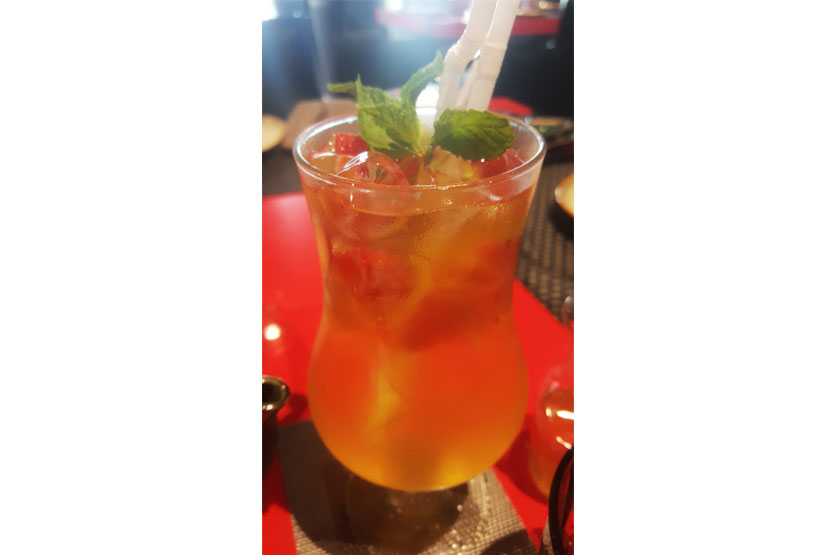 We opted for the Strawberry and Kiwi Ice Tea (Rs. 550) which, without a doubt, makes for refreshing consumption of any parched soul just having sought respite from the merciless heat. The subtle flavouring of the strawberry and kiwi in the tea made for a great thirst quencher.
Food
At the helm of Robata Grill and Lounge is Chef Noboru Ozeki with over two decades of innumerable experience behind him, and without a doubt, his food attests to his background in the culinary sphere.
The lunch menu comprises a good variety of soup, salad, rice, noodles, sashimi, nigiri, sushi rolls, sushi and bento boxes.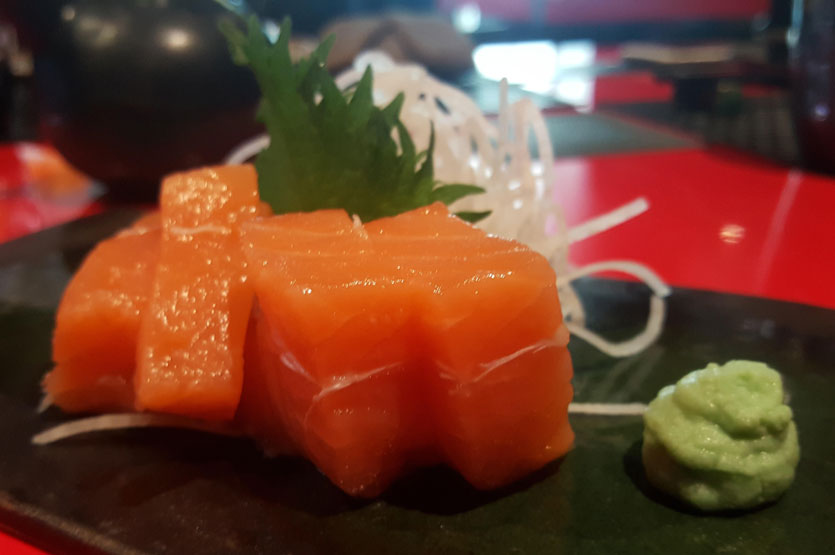 We chose Salmon Sashimi (Rs. 1250) as an appetiser, which was presented with daikon radish and wasabi. This was undoubtedly one of the most finely prepared sashimi we had the pleasure of tasting in the country. The freshness of the salmon was evident by its vibrant colour, taste and texture - and we'd highly recommend you give it a try.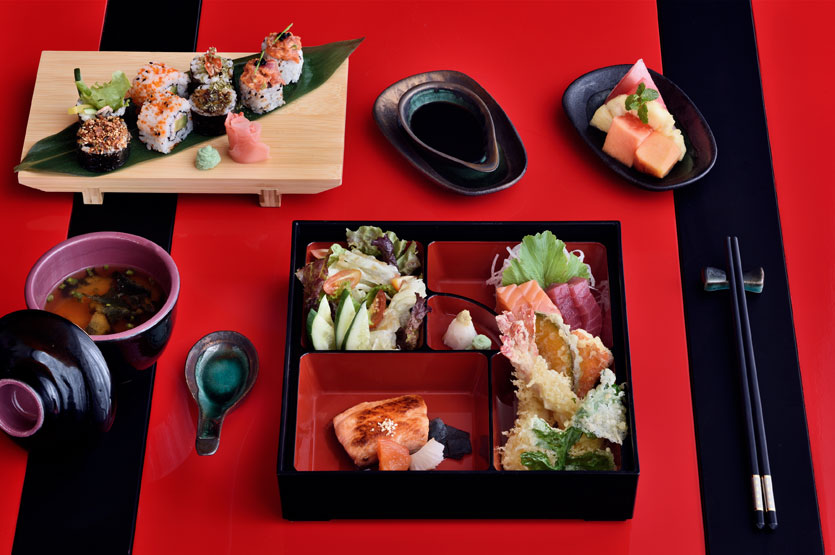 For mains, we decided between a sushi box or a bento box, of which we elected to try the Sushi Box - Chicken (Rs. 2850). The primary difference between the sushi and bento boxes is that the sushi box comes with a side of sushi rolls while a bento box has rice instead. Our sushi box included chicken teriyaki, vegetable salad, assorted tempura, tuna and salmon sashimi and miso soup in addition to salmon skin roll, spicy tuna, spicy shrimp tempura, and California roll with pickled ginger and wasabi.
Everything in the assorted tempura - from the large prawns to the crab - was fried to perfection in a very light batter, and paired with the equally light dipping sauce, made for hearty fare. Both tuna and salmon sashimi were prepared impeccably, with the pickled ginger serving as a palate cleanser between the two types of sashimi. The succulent chicken teriyaki with the crispy exterior was a tasty inclusion as were the assorted sushi rolls of varied textures and flavours. The miso soup with the small cubes of tofu and sliced green onions providing texture, featured nuanced flavours without being overwhelming.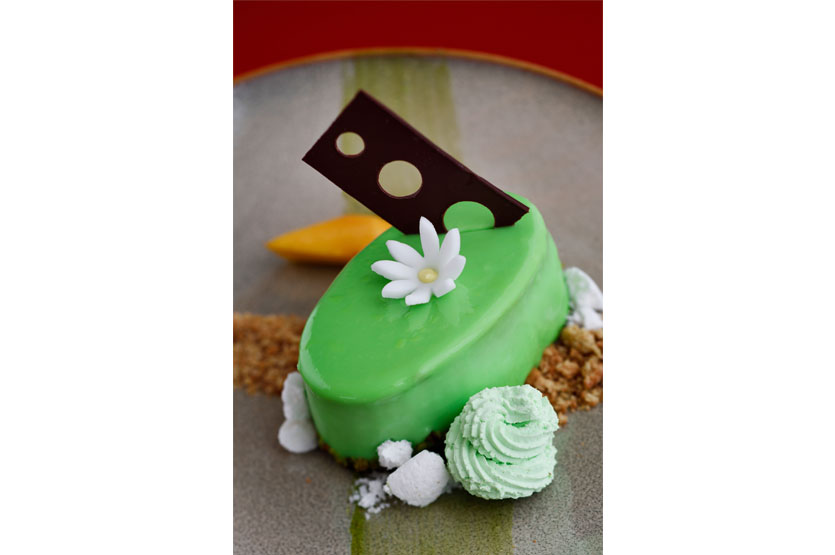 Robata Grill and Lounge has two dessert options available - Green Tea Mousse Cake (Rs. 950) and Assorted Fresh Fruit of which we picked the former. The fluffy mouse stands out because of its understated flavours and is almost too pretty to eat.
Service
Service was prompt and staff were friendly. As soon as we walked in, we were led to our table and a side table presented soon after for us to lay our belongings.
Mövenpick Hotel's Robata Grill and Lounge serves as an ideal venue for business lunches, hang outs and date nights with exceptional food and service on offer.
Lunch: 12.00PM - 3.00PM
Dinner: 7.00PM - 11.00PM
Address: 24, Dharmapala Mawatha, Colombo 03
Website: www.movenpick.com/en/asia/sri-lanka/colombo/movenpick-hotel-colombo
Facebook: www.facebook.com/Movenpickcmb
For inquiries and reservations call +94117450450.