Premier five-star urban resort Cinnamon Lakeside in its continued efforts to offer its guests unique experiences that promotes an 'inspired living' concept recently welcomed Chef Huanxi Yan to take on the reigns of the Long Feng restaurant.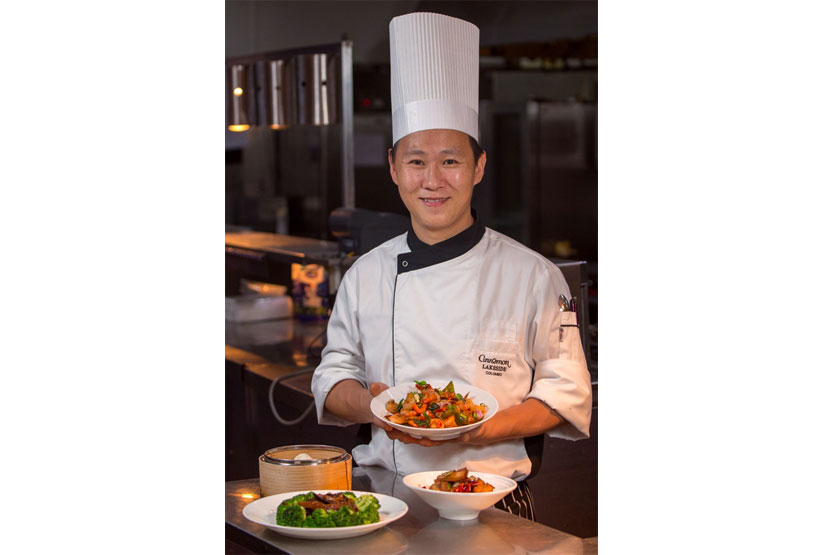 With 20 years of experience under his belt, Chef Huanxi Yan brings with him his own style of cooking, influenced by learnings from his mother's kitchen and the restaurants he worked at in China. In a bid to enhance the authentic offering at the Long Feng restaurant, Chef has introduced 34 new dishes to the mix, taking out the slow-moving dishes and replacing them with fresh flavours to savour.
The new dishes include Crispy fried chicken breast served lemon sauce and Spicy shredded chicken for the appetizers range along with novel soups - West lake braised beef soup, Scallop and spinach seafood soup and Tofu and nori egg white soups.
Braised lobster Sichuan hot bean chilli sauce, Fried lobster with bread crumb and garlic salt from the lobster range, Wok fried prawn black pepper sauce,Fried prawn with bread crumb and garlic salt, and Wok fried prawn with broccoli black bean sauce from the prawn dishes, alongside Fried crab with bread crumb and garlic salt from the crab range are also additions to the menu.
Braised fish in Sichuan hot bean chilli sauce, Hunan black bean chilli fish and Deep fried fish with spicy garlic salt, Wok fried cuttlefish with black fungus Hunan style can also be devoured at Long Feng.
The restaurant will serve Sizzling tenderloin beef with straw mushroom oyster sauce, Wok fried shredded chicken with green chili Hunan style, Taiwanese stir fried chicken with Chinese wine, Braised duck withbeancurd sticks, Beer duck Hunan style, Sweet and sour pork ribs and Wok fried pork tenderloin in honey black pepper sauce as well.
Fried egg with green chilli, Sizzling tofu with shrimps and egg, Home style braised bean curd with chicken mince and vegetable dishes such as Wok fried cucumber with dried chilli Sichuan style, Wok fried Chinese cabbage in chilli vinegar, Wok fried broccoli with shitake mushroom oyster sauce and Sauteed kang kung in superior broth are also must trys!
Chef Huanxi Yan has even put across some new rice and noodle variants to accompany these dishes. These include the likes of Seafood fried rice with chilli bean, Pineapple with chicken fried rice, Yangzhou fried rice, Wok fried flat rice noodles with beef and Seafood fried Udong noodles.
"I want to present our loyal guests with new flavours," Chef said. "These dishes that I have implemented are favourites back home. While some of these may sound familiar, I assure you, the taste will not. Every district in China excels at different dishes while some have variants. I have tried to introduce this diversity to our Sri Lankan friends and guests from across the seas."
Long Feng is open for lunch and dinner. Reservations can be made on (011) 249 1949.
Stay updated on the Hotel's latest happenings and promotions on www.facebook.com/cinnamonlakeside.