The Kingsbury Hotel Colombo is delivering 5-star desires to the comfort and safety of your home. Their new website 'Indulgence by The Kingsbury' now offers customers all their favourite dishes and cravings on delivery so you can enjoy gourmet meals at your home table.
HOW TO ORDER
The process of ordering from Kingsbury was easy and convenient. They've set up a different website for online orders with a very user-friendly interface that has subdivided all dishes into cuisines with helpful pictures, descriptions, and portion sizes for each dish. Once we logged onto the website, it was only a matter of adding to cart. and checking out. The checkout procedure was equally simple and allows the option of either paying online or cash on delivery. Once our order was placed, we received an email confirming our order and several follow up emails notifying that our order is in progress, that our order is being delivered, and finally that our order is complete. The website also offers a 'Track my Order' option to monitor the progress of the order.
DELIVERY
Kingsbury imposes a minimum order value of Rs. 1,000 and a flat delivery charge of Rs. 300 to the final pricing. They also have a wide delivery range extended to Colombo 1 – 15, Rajagiriya, Nugegoda, Mirihana, Nawala, Kotte, Kohuwala, Dehiwala, Mount Lavinia and Kalubowila. Deliveries outside of these areas can be arranged at a higher delivery charge by directly getting in touch with The Kingsbury.
FOOD
The Indulgence website offers a diverse range of nearly 200 dishes from all its signature restaurants from an eclectic menu of cuisines such as Chinese, Japanese, Indian, Western, Sri Lankan, Asian Seafood as well as Bakery and Dessert items, High tea and Mocktails, shakes and Lassis. In the spirit of testing out the new online food platform, we decided to order one dish from each cuisine. Here's our verdict on our food.
Crispy fried Cuttlefish with Thai Tamarind Sauce (Rs. 900)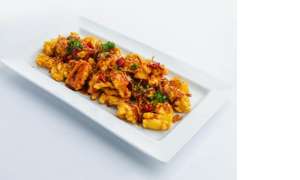 We had a hard time deciding between this dish and our usual Hot Butter Cuttlefish but intrigued by the Thai Tamarind Sauce we opted for this dish. Poured over crispy batter fried cuttlefish, the Thai Tamarind Sauce teethers between the sweet and sour sides playing with its tangy and tart flavours with a hint of sweetness to take the edge off its otherwise stark sourness. Their other popular items include Stingray baked in banana leaf, Lagoon Crab cooked in various styles and Prawn Chili Garlic.
Lamprais (Rs. 1,100)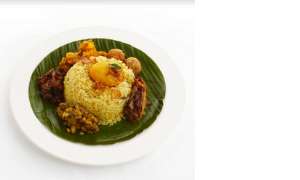 Kingsbury's mixed meat lamprais surprised us by being one of the best we've ever had. We ordered this because we haven't tasted a hotel made lamprais and wanted to see how it will compare and was pleasantly surprised when we all really enjoyed it. The lamprais is mixed meat with both chicken and mutton included along with 2 frikadels, ash plantain, brinjal, seeni sambol, and an egg. While the price is twice the amount you'd pay for a lamprais in the market, their portion size was quite large and can be shared among 2 persons.
Kadai Prawns (Rs. 900) with Naan (Rs. 250)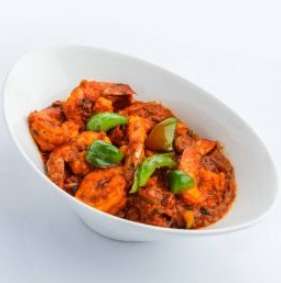 Kadai prawns is possibly one of the tastiest and spicy North Indian curries we've ever had. Tender and lightly crisped prawns were coated in a rich, thick gravy that was easily scooped up by their fluffy naan. Flavoured with an assortment of spices and roasted bell pepper the curry was aromatic and full of flavour and despite being a regular portion, we had a very generous share of prawns and gravy that was easily shared among 2-3 people.
Steamed Pork Dumplings (Rs. 600)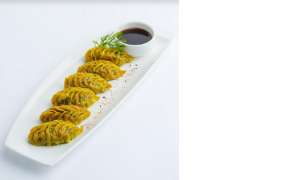 Dumplings are our go-to order at any Chinese restaurant so we had no hesitations clicking on this option on the menu. An appetizer portion offered 6 palm-sized dumplings with a smooth texture and ample amounts of pork filling. The steamed dumplings allowed us to enjoy the nuances of the meat inside and the dough was stretched thin and smooth ensuring that all its rich flavours are packed and retained inside.
Volcano Roll (Rs. 1,100)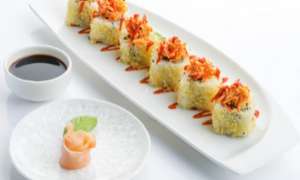 While the Japanese range offered a variety of different dishes such as Katsudon, Ramen, Okonomiyaki, and meat, the sushi options were limited to either a sushi and sashimi platter, California roll or Volcano Roll so we wish they'd offer more sushi variations in the future. The regular portion for the Volcano roll offered 6 rolls filled with tempura prawn and avocado in the middle, with a spicy crab mix and tobiko on top and a tempura crumb lightly coating the outside. Served with a spicy sauce, wasabi, pickled ginger, and soy sauce – the volcano roll was freshly prepared and surprisingly quite filling on its own.
Chicken Nai Miris Pizza (Rs. 1,650)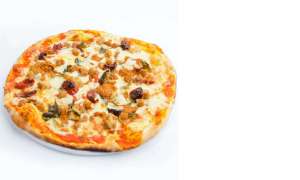 Offering a broad range of pizzas and pastas we decided on their Chicken Nai Miris Pizza. This thin-crust pizza was made with minced chicken, diced nai miris, curry leaves, sun-dried tomato and topped off with mozzarella cheese. With Nai Miris being one of the hottest chilli's in Sri Lanka, Kingsbury's use of it was careful so that the pizza wasn't overly heaty and the generous use of sun-dried tomatoes and mozzarella balanced out the spice levels.
The Innovated Tiramisu (Rs. 500)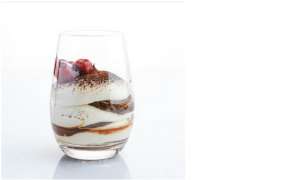 All the individual dessert options are reasonably priced at Rs. 500 each with desserts such as Honey Cremeux with poached pear, Old fashioned Meringue cake, and Flexi Chocolate Ganache. We ordered their Innovated Tiramisu that had =thin layers of tiramisu cake sandwiched between heavy layers of whipped cream and garnished with red cherry compote. While the layers of tiramisu cake had great potential, we found it a little hard to taste all its flavours due to the heavy use of whipped cream and wished it was the opposite – with thicker layers of take and a lighter layer of cream.
SERVICE
Service was something we were very impressed with when we placed our order on the Indulgence website. Within minutes of placing our order, we received a call confirming the details and setting out a rough time frame in which we can expect our food to be delivered. Our food (given its large quantity) was delivered within an hour of placing the order and was handed over to us by friendly, courteous staff who had meticulously labelled, and separated our dishes. The process was as easy as that – there were no confusion or numerous calls or follow-ups and we really appreciated the lengths they went to ensure good customer service.
OVERALL
Indulgence by The Kingsbury is a well thought out solution for ensuring that people enjoy their hotel favourites at home. Not only was their ordering process fuss-free and the website user friendly and accessible – they have such an expansive range and variety that you are absolutely spoilt for choice. Even more importantly, we enjoyed the food that we ordered and found the dishes value for money.
*. Orders can be placed via indulgence.thekingsburyhotel.com or on call at 0761-110-110. Orders are delivered daily from 9 am to 9 pm. The Kingsbury accepts VISA, Master Debit and Credit cards or Cash on delivery as payment.