How do our food experts cook and eat? Home catering business 'Dot's' owner, Sarita takes our Q&A!
Your first memory of cooking?
Though I come from a family of foodies, interestingly, I (almost) never cooked until I started catering 6 years ago! After randomly trying my hands at a 4-course meal for my best friend's birthday (not knowing how to even switch the ancient oven on!), I actually began enjoying this new-found hobby and before I knew it, within months, I started catering!
Your favourite childhood meal?
My Mom has always been an amazing cook and I used to love having her salt-beef pie topped with choux pastry, seated around the dining table with the family.
Any particular habit/ritual before you cook?
As a Process and Project Management Consultant, each cooking day is planned to the minute. I hate idling while something is in the oven, so everything is planned in a way that I maximise on time – this means I can't have things ready too early either and I generally thrive on the last-minute adrenaline rush!
It's your last day on earth, where are you and what are you eating?
I'm having a traditional Italian meal in a quaint osteria in Florence.
What's something you would eat but never cook?
Chinese! I enjoy a hearty Sri Lankan – Chinese meal, but I don't think I can ever get it like the pros!
Make a meal with Rs. 500?
Roast paan, prawn curry, parippu, pol sambol and a fried egg!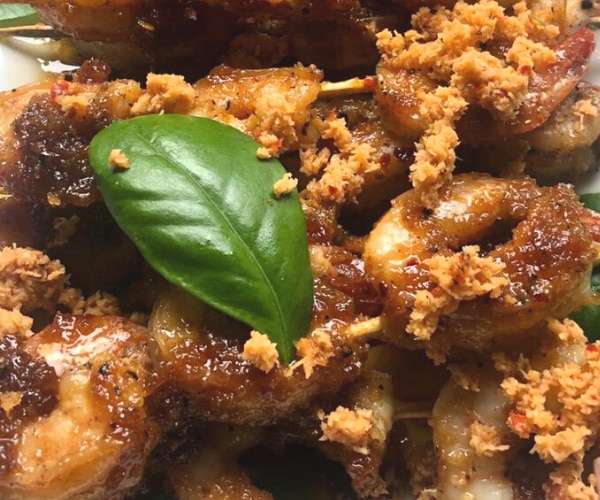 Your favourite odd food pairing?
I have a few of those on my menu, but they are good! Grilled Chicken with Kaffir Lime infused BBQ Sauce and a Pol Sambol, Jaggery and Naarang Butter Prawn!
Your proudest food invention?
I think it is what I call a Prawn or Chorizo Cassollette with basil and cheddar. It was not inspired by anything I had seen or tasted.
What does the restaurant of your dreams look like?
A place with home-made food and each item is a sensory experience.
It's 2050 – what are you doing?
From the time I was 12, I wanted to be a lawyer and that's the path I took and have practised for 10+ years. Never in my wildest dreams did I think I would be catering! I have learnt by now, not to plan so far. I simply trust the One who has good plans for me.
The most underrated ingredient?
Cranberries! It is so versatile and I use it often in both savoury and sweet dishes.
Dis-invent a food?
Alu kesel sudata!
What's a dish you've tried and tested but failed in making?
I have had trouble mastering a good meringue – thankfully my Mom comes to the rescue
What's something you'd love to eat again but you can't?
My (late) Dad's bolognese sauce – it was the best! I have tried to copy it, but it is never as good!
What was Dot's 'almost' name?
Honestly, there was nothing else on the cards. A few months after my first attempt at cooking, I asked my dad (3 days before he passed away) if it would be a good idea to start catering and he gave it some thought and said "Yes Dot (his nickname for me), I think that's a brilliant idea". A few months later, I ventured into catering and called it Dot's, in honour of my Dad – though he hardly got a chance to eat any
If you had to offer only one dish forever – what would it be?
I think it would be the Dot's Signature Quiche. I love experimenting with new flavours for it.