The Éclair Factory by baker Mafaza Haleem promises Colombo luxurious choux patisseries in all shapes, flavours and sizes. What was initially started as a hobby a decade ago in 2010 is now a fully-fledged business operating daily providing freshly baked eclairs and savoury bouchées to the public.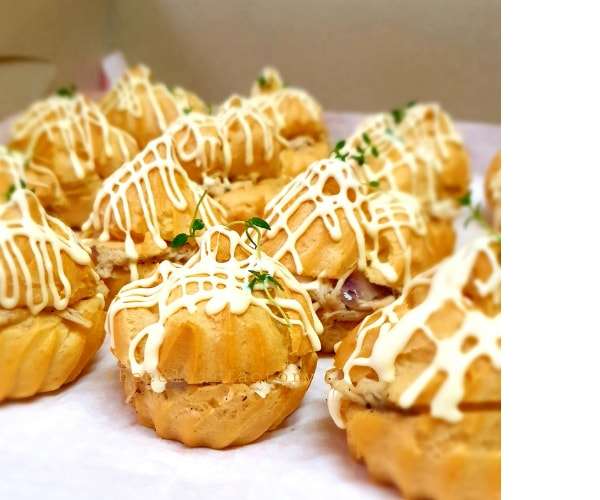 Back in 2010, Mafaza was studying journalism and found respite from studying for her exams by baking and learning to cook which ultimately allowed her to perfect her recipe for eclairs. Happy with the outcome, she began to take small orders from friends and family for a short period of time before eventually moving to Dubai. Returning to Sri Lanka on and off, Mafaza continued learning to bake and soon got her Masters degree in Cake Decorating from the R.L. Clement Cake Decorating School in 2017. When the initial lockdown took place in March 2020, Mafaza and her husband decided to restart the business once more and opened their very own home patisserie - The Éclair Factory.
The Eclairs
The Éclair Factory offers gourmet style eclairs in 15 different flavours and toppings. The standard éclair with vanilla filling and a chocolate topping can be requested in different custom colours. Other unique flavours include – Nutella, Coffee and Chocolate, Strawberry, Blueberry, KitKat, Lotus Biscoff, Lemon Curd, Caramel, Tiramisu, Nougat and Ferrero Rocher.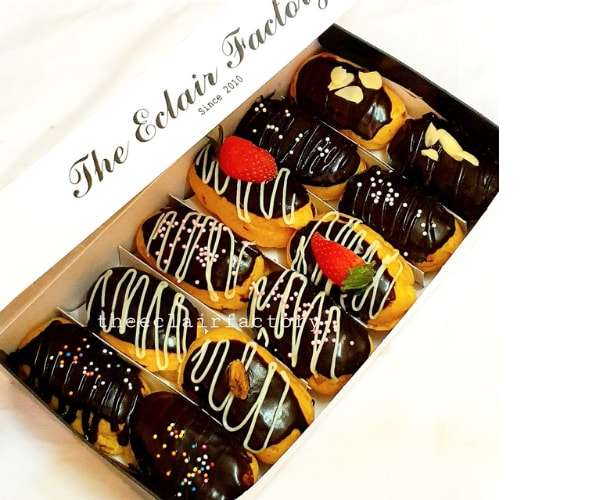 Opting for a custard filling over the usual buttercream is what sets these eclairs apart. "Our Eclairs are becoming a favourite among so many people and it's because we make the effort to make sure that our eclairs are not too sweet." shared Mafaza, "Our flavour toppings, the fillings and the choux pastry all balance so well together."
Being that The Éclair Factory is open every day, there is no minimum order quantity imposed. All eclairs are made fresh to order in order to maintain a high standard. "It's important to us that all our food is freshly made. We use all-natural ingredients and we don't use any preservatives. If we get an order in the morning, depending on the quantity ordered, we start making them as soon as possible and have it ready by mid or late afternoon."
They are also one of the few businesses that offer custom wording on eclairs as an additional personal touch that's ideal for sending a customised éclair pack for birthdays, anniversaries or other special occasions.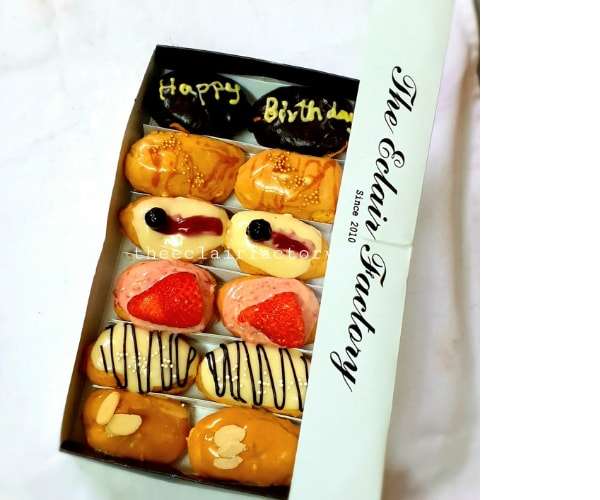 We also tried a few flavours and toppings from The Éclair Factory. The Chocolate filling Éclair with Chocolate Topping (Rs. 200 ) was customised to include our name and was a personal touch that really brought a smile to our faces. The Strawberry and Blueberry (Rs. 190) eclairs included a strawberry/ blueberry filling as well as a strawberry/blueberry flavoured topping. While this writer is personally not a fan of strawberries, the blueberry éclair was a great flavour combination and the potent berry taste that was faintly underlined in the custard was enjoyable.
Our personal favourites were the 3 special flavours – Coffee, Biscoff and Caramel. The caramelised sugar in the Caramel éclair (Rs. 190) flavoured both the smooth custard filling as well as the rich, thick glaze on top while the Coffee Éclair (Rs. 200) was a perfect pairing for afternoon tea with its amazing coffee-flavoured custard cream. The Biscoff Éclair (Rs. 230) was a novelty and much-loved as it was tender and moist and the perfect consistency in terms of sweetness with its cookie butter flavour.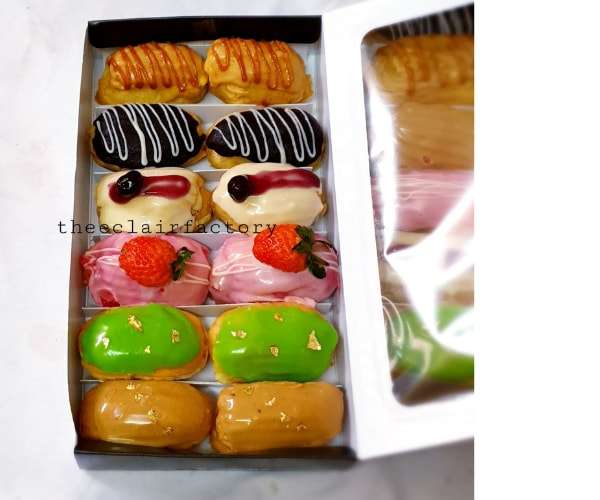 What was different about the eclairs was the custard filling. While the custard cream filling may be thicker and heavier in contrast to a lighter and fluffier buttercream filling, this custard cream offered a satisfyingly rich consistency that we enjoyed.
In light of Covid-19, food safety and hygiene are of utmost importance to The Éclair Factory. They take every precaution in the preparation and packaging of the orders by sanitising the work station thoroughly and wearing gloves and other safety equipment and ensures that all orders are packed, sealed and safely delivered to
their customers.
They are also planning to introduce a special range of occasion eclairs for the Christmas season at the end of November 2020.

For more details on The Éclair Factory, visit http://theeclairfactory.com/ or their Instagram page
(@theeclairfactory). The Éclair Factory is Halal.